What to Do for Fibromyalgia Pain, Part 2 – InVite Health Podcast, Episode 386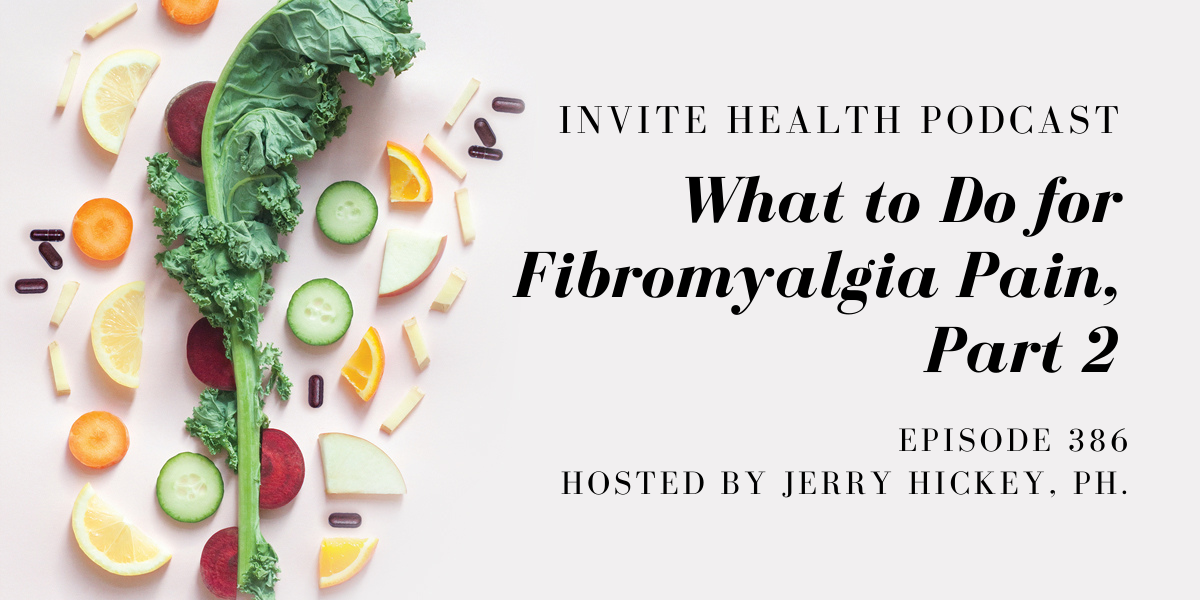 fibromyalgia
InViteⓇ Health Podcast, Episode hosted by Jerry Hickey, Ph.
Subscribe Today!
In my last episode, I discussed fibromyalgia and gave recommendations for nutrients that may help with this chronic pain condition. Today, I am going to share some studies that further expand on the importance of these nutrients in people with fibromyalgia.†
The benefits of magnesium
A study in the journal Nutrients called "Magnesium and Pain" looked at NMDA receptors. These receptors are involved in hypersensitivity to pain. It seems as though the mineral magnesium can help with pain because it prevents the NMDA receptors from becoming innervated or turned on. These researchers go on to say that magnesium has been researched in a number of pain conditions including fibromyalgia, as well as in people with certain neuropathic pain issues, diabetic neuropathy, menstrual cramps, headaches and more.†
DIABETIC NEUROPATHY BASICS – INVITE HEALTH PODCAST, EPISODE 352. Listen Now>>
Another study in the International Journal of Environmental Research and Public Health looked at how magnesium could help people suffering with pain from fibromyalgia. They looked specifically at women with this condition. The researchers wanted to see if the Mediterranean Diet, tryptophan and magnesium could help these women with their mood, anxiety, sleep quality, eating disorders and more, all of which can be negatively impacted by fibromyalgia. They found that adding magnesium and tryptophan to the Mediterranean Diet really made a difference in terms of mood and self-image.† 

Ubiquinol and fibromyalgia
Ubiquinol is the active version of coenzyme Q10. This means that coenzyme Q10 does nothing for your energy levels unless it is converted to ubiquinol. A study in the journal Redox Report looked at little kids with juvenile fibromyalgia. The researchers realized that these children were very low in ubiquinol. They had plenty of CoQ10, but they were not converting it into ubiquinol. The researchers gave the children 100mg of ubiquinol a day for 12 weeks versus placebo and found that the ubiquinol helped improve their energy, fatigue and mood.†     
WHY UBIQUINOL MAY IMPROVE SCARY BLOOD TEST RESULTS, PART 1 – INVITE HEALTH PODCAST, EPISODE 172. Listen Now>>
In this episode, Jerry Hickey, Ph. continues his conversation about fibromyalgia. He also shares multiple studies about nutrients that can help with this chronic condition. You can hear Jerry explain fibromyalgia in Part 1 of this podcast episode.†
Key Topics:
The role of tryptophan and serotonin in fibromyalgia

Studies on the benefits of magnesium

The different kinds of magnesium 

Can CBD help with fibromyalgia?
Thank you for tuning in to the InViteⓇ Health Podcast. You can find all of our episodes for free wherever you listen to podcasts or by visiting www.invitehealth.com/podcast. Make sure you subscribe and leave us a review! Follow us on Facebook, Twitter and Instagram at InViteⓇ Health today. We'll see you next time on another episode of the InViteⓇ Health Podcast.


---
---