Help for Brain Fog – InVite Health Podcast, Episode 417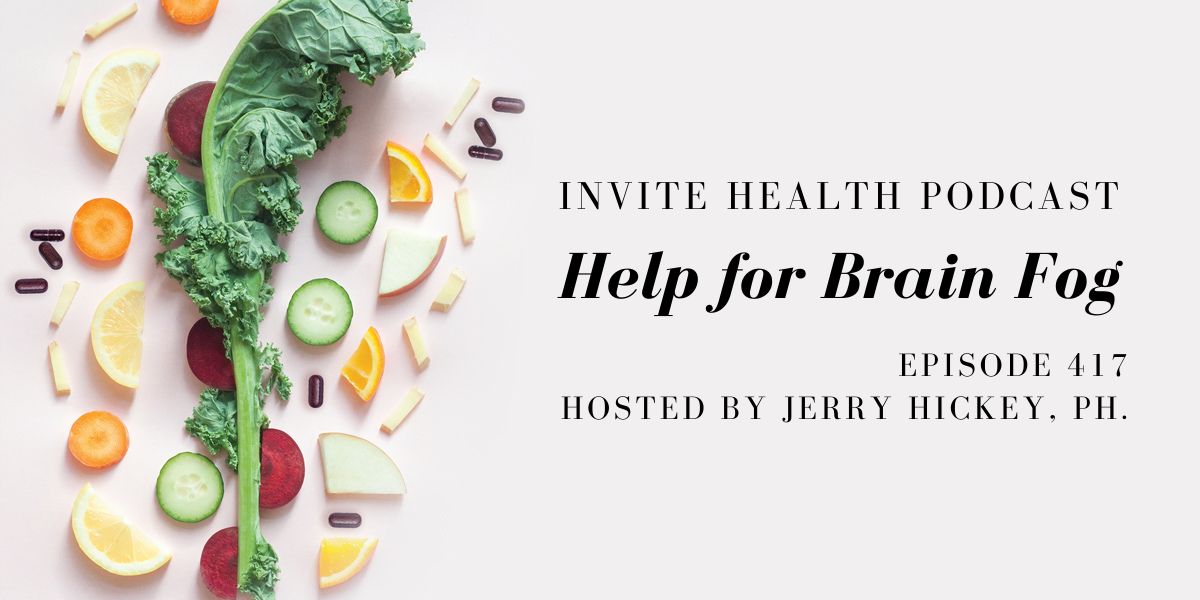 brain fog
Invite Health Podcast, Episode hosted by Jerry Hickey, Ph.
Subscribe Today!
Brain fog is a term for particular symptoms that affect the brain. These symptoms can include decreased brain energy, a poor ability to think, reduced ability to focus and concentrate and a hard time remembering and learning things. It does affect your judgment and your ability to think clearly. It can even affect your ability to have a good conversation. You may feel confused or disorganized. Today, I will list some of the more common situations related to brain fog, as well as some solutions for dealing with it.†  
How brain fog interacts with other issues in the body
Brain fog can be connected to conditions and diseases. For instance, I've seen a lot of cases of COVID-19 long haulers who are complaining that they are experiencing feelings of depression, memory disruption, headaches and brain fatigue. For these people, I suggest a combination of ubiquinol and panax ginseng, which seems to be helping them out.†  
WHY COENZYME Q10 UBIQUINOL IS SO IMPORTANT – INVITE HEALTH PODCAST, EPISODE 233. Listen Now>>
Chronic fatigue syndrome may also be related to brain fog. There is no cure for chronic fatigue syndrome at this point and it's even difficult to differentiate what might be causing it, but your brain and mind are unreasonably tired. People with chronic disease and immune dysfunction syndrome, if they exercise, they can wind up in bed for three days after. They feel confused and have trouble focusing. They're confused.†    
This can occur with depression as well. You can become fatigued and lose drive or ambition, as well as joy of life. It's very common for people with depression to have brain fog. Brain fog can also be connected with lacking certain nutrients such as iron and Vitamin B12.† 

Nutrients to help support energy in the brain
Usually when someone comes in with brain fog, I recommend a really high quality multivitamin. Your brain is super high energy. It gobbles up the B-complex vitamins and Vitamin C to help protect and nourish itself. If you lack these nutrients, it's going to contribute to further worsening of brain fog.† 
Poor sleep can be a cause of brain fog, so we can turn to nutrients that help promote a restful night of sleep. This includes the mineral magnesium, which allows you to release melatonin. CBD can also help with sleep. Stress in the daytime can also contribute to this issue. We can help fend off stress with the help of nutrients such as L-theanine.†  
WHAT YOU NEED TO KNOW ABOUT THE BENEFITS OF CBD – INVITE HEALTH PODCAST, EPISODE 297. Listen Now>>
In this episode, Jerry Hickey, Ph. discusses the phenomenon known as brain fog. He explains how this issue may be connected with other health problems in the body and provides suggestions for nutrients that may help.† 
Key Topics:
What can help with chronic fatigue syndrome?

The importance of sleep
Thank you for tuning in to the Invite Health Podcast. You can find all of our episodes for free wherever you listen to podcasts or by visiting www.invitehealth.com/podcast. Make sure you subscribe and leave us a review! Follow us on Facebook, Twitter and Instagram at Invite Health today. We'll see you next time on another episode of the Invite Health Podcast.


---
---