Nutrients to Aid Anxiety, Part 2 – InVite Health Podcast, Episode 339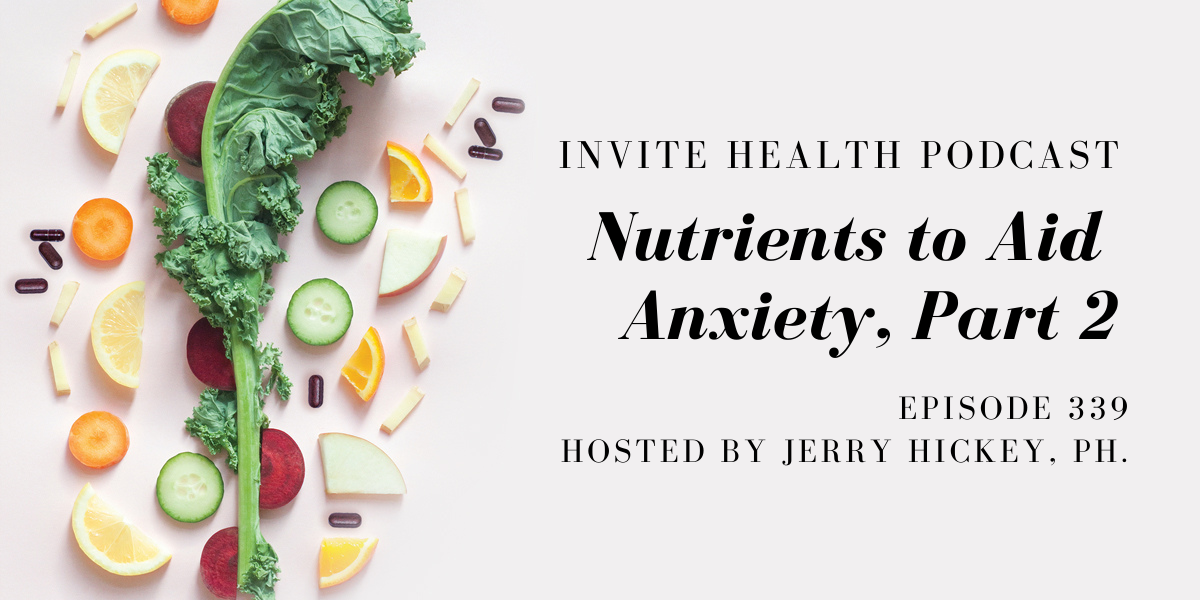 anxiety

Invite Health Podcast, Episode hosted by Jerry Hickey, Ph.
Subscribe Today!
Today, we are continuing to look at nutritional supplements that can aid with stress and nervousness. For more information on the symptoms of anxiety and how nutrients such as rhodiola rosea and L-theanine can help boost mood, make sure you tune into Part 1 of this episode.†
NUTRIENTS TO AID ANXIETY, PART 1 – INVITE HEALTH PODCAST, EPISODE 338. Listen Now>>
More information on fish oils for anxiety
Fish oils are a rich source of omega-3 fatty acids. A study done by the University of Bordeaux in France looked at clinical and experimental research linking fish oil-type fatty acids with improving depression and anxiety. In particular, they highlighted fish oil's ability to modulate neurobiological processes involved in the pathophysiology of anxiety and depression. In other words, there are certain pathways in the brain that, when disturbed, can lead to symptoms of anxiety and depression, but fish oils can help fight this.†

Can CBD help?
CBD, or cannabidiol, comes from the hemp plant. While this is often associated with marijuana, CBD does not contain THC, which is the component of marijuana that can get someone high. Cannabidiol has been shown to be safe for the brain.  CBD in the form of capsules or drops are often useful for the brain because they impact the CB1 receptor sites. This can calm you down and help with stress and anxiety.†
WHAT HEMP & CANNABIDIOL CAN DO FOR YOU – INVITE HEALTH PODCAST, EPISODE 55. Listen Now>>
In this episode, Jerry Hickey, Ph. reiterates the impacts that chronic nervousness and anxiety can have on the body. He continues to list powerful nutrients that can help fight these feelings, such as fish oils and cannabidiol.† 
Key Topics:
Studies on fish oils and fatty acids

How adrenal glands and the brain interact

The difference between marijuana and cannabidiol

Studies and reviews on the ability of CBD to help with anxiety
Thank you for tuning in to the Invite Health Podcast. You can find all of our episodes for free wherever you listen to podcasts or by visiting www.invitehealth.com/podcast. Make sure you subscribe and leave us a review! Follow us on Facebook, Twitter and Instagram at Invite Health today. We'll see you next time on another episode of the Invite Health Podcast.


---
---