Sleep is Sleep, Right? Wrong! – InVite Health Podcast, Episode 342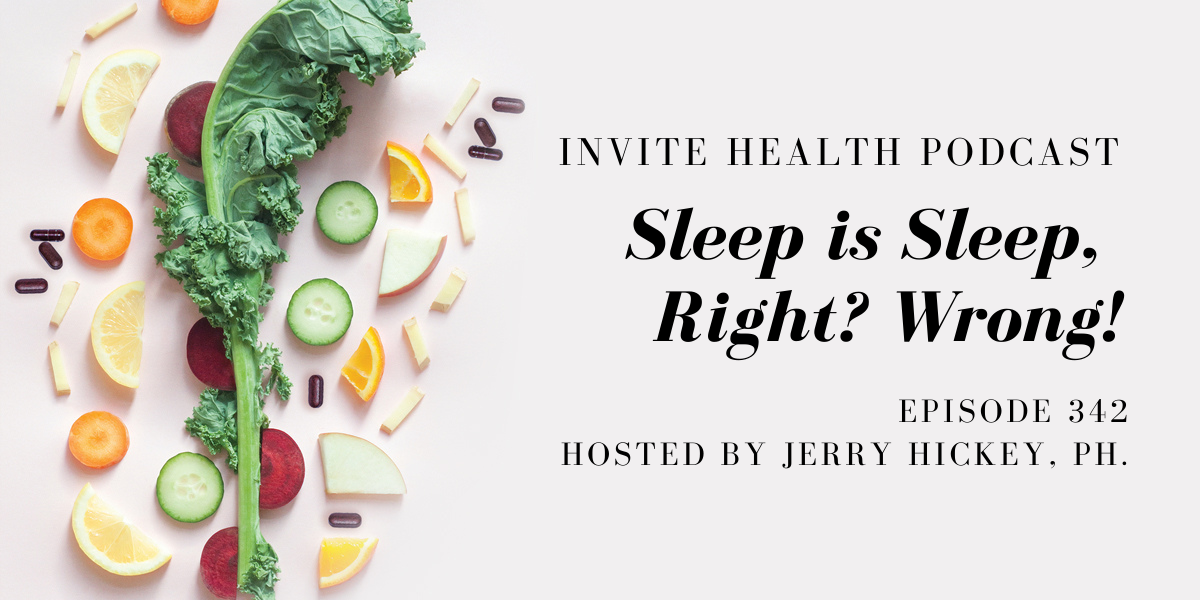 sleep

Invite Health Podcast, Episode hosted by Jerry Hickey, Ph.
Subscribe Today!
Humans do not prioritize their rest and that's crazy because the body relies on it. There was a survey last year by the National Sleep Foundation that showed that 44% of adults in the United States felt sleepy between two and four days out of the week. Even worse, 28% of adults felt sleepy all week long. This is a real problem.†
What does sleep do for the body?
Sleep is necessary for rejuvenating the body. It helps to promote and maintain the functions of the immune system, brain and bones.†
Lacking sleep can impact pain, exercise, weight, blood sugar, blood pressure, cholesterol and more. That same survey also found that many of these people developed headaches or were irritable when they were lacking rest.† 
BUILDING BONE EVEN WHILE YOU'RE SLEEPING – INVITE HEALTH PODCAST, EPISODE 20. Listen Now>>
Getting good quality rest
Not all sleep is the same. Many professionals recommend seven to eight hours of rest a night, but the quality is just as important as the quantity. The body needs high-quality rest in order to support its many systems. Sleep quality accounts for how quickly you're able to fall asleep, how deep you sleep, how many interruptions you experience and how quickly you can fall back asleep if you do wake up.†

Here are some tips for improving your ability to fall and stay asleep:
Staying Cool:

Your body likes to be cooler at night. At night, your pineal gland releases

melatonin

. This hormone lowers your blood pressure and body temperature. People tend to sleep the best when it's 65°.†

Put Down Your Phone:

The screens on your phones, computers and televisions emit

blue light, which interferes with the release of melatonin. That can affect your immune system, bones and ability to fall asleep.†
Supplement With Nutrients: There are many nutrients that can help promote deep, restful sleep. Some of these supplements include melatonin, magnesium, L-theanine and CBD

.†
WHAT HEMP & CANNABIDIOL CAN DO FOR YOU – INVITE HEALTH PODCAST, EPISODE 55. Listen Now>>
In this episode, Jerry Hickey, Ph. explains the importance of high-quality sleep and offers tips on how to achieve it. He also shares various studies on the way rest helps the body to recover and work properly.†
Key Topics:
Why is sleep so important?

Foods, drinks and medicines with hidden caffeine content

The importance of the circadian rhythm 

The four stages of the sleep cycle
Thank you for tuning in to the Invite Health Podcast. You can find all of our episodes for free wherever you listen to podcasts or by visiting www.invitehealth.com/podcast. Make sure you subscribe and leave us a review! Follow us on Facebook, Twitter and Instagram at Invite Health today. We'll see you next time on another episode of the Invite Health Podcast.


---
---