Collagen Coffee: The Delicious and Nutritious Benefits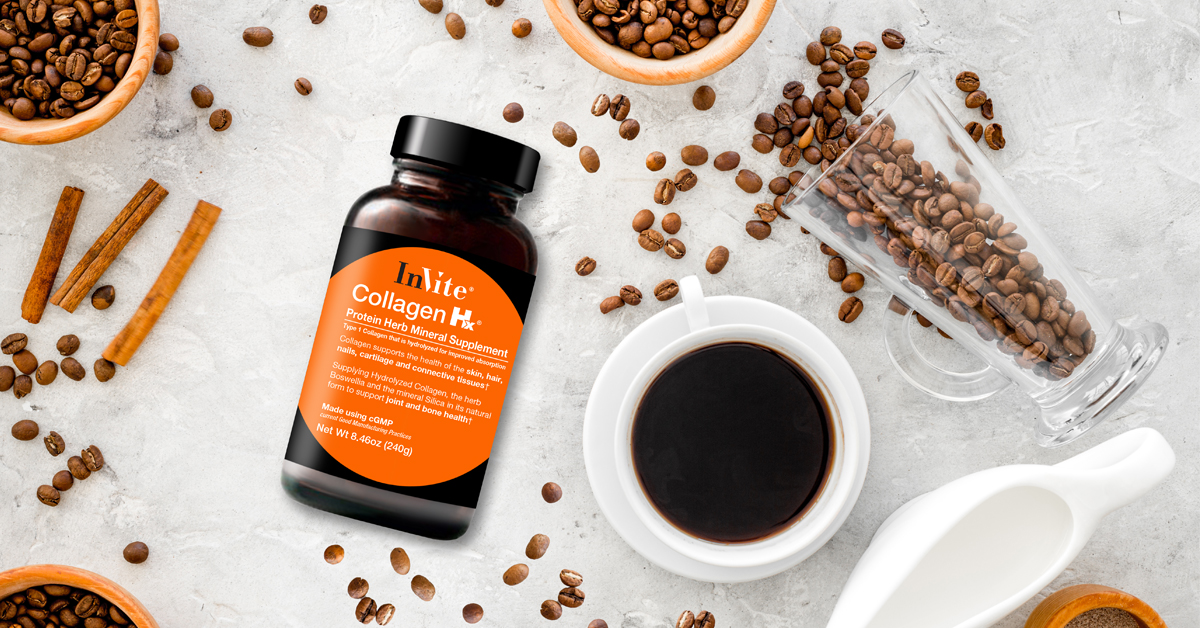 If you're like many others, you need coffee to start your day. Of course, a healthier alternative is a cup of green tea or a glass of water to kick-start your body. But, if you're not giving up that coffee (and we aren't either!), here's a trick we've picked up from none other than Scientific Director and Pharmacist Jerry Hickey – add collagen to your coffee!
Everyone wants to turn back the clock when it comes to the appearance of their skin. Time, gravity and the sun are the factors to blame when skin starts to wrinkle, sag and lacks a youthful glow. We slather on expensive creams, avoid the sun like vampires, and some even resort to cosmetic surgery to get the skin they want. As detailed by this source here, facelifts are among the most popular cosmetic procedures in people over the age of 55 in the US. No doubt in a bid to reverse the effects of time. Many find their skin appearance does not match how they feel inside. But it's possible that they do not know a lot of those visible changes have to do with a decline in a single valuable structural protein called Collagen.
Collagen Coffee
Add one teaspoon to your coffee for a powerful boost of this superfood. While you'll need one full scoop a day to reap the benefits and show a difference in your hair, skin and nails and two scoops a day to fully support your bones and joints, this tasteless yet superior health boost is a great addition to your coffee at any time of the day!

What is Collagen?
Collagen is the most abundant protein in our bodies. It is found in our bones, skin, nails, muscles, tendons and ligaments. Think of collagen simply as the "glue" that holds us together. While our bodies naturally produce collagen, the older we get, the less we make; our skin loses collagen at a rate of 1.5% per year, starting in our late 20s! By the time our 60s come around, we've lost half of our skins collagen content. Women's skin actually ages faster than men's – in the 5 years following menopause, women can lose an additional 30% of their total collagen!
There are many outside factors that can deplete collagen levels, including smoking, too much sun, diabetes, poor nutrition, stress, and poor hydration. Low amounts in the body will directly impact your skin, muscles, and joints. You'll start to show symptoms of wrinkles, sagging skin, muscle pain and soreness, and joint pain.
Types of Collagen
While Collagen exists in the human body in over 25 forms, more than 90% is formed by Collagen Type 1 and 3. Combined, these proteins are essential in the support of connective and structural tissues. But what sets a high-quality brand of collagen apart from a generic brand is whether or not it is hydrolyzed.
In Collagen's original unhydrolyzed-state, collagen molecules are very large and cannot be effectively broken down or absorbed. Numerous studies show that supplementation with hydrolyzed collagen is the most superior and may also help improve cellulite.
Skin Health
According to Nicole Crane, BS, NTP, former Director of Nutrition for InVite Health, "Collagen keeps our skin firm, smooth, and elastic. When we do not have enough collagen, skin easily forms wrinkles and sages under its own weight. The plump, smooth skin we associate with youth has a lot to do with the significantly higher amount of collagen we have when we are young."

Collagen has become a popular ingredient in many skin creams and other cosmetics. But many controlled clinical trials report that collagen works much more efficiently for the skin when swallowed directly. Research from Brazil and Germany, published in the journal Skin Pharmacology and Physiology, supplemented 69 women between 35 and 55 years old with hydrolyzed collagen every day for two months. The elasticity of their skin increased by 30% within the first month. Four weeks after the study concluded, their skin's new elasticity remained the same and its moisture content increased by 14%.[1] Adding collagen to your coffee, can help support your hair, skin and nails!
Joint Health
Hydrolyzed collagen is the richest source of amino acids that constitute collagen, cartilage and connective tissue in your bones, tendons, ligaments, joints, and muscles. Numerous clinical trials have shown that collagen improves joint health, while reducing pain and stiffness. Published in the journal of the Science of Food and Agriculture, thirty people with arthritis over a 13-week period showed a significant improvement in joint pain and stiffness when taking a hydrolyzed collagen supplement.[2]
[1] https://www.invitehealth.com/collagen-restores-youth-to-the-skin-in-women/radio/2014/09/
[2] https://www.invitehealth.com/hydrolyzed-collagen-improves-joint-pain/radio/2014/09/
Questions about Collagen? Leave us a comment to join the conversation!
---
---