Pumpkin Spice Hot Chocolate with Cocoa Hx®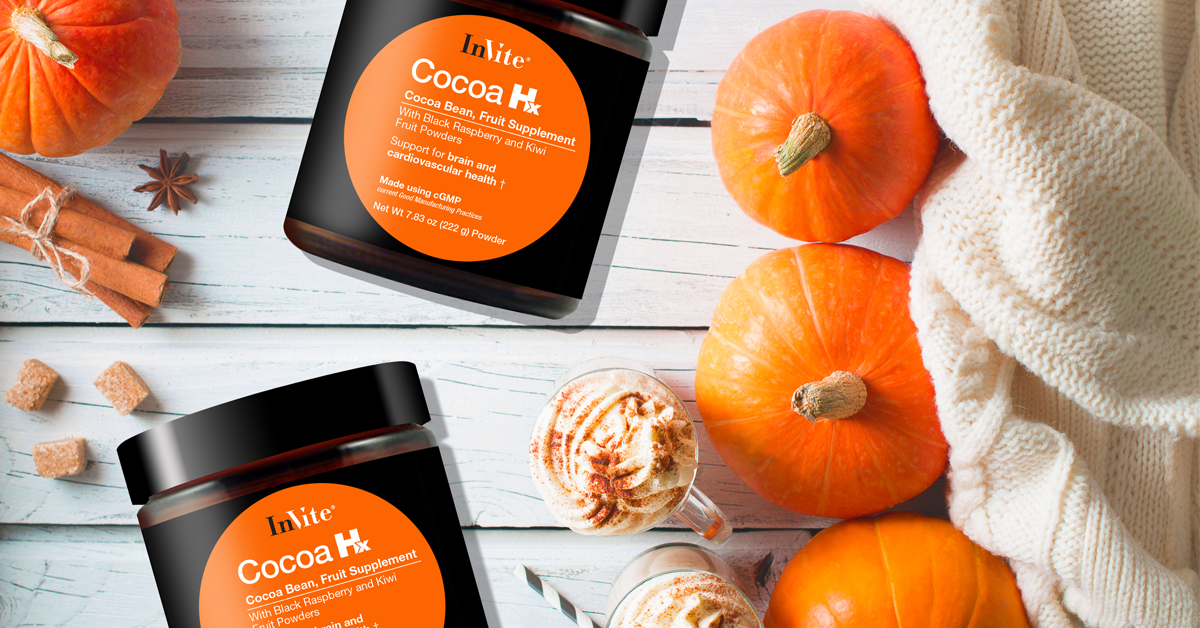 When the temperature drops, you need something hot to warm you up. What's better than snuggling up with a blanket and a good movie? A pumpkin spice hot chocolate – with a healthy kick!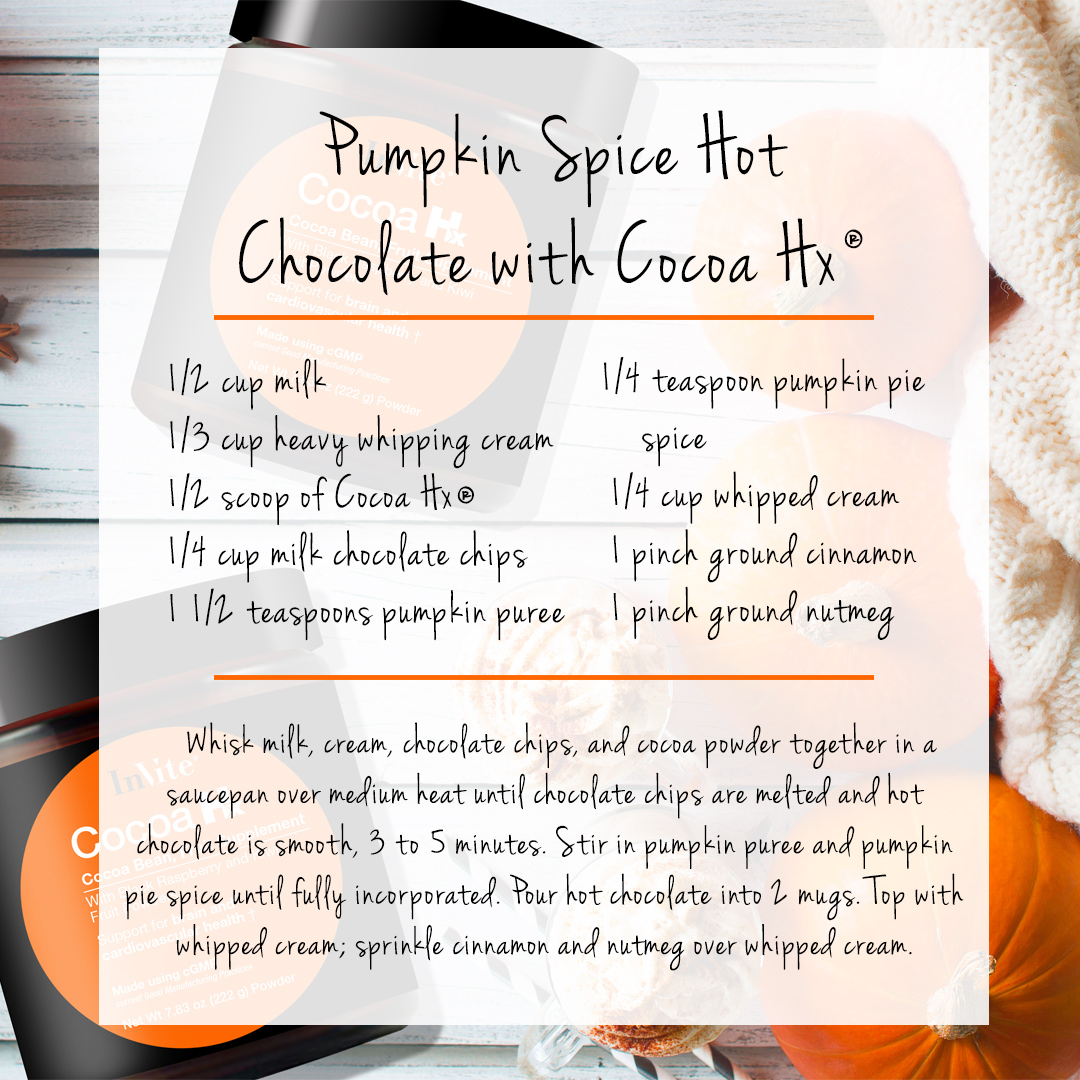 Benefits of Pumpkin
Pumpkin spice is the quintessential fall ingredient; from Starbucks™ to Dunkin Donuts™, you can pretty much find pumpkin spice anywhere. But pumpkins are more than just great decorations or pie fillings. Pumpkins are rich in vitamins and minerals and low in calories. Studies have shown that the potassium contained within pumpkin have positive effects on blood pressure and its antioxidants help to protect your eyes.
Benefits of Adding Cocoa Hx® to your Hot Chocolate
Chocolate is one of nature's most powerful super foods. But the benefits of chocolate are generally reversed when milk, cholesterol from milk solids, and/or an enormous amount of refined sugar are added. Cocoa is naturally bitter in flavor so chocolate bars require a lot of sweetening. When cocoa is cooked, it becomes even more bitter. It its natural form, it contains a wide variety of minerals, vitamins and antioxidant flavonoids that offer great health benefits. InVite's® Cocoa Hx® is an uncooked super food within a vegetable fruit supplement.
Cocoa Hx® contains all the nutritional components that occur naturally in pure dark chocolate, without the saturated fat, sugar and calories found in chocolate bars. It also includes powdered kiwi fruit and freeze-dried black raspberry fruit, to support respiratory health, and protect your genes and DNA while throughout the aging process. Freeze-dried black raspberry helps protect the entire digestive tract, including the mouth, stomach and colon.*

Cocoa, Chocolate's Natural Form
Chocolate in its natural form (without additives) includes essential minerals and has polyphenols similar to those found in wine that offer excellent antioxidant protection that have been shown to increase circulation to the brain and heart, improving healthy blood flow. Together, these agents help improve various areas of health such as circulation, energy and mood. Flavonols are the substances in cocoa that have been shown to be responsible for boosting heart health and keeping blood pressure in the normal range.*
Cocoa may increase blood flow to the brain, according to new research published in the Neuropsychiatric Disease and Treatment journal. Researchers suggest that long-term improvements in brain blood flow could impact cognitive behavior, offering future potential research into a healthy aging brain, increased memory and lowering risk for debilitating events. In a scientific study of healthy, older adults ages 59 to 83, Harvard medical scientists found that participants who regularly drank a cocoa flavonol-rich beverage had an 8% increase in brain blood flow after one week and 10 percent increase after two weeks. In this first-of-its-kind study, the researchers found both short and long-term benefits of cocoa flavonols for brain blood flow, offering future potential for one in seven older Americans. Scientists speculate that maintaining an increased blood flow to the brain could slow this cognitive decline.*
So instead of buying another pumpkin spice latte or hot chocolate, head to the nearest InVite® retail location to pick up Cocoa Hx®. It tastes great in your hot chocolate and adds a healthy-boost!
Questions about Cocoa? Love this recipe? Leave us a comment below to join our conversation!
---
---