Allie's Breast Cancer Healthy Recipe Guide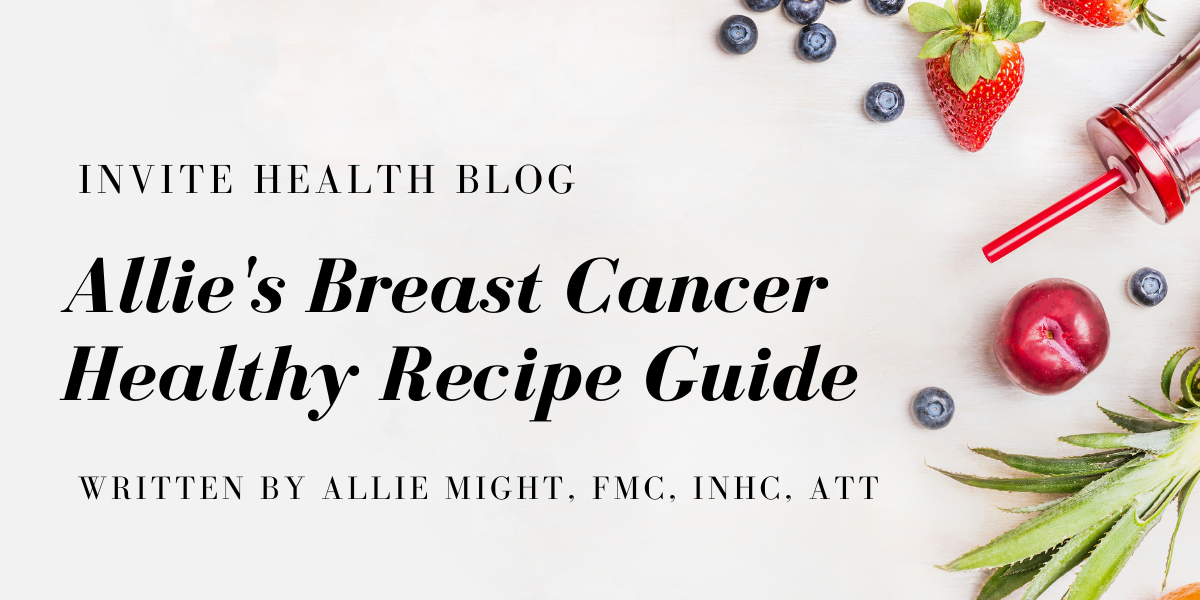 BREAST CANCER AWARENESS~ HEALTHY RECIPE GUIDE
By: Allie Might, FMC, INHC, ATT

Sometimes there's a lot of information online that can cause one to get really inspired. That has been what's happened to me over the past couple of weeks, especially with the topic of breast cancer awareness on my mind. I keep coming across a variety of groups posting weekly recipes to support, bring awareness and start a conversation on this important topic. So, I wanted to create some delicious and healthy recipes that can be incorporated into any diet, including those in treatment.†
RELAXATION TEA†  
2 droppers Tranquil Tx
2 droppers Hemp/CBD drops
1 Lemon wedge
1 cup hot water
Mix all ingredients together, sip and enjoy!
GOLD STAR MILK†  
4 Bio-Curcumin 5-Loxin capsules
1 cup oat milk, or any non-dairy milk of your choice
1 teaspoon raw honey
In a pot, add non-dairy milk, the contents of the Bio-Curcumin capsules and the honey. Stir all together and heat until warm and all contents are dissolved. Add to mug and enjoy!
TREATMENT DAY SANDWICH†  
2 pieces whole grain bread
1 ounce cream cheese, softened
½-1 scoop Greens Hx
¼ organic cucumber, sliced
¼ cup organic sprouts
¼ avocado, sliced
½ organic tomato, sliced
Mix together cream cheese and Greens Hx until well combined, spread evenly on each slice of bread. Layer cucumber, avocado, sprouts and tomato onto bread to assemble a sandwich. Cut in half and enjoy! (I like to recommend this to take on treatment days as it's easy to pack-up).†
HAPPY GUT SMOOTHIE†  
2 scoops InVite Vanilla Whey Protein
1 scoop L-Glutamine Powder
1 scoop G.I. Maintain
1 Probiotic Hx
1 cup water or non-dairy milk
1 cup ice cubes
1 banana
1 Tablespoons nut butter (peanut, almond, cashew, etc.)
Empty the contents of the Probiotic Hx and combine with the other ingredients in a blender. Blend until smooth, drink and enjoy!
SUPERFOOD SALAD w/DRESSING†  
SALAD
2 cups kale, destemmed and chopped
½ cups quinoa, cooked
½ cup mushrooms, sautéed
½ cup tomatoes, chopped
1 Tablespoon red onion, diced
DRESSING†  
½ avocado
½ cup extra virgin olive oil
1 scoop Bone Powder
1 scoop Collagen Hx
Juice of half a lemon
Pinch of sea salt
Add salad ingredients to kale in a large bowl. Blend all dressing ingredients together until well combined and smooth. Add dressing to salad and mix together. Eat and enjoy!
VERY BERRY PARFAIT†  
1 cup organic plain Greek yogurt
1 scoop Reds Hx
1 scoop L-Glutamine Powder
½ cup mixed berries (blueberries, raspberries, blackberries and/or strawberries)
Combine Greek yogurt and Reds Hx together until fully blended. In a glass (I like to use a pretty wine glass) layer half of the yogurt mixture and add half the fresh berries on top. Repeat this layering to create 4 layers. Eat and enjoy!
For added flavor, add a little lemon zest to the top of the parfait.†
Eating healthy can sometimes be a challenge for many people for a variety of reasons, and even more so when one may not be feeling at their best. I hope these easy and delicious recipes have inspired you to try some new, healthy foods†
Visit www.invitehealth.com/recipes for additional recipes!†


---
---