How To Finally Achieve Successful Weight Loss – Invite Health Podcast, Episode 164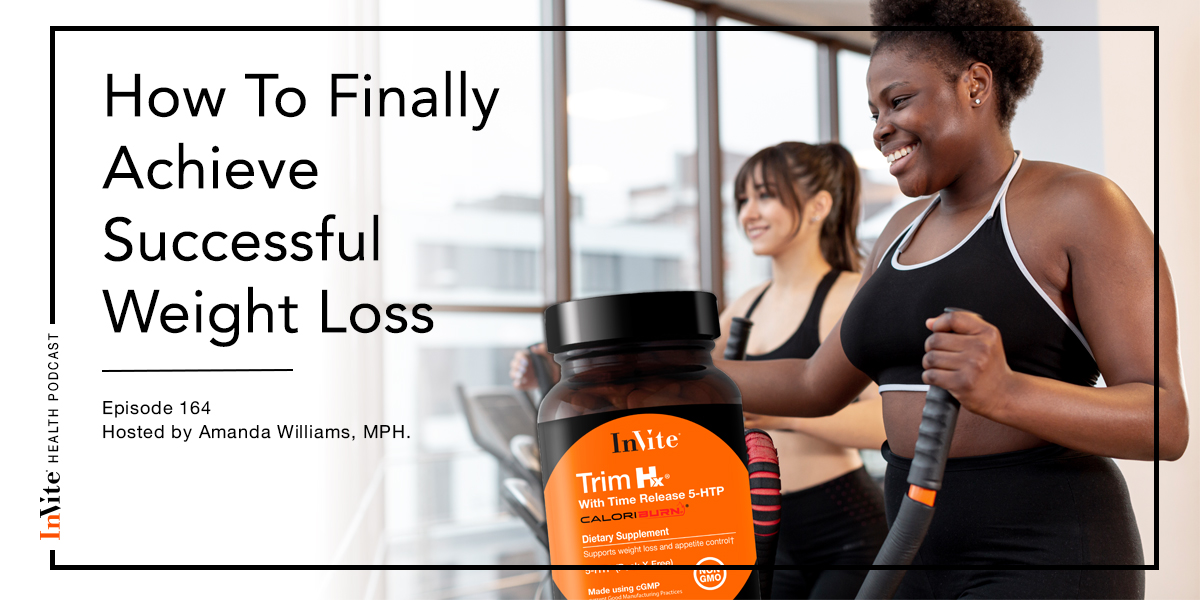 Invite Health Podcast, Episode hosted by Amanda Williams, MPH.
Subscribe Today!
One of the most challenging things that people can experience when they are trying to lose weight is maintaining that actual weight loss. For many people, trying a bunch of different diets is one method they use but the next thing you know, you are putting that weight right back on. Today, we are going to discuss how you can successfully lose weight and then maintain that weight loss. There are a few different nutrients that can help optimize and support your weight loss goals.
Creating A Weight Loss Balance
Not only should you be trying to lose weight, but you should also be focused on the maintenance and management of the weight that you do lose. So, how do you create this balance?
First, you will want to make sure you are following the right dietary routine that works best for your metabolism. For some people, routines like intermittent fasting works, for others it may be eating multiple, small meals throughout the day works best. You'll want to turn to whole foods such as berries, seeds and nuts instead of multiple protein bars that may be full of sugar. A Mediterranean Diet is going to offer you the most comprehensive diet, in terms of the nutrients that you are taking in. Click here to learn more about the Mediterranean Diet now! To figure out the best nutritional plan for your personal needs and goals, speak with a degreed healthcare professional from InVite Health who can create a customized plan for you! Get started at invitehealth.com or by clicking here.

Second, you'll want to be honest about how active you actually are. You do not have to spends hours a day at a gym working out to be considered active! Focus on activities that you know you are going to stick with and that is realistic in your everyday routine. You may want to focus on walking for 30 minutes each day.
Third, you need to take a look at the nutrients you are obtaining and the ones you are not. There are specific nutrients that can be beneficial to, not only for weight loss, but also to maintain it afterwards. Here are my recommendations:
5-HTP is a precursor for Serotonin, which supports a good mood and appetite regulationv Learn more about 5-HTP by clicking here! 
Grains of Paradise is an herb extract from the ginger family has been studied for its ability to burn fat†
Thank you for tuning in to the Invite Health Podcast. You can find all of our episodes for free wherever you listen to podcasts or by visiting www.invitehealth.com/podcast. Make sure you subscribe and leave us a review! Follow us on Facebook, Twitter and Instagram at Invite Health today. We'll see you next time on another episode of the Invite Health Podcast.


---
---