Free Consultation with Vascular Expert, Dr. Nackman, MD.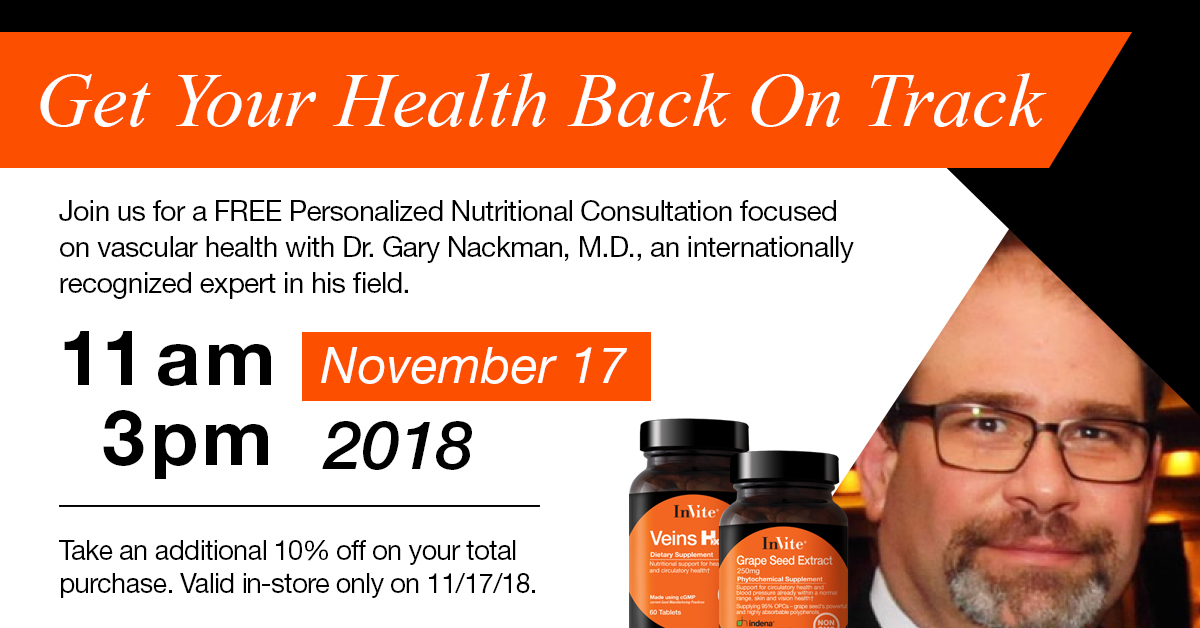 Palisades Center Mall
West Nyack, New York
Our newest retail location is now open! Join us for exlusive in-store discounts and promotions.
InVite® Health recognizes that the vitamin and supplement selection process can be confusing and overwhelming. But it does not have to be. At InVite® Health, we provide a simplified luxury experience by offering superior quality products, educational information and resources, and a team of healthcare experts in a beautifully designed boutique environment with products at the very best value.
Non-GMO Vitamins & Nutritional Supplements
Dr. & Pharmacist Formulated
Vcaps® & L-Vcaps® Technology
cGMP (current Good Manufacturing Practices)
Why you should speak with an InVite® Health certified nutritionist today. >>
Saturday, November 17, join us for a Free Nutritional Consultation with internationally recognized vascular expert, Dr. Gary Nackman, MD! Take an additional 10% off your total purchase in-store.
On Saturday, November 17, 2018, Dr. Nackman, MD will be holding free nutritional consultations at our new Palisades retail location from 11am-4pm.
Owner of NJ Vein Care, LLC.
Clinical Associate Professor of Surgery at Rutgers Univesity
Undergraduate Degree – Six Year Bio-Med Program, BS, from Union College
Graduate Degree – Albany Medical College, MD, Albany, NY
---
---