Green Tea for Overall Health in the Winter by Jerry Hickey, R. Ph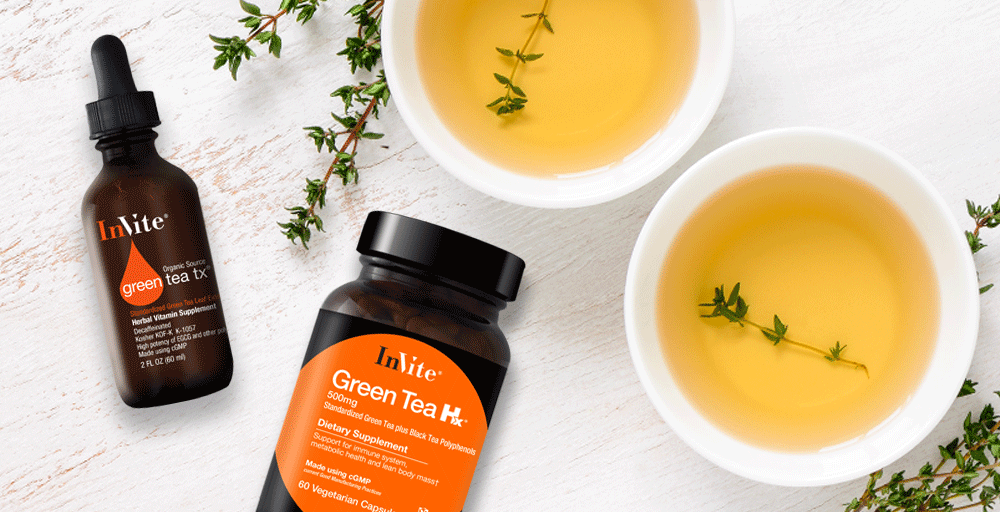 Written by Jerry Hickey, Ph

Tea is the second most commonly consumed beverage in the world and, personally, I love the flavor of green tea, the most protective of all teas. There are thousands of studies on green tea; studies have shown that it helps with feelings of satiation (feeling full), so you may eat less and it also helps burn calories but especially during a workout.
Green tea can make a big contribution to winter time health – this applies to all age groups. Researchers at the University of Florida supplemented healthy adults with a concentrated green tea (referred to further in this article as GT) capsule for three months while others, those less fortunate, received placebo (sham treatment) for comparisons sake. The test subjects ranged in age from 18 to 70. The GT group experienced a 32 % drop in the number of adults who experienced cold or flu symptoms. There was 23 % fewer illnesses that lasted at least two days and 36% fewer days with symptoms compared to people on placebo.
How Green Tea Works
Here is how GT seemed to work  – those taking GT capsules showed a big improvement in the ability of their immune systems to quickly and strongly mount a counter-attack against a virus. The number of immune T-cells they created to fight viruses jumped by 28% and the immune cells worked better by secreting a greater amount of their chemical arsenal; they secreted 26% more interferon in response to the infection improving their ability to kill the viruses.[i]
GT works in kids too and two recent-large studies prove this. Japanese health authorities recommend that children gargle with water in the winter to help protect them from respiratory tract infections and to reduce the number of fevers. Fevers in children are often caused by cold and flu viruses. In the study including more than 19,000 kids aged 2 to 6, gargling with water over the winter reduced the number of fevers by 30 % but gargling with green tea reduced the number of fevers by 68 %.[ii]
In a very strong study 2663 school children ages 6 to 13 were followed from 2008 to 2009. The children lived in a tea plantation region of Japan and they grew up drinking green tea. Flu infection confirmed by a doctor was reduced by 40 % in children who drank green tea 6 to 7 days a week versus kids who drank it less than 3 days a week. If the children drank 3 cups a day their infection rate was almost cut in half.[iii]
Green tea works well even in adults frequently exposed to infections. In a study of 197 healthcare workers a concentrated green tea supplement along with an amino acid called L-Theanine given to 98 test subjects cut the number with flu infection by 70 %. The healthcare workers were supplemented with 378mg of GT Catechins and 210mg of L-Theanine daily, the other 99 received inactive placebo. L-Theanine is an amino acid found in the tea plant. It is usually used to reduce feelings of stress.[iv]
Green tea seems to help the elderly also. Japanese researchers enrolled 124 elderly nursing home residents into their 3-month study. Seventy-six of them gargled with a concentrated GT tincture three times a day while the remaining forty-eight gargled placebo. All of the nursing home residents were vaccinated for the flu a month before.
Only 1 % of the elderly gargling green tea developed the flu but 10 % of those on placebo suffered the fluf1[v][vi]. Many elderly people can experience a drop in immune function and flu immunization is not as effective in them because their immune system is not as capable of forming antibodies in response to the immunization and of mounting a strong immune system attack if infection occurs. I commonly recommend that my clients swish green tea around their mouth, gargle and swallow twice a day throughout the winter. 
---
References
[i] Journal of the American College of Nutrition October 2007
[ii] Journal of Epidemiology, online ahead of print
[iii] Journal of Nutrition, online ahead of print
[iv] BMC Complementary and Alternative Medicine. February 2011
[v] Journal of Alternative And Complementary Medicine, September 2006
Tell us how green tea has been beneficial to you. Leave us a comment below!
---
---