The Mediterranean Diet Explained – Invite Health Podcast, Episode 89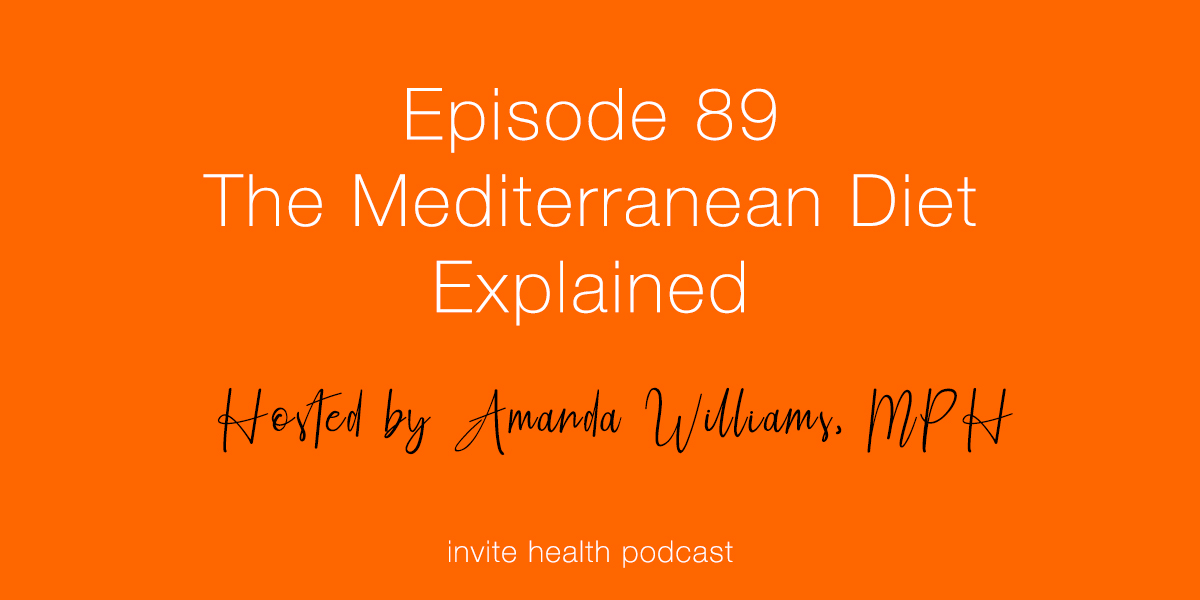 Invite Health Podcast, Episode hosted by Jerry Hickey. Ph
Subscribe Today!
On today's episode we are going to get into some details on the Mediterranean Diet. I talk about this so often and I am always saying that they should be adhering to a Mediterranean Diet! But the question that usually gets asked back is, "How do I achieve that?" Let's review what foods should be included in this diet and the science behind it.
What is the Mediterranean Diet?
This is a basically a generic name of the traditional dietary patterns that individuals living in the Mediterranean region follow. There is such an abundance of these really diverse non-starchy vegetables and minimally processed foods. The typical American diet, as we all know, is the complete opposite.
Only 12% of Americans are technically metabolically healthy, says a study from the University of North Carolina.
In the Mediterranean region, there is a higher consumption of real foods, including:
Fresh fruits and vegetables (broccoli, cauliflower, Brussels sprouts)
Seeds and nuts (walnuts, almonds, pine nuts)
Healthy oils and fats
Fish, including herring and sardines
There are benefits to incorporating Superfoods into your diet. Listen now >>
These foods contain powerful amounts of vitamins, minerals, healthy fiber and protein. This is why there is so much scientific research backing the support of following a Mediterranean Diet. 

What this means for your health
Research has shown us time and time again that when individuals adhere to this diet, there is a different correlation with a reduction in different disease states. The risk of so many chronic diseases – diabetes, heart disease, Parkinson's disease, Alzheimer's disease – all start to go down, even cancers.
There was a really large study (published in the journal Gerontology) involving over 22,000 men and women who had a higher adherence to a traditional Mediterranean diet. This was associated with a significant lower risk of cardiac and cancer mortality.
Thank you for tuning in to the Invite Health Podcast. You can find all of our episodes for free wherever you listen to podcasts or by visiting www.invitehealth.com/podcast. Make sure you subscribe and leave us a review! Follow us on Facebook, Twitter and Instagram at Invite Health today. We'll see you next time on another episode of the Invite Health Podcast.


---
---