NAC: The Inflammation Battling, Antioxidant-Boosting Amino Acid – Invite Health Podcast, Episode 128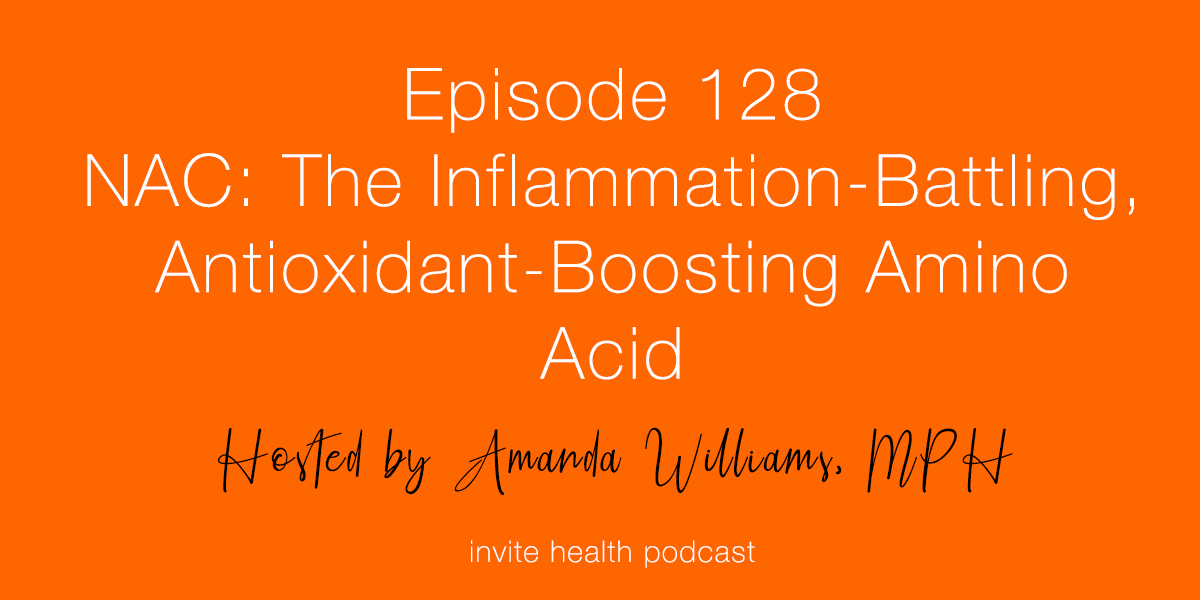 Invite Health Podcast, Episode hosted by Amanda Williams, MPH
Subscribe Today!
Today we are going to discuss NAC. This is a supplement that I find myself speaking with customers about for so many different utilizations when it comes to overall health benefits. So, let's discuss exactly what NAC is and all of the different clinical ways NAC has been studied (and is currently being studied).
What exactly is NAC? 
NAC, or N-Acetyl-Cysteine, is a modified version of the amino acid Cysteine. NAC helps to replenish inter-cellular levels of one of our most powerful antioxidants, Glutathione. By helping to restore Glutathione levels, NAC allows our cells to fend off oxidative stress and free radicals. It's common for many to think of NAC in the support of liver health; Glutathione plays an essential and critical role in terms of being able to help those little hepatocytes (liver cells) to fend off all of the different toxins that we are exposed to.
How Glutathione Helped These Coronavirus Patients Breathe Again. Listen Now >>

Health Benefits of NAC
NAC has been shown to inhibit the expression of pro-inflammatory cytokines. For example, being exposed to different bacterial or viral infections can cause a cytokine storm; this is when the immune system gets thrown "out of whack" and you get this really big surge of inflammatory cytokines that the body cannot handle. NAC has been shown to suppress this "storm". In one very recent clinical trial sponsored by Memorial Sloan Kettering Cancer Center, NAC was used to fight the COVID-19 virus by boosting a type of cell in your immune system that attacked infections. The study's researchers believe that if they give patients high dose IV NAC when they are in clinical care units like the ICU, it can help them so much that they would be moved out of the ICU or even taken off of their ventilators. This is an active study.†
A separate research report released in April 2020 in the journal Medical Hypotheses discussed NAC and the prevention of COVID-19 associated cytokine storm. This amino acid has also been studied as a benefit for diabetics, as studies have shown it can help improve insulin sensitivity.†
NAC has been shown to be able to fight off the stomach infection that is brought on by H. Pylori. H. Pylori is the most common bacterial infection in the stomach that is directly causative to peptic and duadinal ulsers. NAC has been shown to inhibit the growth of H. Pylori by reducing the production of the inflammatory cytokines.† Learn more about H. Pylori by clicking here! 
Do you currently use an NAC supplement? What are some of the benefits you've experienced? Leave a comment below to join the discussion now. 
Thank you for tuning in to the Invite Health Podcast. You can find all of our episodes for free wherever you listen to podcasts or by visiting www.invitehealth.com/podcast. Make sure you subscribe and leave us a review! Follow us on Facebook, Twitter and Instagram at Invite Health today. We'll see you next time on another episode of the Invite Health Podcast.


---
---