New Products Have Arrived! Take A Look Inside!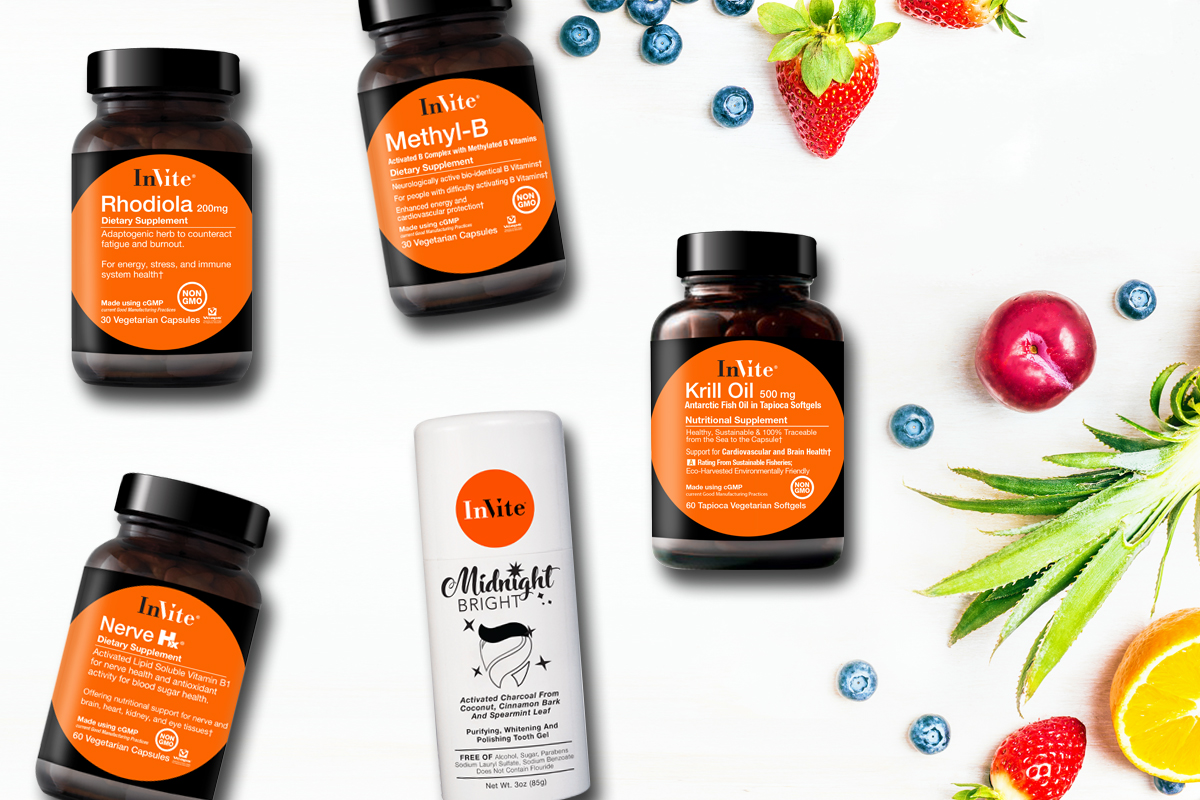 InVite® Health is proud to offer the most innovative and effective nutritional products on the market. Led by InVite®'s Scientific Director, Jerry Hickey, Ph., InVite® Health actively develops new products to help our customers enhance their health and wellness. We invite you to view our new supplements and new vitamins and to consult with our degreed nutritionists and naturopathic doctors. These healthcare professionals can advise you on how our products can be successfully integrated into your current wellness regimen in order to achieve optimal health benefits.
Here are all of InVite®'s new products —
Krill Oil with Tapioca Softgels
Antarctic-sourced Krill is a shrimp-like crustacean that supplies EPA and DHA, supporting cardiovascular health, including circulation and blood fats already within a normal range and brain health, including memory.
Why Take InVite® Krill Oil 500MG Supplement?
Healthy, sustainable and 100% traceable from the sea to the capsule †
A-rating from sustainable fisheries; eco-harvested environmentally friendly
Non-GMO Nutritional Supplement
Tapioca Vegetarian Softgel Capsules strongly shield Krill from oxygen to retain freshness, yet improve absorption offering superior bio-availability
Made using cGMP (current Good Manufacturing Practices)
Midnight Bright Activated Charcoal Toothpaste
Activated Coconut Charcoal, Hydrated Silica, and Cinnamon Bark Powder provide superior support for stimulating gum health and freshening breath. This unique formula absorbs toxins from irritated gums and helps promote oral microbial balance for fresher breath, brighter teeth, and healthier gums. For polishing the teeth and helping remove resins that stain teeth including from wine, tea, coffee, and tobacco.
FREE OF Alcohol, Sugar, Parabens Sodium Lauryl Sulfate, Sodium Benzoate Does Not Contain Flouride
Methyl-B
B-Vitamins are involved in every process of the human body. Think of them as billions of on/off switches throughout every organ and system. B-Complex vitamins interact with each other and are at the core of creating energy out of calories and oxygen. They also safeguard brain health and help shield your heart and arteries. To work, B-Vitamins must be converted to their active, methylated forms. However, not everyone can make the conversion and it becomes increasingly more difficult with age.
Helps maintain homocysteine levels within an acceptable range
Supports methylation of key neurotransmitters for brain health
Supports healthy-proper methylation of many hormones
Supports energy production and metabolism
Why Take InVite®'s Methyl-B Supplement?
Non-GMO Dietary Supplement
Manufactured in the USA, in a cGMP-certified, FDA-inspected facility for guaranteed quality, purity, potency and freshness
Pharmaceutical grade ingredients
Rhodiola
The word adaptogen in herbal medicine refers to an herb or plant extract that helps the body adapt to stress and fatigue, while promoting or restoring normal physiological (bodily) functioning. Rhodiola is just such an herb. It's the root of the Rhodiola plant which contains the highest concentration of Rosavins and Salidroside that has the greatest impact on restoring or supporting wellness.
Rhodiola helps to increase energy and promote stress relief, while improving your mood and reducing mental fatigue. It promotes a soothing, calming effect, while steadily improving a sense of wellbeing. This herb also supports endurance so you can achieve more with exercise or for sports performance. Rhodiola may also support healthy immune system function over the winter and during times of prolonged stress.†
Why Take InVite®'s Rhodiola Supplement?
Non-GMO Dietary Supplement
Made following cGMP (current Good Manufacturing Practices)
Made with Vcaps® technology (Vegetarian Capsules), employing advanced delivery methods for efficient absorption
Nerve Hx®
Benfotiamine is the more bioavailable and lipid-soluble form of Thiamin (Vitamin B1). Its bioavailability lends to improved concentrations in the brain, nerve tissues, and muscle. It is needed by muscle tissue for energy production which is especially important for an organ as energetic and active as your heart muscle. Benfotiamine supports transketolase activity, a key enzyme in the formation of what may be the body's most functional age-defying metabolite; NAD/NADH. Benfotiamine may help protect memory and is important for vision. It is especially vital for nerve tissue and even supports the health of nerve tissue in individuals with blood sugar issues.Benfotiamine may also support kidney health, while helping to protect organs and systems from the damaging effects of elevated sugar in the blood.†
Why Take InVite®'s Nerve Hx®?
Non-GMO Dietary Supplement
Made following cGMP (current Good Manufacturing Practices)
Made with Vcaps® technology (Vegetarian Capsules), employing advanced delivery methods for efficient absorption
Questions about these new products? Leave a comment below for one of our certified nutritionists!

---
---