What Science Says About Glucosamine, Chondroitin & Cancer – InVite Health Podcast, Episode 240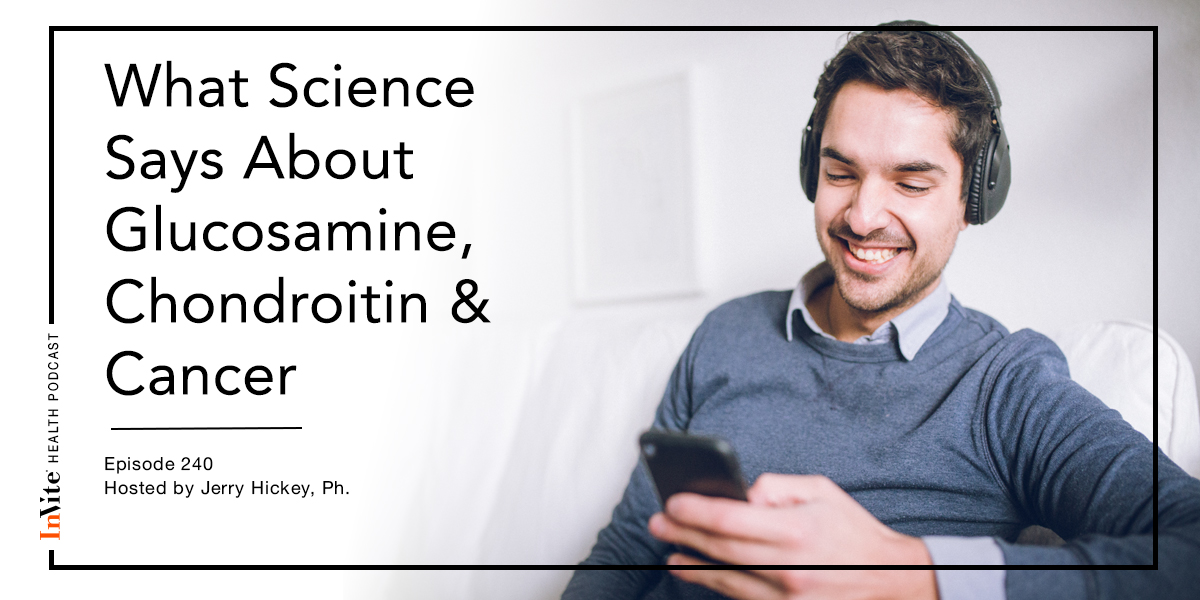 Glucosamine

Invite Health Podcast, Episode hosted by Jerry Hickey. Ph
Subscribe Today!
Glucosamine and Chondroitin are two well-known nutritional supplements. They're typically used for arthritis pain and, according to the data, they really work. But, there's a caveat: they have to be really high quality as far as the ingredients go. They've been shown to help with pain, stiffness, the function of the arthritic knee, range of motion, walking further on the treadmill more comfortably, walking up and down the stairs more comfortably, and quality of life. This means that pain is going down and quality of life and function are improving. They've even been compared to NSAIDs, which are drugs typically used for arthritis and inflammation. This includes drugs like ibuprofen, naproxen and celecoxib. Glucosamine and Chondroitin have been compared with celecoxib, which is the generic form of celebrex, two times and they worked as well as celebrex. They help with moderate to severe pain. They don't really do anything for very mild pain.† 
Now, they're doing independent studies looking simply at inflammation because chronic inflammation throughout the body is very dangerous. Of course, that kind of inflammation can lend itself to cancers, so now they're showing that Glucosamine and Chondroitin may have the ability to shield us from several cancers and do it to a fairly good degree.† 
The Power of Glucosamine & Chondroitin For Joint Health Support – InVite Health Podcast, Episode 194. Listen Now >>
Glucosamine and Chondroitin's impact on inflammation 
Here's a study about systemic inflammation that was published in the journal PLOS ONE. The study was done by researchers at the Fred Hutchinson Cancer Research Center in Seattle, Harvard School of Public Health in Boston, and Vanderbilt University School of Medicine in Nashville. It's a randomized, double-blind, placebo-controlled human clinical trial. It's a crossover study, which adds an extra layer of evidence and strengthens that evidence. In a crossover study, one group of people randomly gets the placebo and the other group gets the active substance that they're studying. Then, they have a wash-out period where no one takes either product, and then they switch them over so that the people who were previously getting placebo are now getting Glucosamine and Chondroitin, and the people who were on Glucosamine and Chondroitin are now getting placebo. That kind of increases the weight of the evidence. The study was done with healthy men and women who took either placebo or Glucosamine and Chondroitin for one month, then there was a wash-out and they were crossed over. The researchers looked at inflammatory markers, which is really important. Chronic systemic inflammation is dangerous. Chronic systemic inflammation is involved with many diseases, including Alzheimer's diseases, cancers, heart disease and diabetes. The researchers looked at a group of inflammatory biomarkers. They found that the level of C-reactive protein (CRP) in the serum dropped by 23% after one month on Glucosamine and Chondroitin. That's a huge winner because it means that systemic inflammation is going down. That's really good for the brain, heart and kidneys. They also found that the interleukin 6 dropped. That's another great finding.†
Glucosamine and Chondroitin's impact on cancer risk
Now, let's look at the Vital Study. This study was performed in Washington on thousands and thousands of adults. It's just shy of 78,000 people. It's in the journal Cancer Epidemiology, Biomarkers & Prevention. They're looking at the use of Glucosamine and Chondroitin. They found that people who used Glucosamine and Chondroitin over a ten-year period had a 26% drop in their risk of developing lung cancer and a 27% lower risk of developing colorectal cancer.†  
What Science Says About Vitamin D & Cancer Survival – InVite Health Podcast, Episode 236. Listen Now >>
There's more data on using Glucosamine and Chondroitin with colorectal cancer. Here's a study from Spain that's in the journal Science Reports. It was done on over 6,000 adults. It's a case-controlled study. They found that people who use Glucosamine and Chondroitin had a 53% decreased risk of developing colorectal cancer.† 
For more information on the benefits of Glucosamine and Chondroitin, tune into the full podcast episode. 
Thank you for tuning in to the Invite Health Podcast. You can find all of our episodes for free wherever you listen to podcasts or by visiting www.invitehealth.com/podcast. Make sure you subscribe and leave us a review! Follow us on Facebook, Twitter and Instagram at Invite Health today. We'll see you next time on another episode of the Invite Health Podcast.


---
---