It's Time To Go Clean With Your Hair Care Routine! – InVite Health Podcast, Episode 180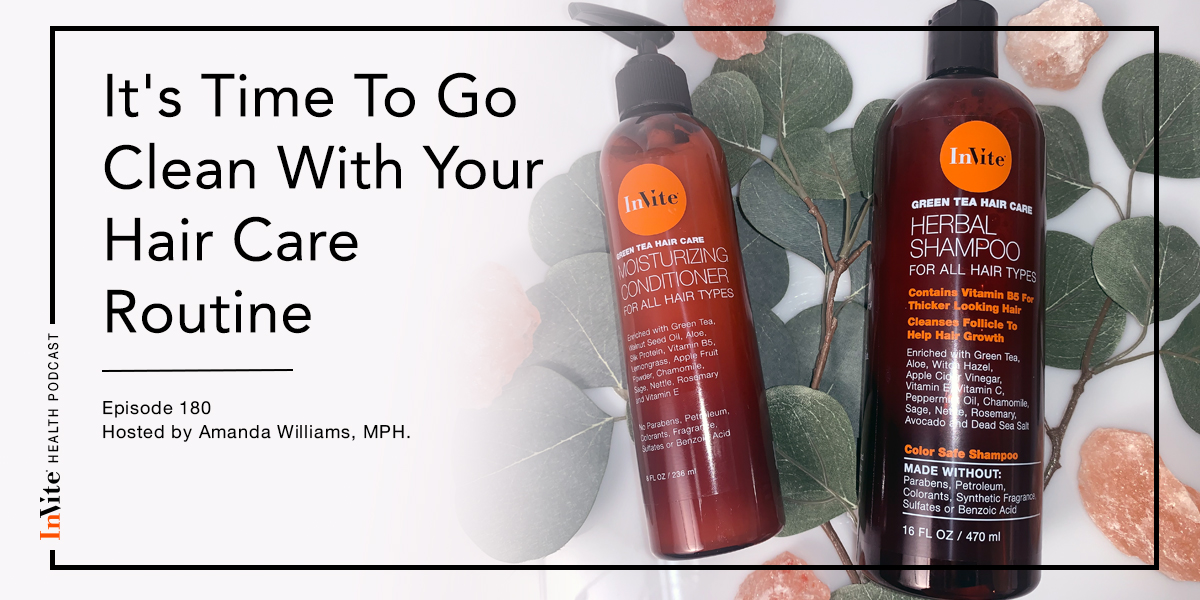 Invite Health Podcast, Episode hosted by Amanda Williams, MPH.
Subscribe Today!
Aging gracefully is something that I always talk about. Oftentimes, people take for granted that we're only referring to the insides, but we also have to consider what we're doing on the outside. When we think about things such as our skin and hair, we have to be cognizant of what we're actually applying to them because there are so many chemicals found in everyday health and beauty products that can be incredibly damaging to our overall wellness and can really interrupt the process of aging gracefully. Today, we're going to talk about what you should be looking for to benefit your skin and hair health.
THE IMPACT OF HARMFUL CHEMICALS
In the United States, we know there are over 10,000 different chemicals that are used in personal care products and cosmetics. What's really alarming is that roughly 90% of those chemicals have never been assessed by the FDA, meaning we don't know how harmful they can be. We know about the long-term damage the remaining 10% of those chemicals can do. This includes commonly used chemicals such as parabens and phthalates. These chemicals are known to be endocrine disruptors, meaning that they seep into our bodies and disrupt the normal process and flow of the way that hormones are released. There are studies that have linked cosmetic use to fertility issues in both men and women, but these chemicals impact more than just sex hormones. They can also affect your body's levels of cortisol, glucose, and insulin, amongst others.†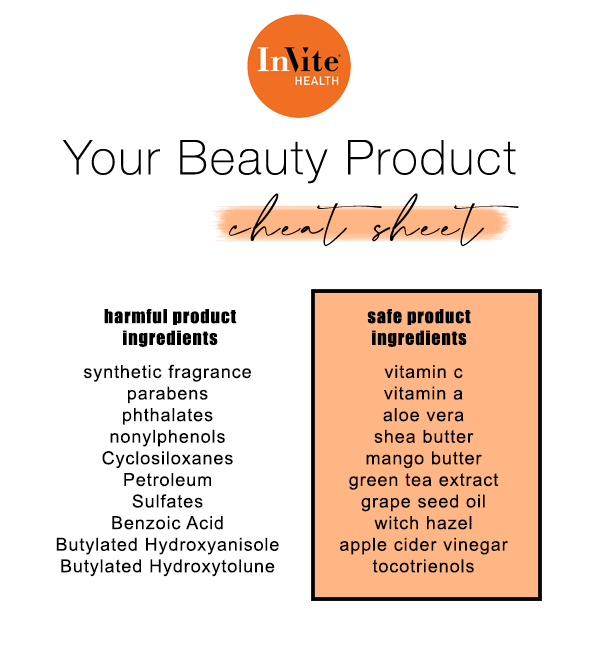 Skin and Oral Care Tips While Wearing a Mask – InVite Health Podcast, Episode 179. Listen Now >>
By disrupting essential functions in our bodies, these chemicals are preventing us from aging gracefully, so we want to identify products that are free from harmful substances like alcohol, parabens, petroleum, fragrances, sulfates, and colorants. These are all things we know create endocrine disruption, so why would you want to be putting them on your hair or skin? 

NATURAL ALTERNATIVES
Instead, we want to utilize things that are from nature, like apple cider vinegar, coconut oil, and aloe. These are things that we can identify with and have likely seen in our lives. Keep in mind that the skin is our largest organ, so anything we apply to it is going to get absorbed into the body. If we apply products with chemicals, the body then has to contend with that in terms of detoxification. This is not the case with natural ingredients like avocado oil and apple cider vinegar, which are not toxins. Not only are these natural ingredients recognizable, but they are also full of wonderful oils and rich nutrients that can help with creating a healthier balance of natural oils and PH levels.† 
For more information about natural ingredients that can benefit your hair and skin, tune into the full podcast episode by clicking PLAY above.  
InVite Health offers skin and hair care products that are free of toxic chemicals and full of natural ingredients. Our Herbal Shampoo contains green tea extract, coconut oil, Vitamin C, peppermint oil, sage, and rosemary, all of which are wonderful nutrients. 
Your Beauty Products Are Toxic To Your Breast Health – Invite Health Podcast, Episode 29. Listen Now >>
For many people, even if you are on that wellness path, this might be an area that you've completely overlooked. Not only do we know that the synthetic chemicals found in everyday shampoos and conditioners can be harmful in terms of endocrine production, but we also know that as we use these products, we are inhaling synthetic chemicals. This is why we have to be proactive in our own health. We want to be able to minimize our exposure to harmful things and instead utilize ingredients that come from nature. When we put all of the herbs and natural ingredients together and remove the chemicals, then we can feel really good about what we're doing on our path to wellness.†   
Questions about common hair care products or ingredients? Leave us a comment below to discuss! 
Thank you for tuning in to the Invite Health Podcast. You can find all of our episodes for free wherever you listen to podcasts or by visiting www.invitehealth.com/podcast. Make sure you subscribe and leave us a review! Follow us on Facebook, Twitter and Instagram at Invite Health today. We'll see you next time on another episode of the Invite Health Podcast.


---
---