Skin and Oral Care Tips While Wearing a Mask – InVite Health Podcast, Episode 179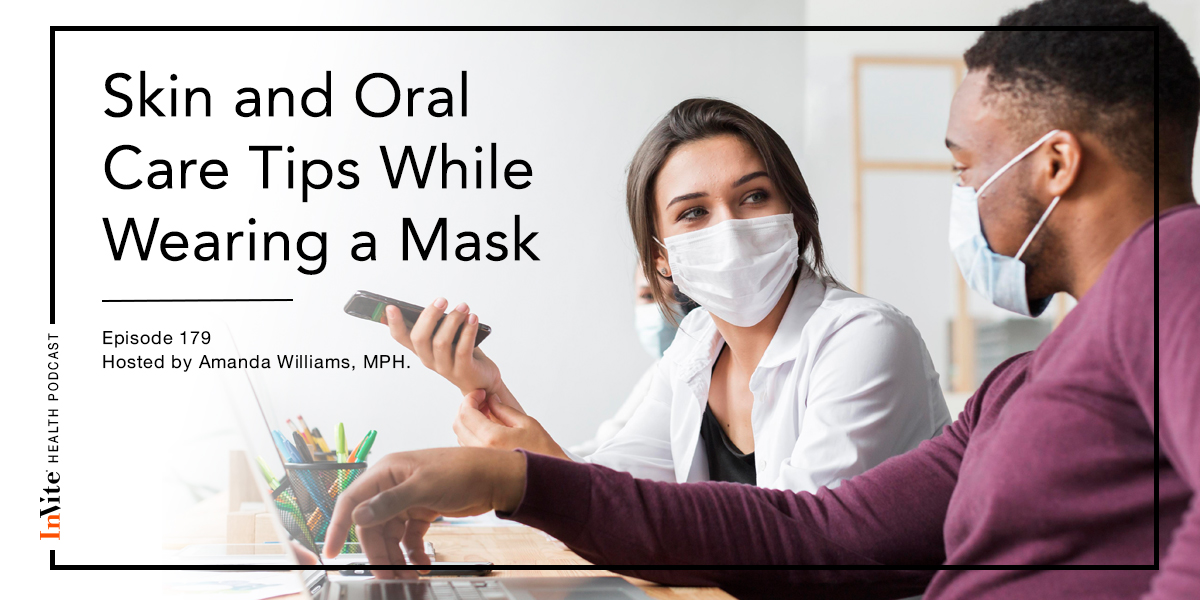 Invite Health Podcast, Episode hosted by Amanda Williams, MPH.
Subscribe Today!
For so many of us out there, wearing a mask has kind of become second nature. Everyone is wearing their mask when they're going into grocery stores, gas stations, work, and more. A lot of questions have been coming up in regards to wearing masks on a frequent basis. 
One of the things there's been a lot of inquiries on is bad breath. A lot of people feel like their bad breath has become more noticeable or pronounced, making them question if they really have halitosis. The other thing that a lot of people have questions on in regards to continued mask wearing is dryness and irritation on the skin around the mouth area and even on the chin. I want to talk about a few techniques you can do that might be very beneficial, especially since, in many parts of the country, wearing a mask for the foreseeable future is the new reality. 
Your New Winter Skin Care Routine – Invite Health Podcast, Episode 26! Listen Now >>
SUPPORTING YOUR ORAL HEALTH
If you are experiencing bad breath that you notice when you're wearing your mask all day long, oftentimes, people are usually using traditional toothpastes, which often have many different chemical agents in them. It could be that you're starting to pick up on the fuming off of those chemicals. One thing that would be advantageous to you would be to use clean formulations, which do not have chemicals and thus cannot seep out these fumes. We want to think about utilizing things from nature, including nutrients like white tea, green tea, peppermint oil, Vitamin C, and olive leaf extract. We know that these nutrients can be very supportive to the health of our gums and teeth. I would even encourage this as a lifelong practice.† 
InVite Health's PerioDental White Teath Gel is a fabulous option. It is a white tea base, but it also combines things such as peppermint oil, myrrh, zinc, Vitamin C, and coQ10. Starting your day off with a really healthy, regimented routine, as opposed to putting chemicals in our mouths, can help with this issue and benefit your overall mouth health.†       
The bad breath you're noticing could also be related to a GI issue. In that situation, we want to consider things like a probiotic on a regular basis and utilizing digestive enzymes. Taking an enzyme like Digestive Hx, for example, 15 minutes prior to eating your meals could be quite advantageous, as it allows for better and more expedient breakdown of your foods. This can often help to mitigate gas build up from residual food, which can cause odor.†  

Some people may also notice dryness in the mouth associated with more regular mask usage. Something to consider to combat this issue is an herbal-based lozenge, like InVite's PerioDental Lozenge, which gives you grape seed extract, glutathione, marshmallow extract, slippery elm, zinc, and Vitamin C. These ingredients can help fend off free radicals that form in the mouth without the use of chemicals. Herbal lozenges like this are very soothing and supportive to the normal balance within the mouth.†    
For more details on products that can fit into your oral care routine, tune into the podcast episode by clicking PLAY above, or visit invitehealth.com. 
SKIN CARE SOLUTIONS
We have to also think about dryness of the skin. Many people have noticed irritation around the mouth, chin, and nose. Getting into the routine of having a regimented skin care program on a daily basis could be beneficial. I would look at things with a green tea base that will also yield you other nutrients. Washing your face every day with a gentle facial cleanser that has ingredients like green tea, aloe, witch hazel, tea tree extract, and neem can be very beneficial to your skin. These ingredients can be found in our Clear Skin Care formulas, which includes the facial cleanser, facial toner, and facial moisturizer. If you are noticing that your skin does seem to have more of that drying sensation to it, I would definitely encourage you to, at minimum, to look at utilizing the moisturizer. The moisturizer is really nice. It's a cream that's easy to use in the morning before you leave for work. The wonderful and powerful herbal extracts in the moisturizer will help hydrate and soothe the skin while you're at work with your mask on all day. Our formula utilizes ingredients like green tea extract, grape seed oil, aloe, Vitamin E, and Vitamin C, which are all powerful nutrients that can really help to support the skin and irritations that can arise.† 
For more details on products that can fit into your skin care routine, tune into the podcast episode by clicking PLAY above, or visit invitehealth.com. 
Being on a good skin care and oral health routine are just little steps towards improving these issues and your overall wellness, all while making wearing a mask a little more bearable. We want to make sure we're using products that provide us with essential nutrients and vitamins, which will help the body thrive. 
Questions about skin care or oral care products? Leave us a comment be

low to discuss! 
Thank you for tuning in to the Invite Health Podcast. You can find all of our episodes for free wherever you listen to podcasts or by visiting www.invitehealth.com/podcast. Make sure you subscribe and leave us a review! Follow us on Facebook, Twitter and Instagram at Invite Health today. We'll see you next time on another episode of the Invite Health Podcast.


---
---