New Winter Catalog is Now Available!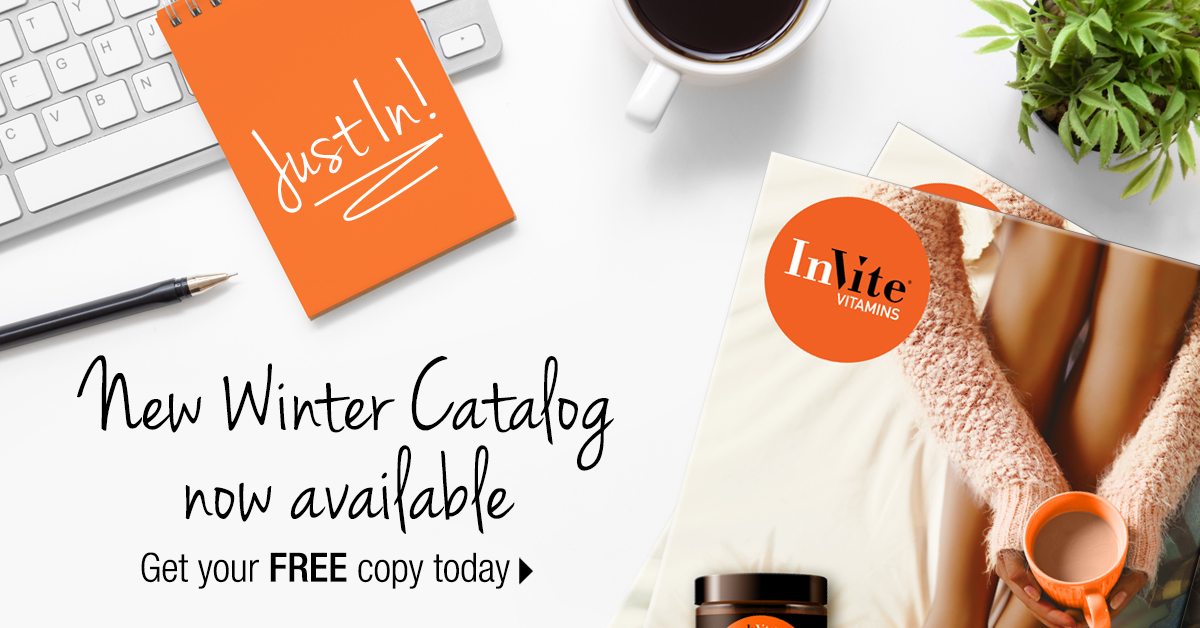 InVite® Health is pleased to announce the release of a new winter catalog that has been in the catalog printing (for physical copies anyhow) phase for some time now, where both new and returning customers have insight into product and nutritional information.
The vitamin and supplement world can be confusing and overwhelming. InVite® gets rid of the confusion with numerous educational resources, so our customers have the knowledge they need to make informed decisions about their health, nutrition and overall wellness.
New Products
Scientific Director and Pharmacist Jerry Hickey has dedicated his life to collating and disseminating important health and nutrition information and to designing products to support the effort. He spends a great deal of time and effort piecing together this information, in order to provide you with a beneficial and highly-credible product line, based on the latest scientific research studies and clinical trials.
Benfotiamine (Nerve Hx). Activated lipid soluble Vitamin B for nerve health and antioxidant activity for blood sugar health. Offering nutritional support for nerves, brain, heart, kidneys and eye tissue.*
Rhodiola. Adaptogenic herb to counteract fatigue and burnout. For energy, stress, and immune system health.*
Methyl-B. Activated B-Complex with Methylated B-Vitamins to maintain homocysteine levels, and support brain health, energy production and metabolism.*
Coming soon!
Multi PROtection. What's more protective than a green superfood, a probiotic blend and a one-per-day Multiple Vitamin and mineral supplement? InVite® combined all three in one formula and it's packed with antioxidants – just take one a day for ongoing health and energy.*
Midnight Bright Tooth Gel. The perfect combination to keep your teeth clean, bright and sparkly and your breath fresher. Cinnamon bark powder, coconut charcoal, and olive leaf are just some of the beneficial ingredients that polish and whiten your teeth, helping to remove resins from wine, tea, and tobacco.*
Nutrition Articles written by Naturopathic Doctors and Certified Nutritionists
Assisting Jerry Hickey on this journey is a team of nutritional professionals – a group of hand chosen, dedicated experts, available at each and every InVite® Health retail location. Their purpose is to provide you with the guidance you need in order to make informed decisions about your health and wellness. In the Winter catalog, they have written nutrition articles to help get you started.
Health & Beauty by Jerry Hickey, R.Ph
Multivitamins by Archana Gogna, MS, CNS, MBA
Tinctures by Kristina Smyth, MNT, CHHC
Targeted Nutrition by Amanda Williams, MPH
Doctorate in Medicine from Xavier University in Aruba
Powerplant by Allie Might, INHC, AADP, ATT
For FREE personalized, nutritional consultations, visit an InVite® Health retail location near you.
Also included in the new Winter catalog!
Product information, including supplement facts and pricing, Targeted nutrition programs, Exclusive catalog offers, drug-induced nutrient depletion chart and Dr. Alan Pressman Product Information.
Get your free winter catalog today!
---
---