We Challenge You to Join The InVite® 14-Day Walking Challenge!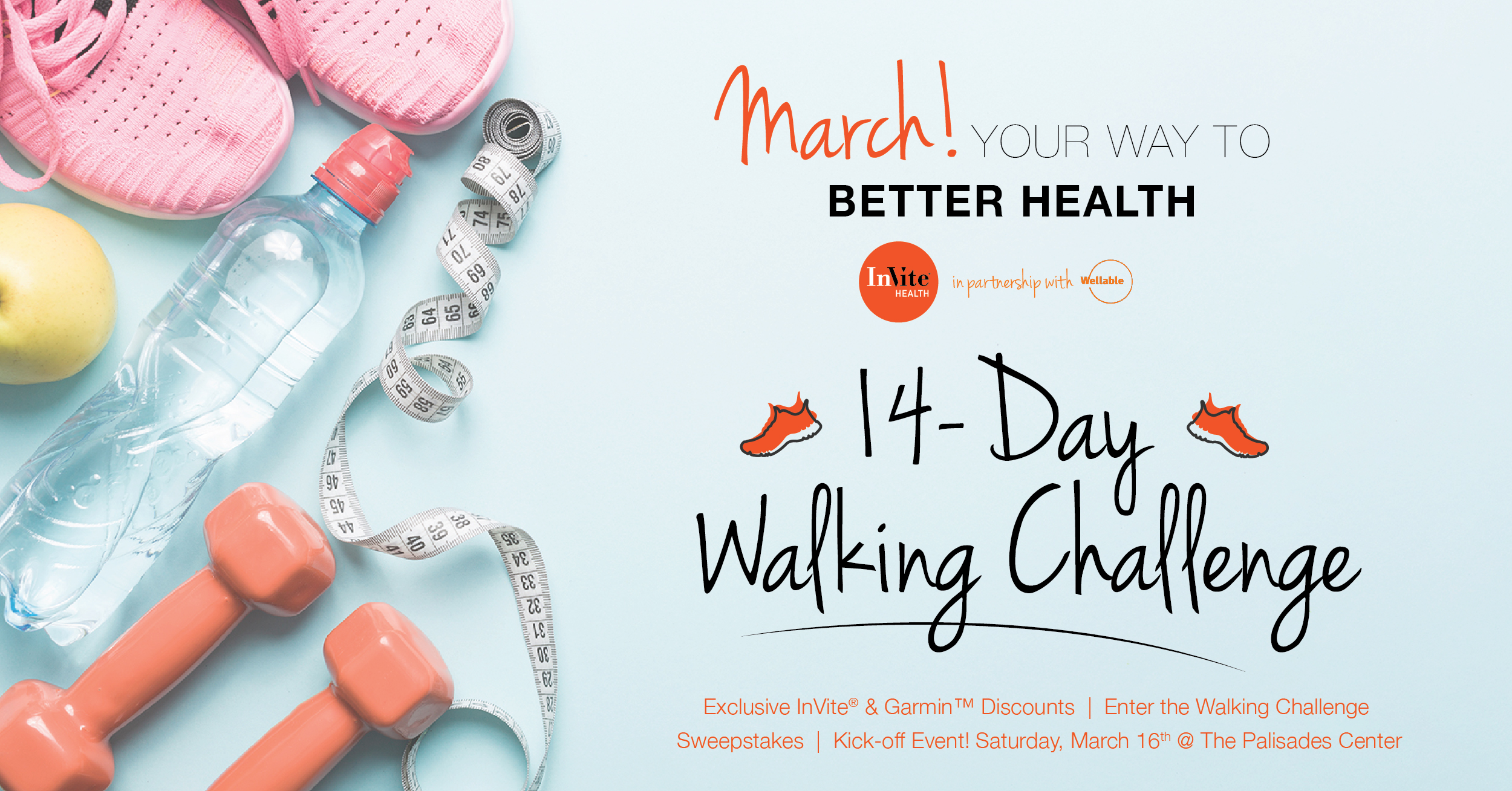 We have partnered with Wellable to offer you a challenge you don't want to miss! Join us as we challenge you to reach new walking goals!
The 14-Day Walking Challenge
We're inviting you to get started on this FREE walking journey with the InVite® Health team for the next 14 days to increase your activity levels and improve your wellbeing! Connect your wearable devices (like your FitBit™, Garmin™, Apple™ Watch, etc..) or a free app to automatically track and report your steps throughout the challenge. You will have access to a Bulletin Board for activity tracking and the latest updates throughout the challenge.

Don't have a wearable device? Once you register, you will unlock a code for up to 50% off off Garmin™ Watches! Or, you can view other Garmin watches by clicking here: https://www.invitehealth.com/Wearables/
Incentives!
To help motivate you throughout the challenge, we've created exclusive offers and prizes you just can't miss out on! Not only does your registration unlock two secret discounts from InVite® and Garmin™, but you will be entered into the Walking Challenge Sweepstakes!
Throughout the 14-Day Walking Challenge:
• For every 500 Wellable Points earned (or 10,000 steps per day), you will receive an additional entry in to the Walking Challenge Sweepstakes!
• For those who walk 10,000 steps each day for the duration of the 14-Day Walking Challenge, you will be rewarded with a $10 in-store credit to InVite® Health!
To Register and Track Your Steps

You will need to register for the Walking Challenge in order to participate. Registration begins Friday, March 1st.
In order to participate in the challenge, gain additional entries into the Sweepstakes and win, you will need to sync a mobile app or wearable device (like your FitBit, Garmin or Apple Watch) to the Wellable platform. Once registration opens, visit and register. Once you register you will receive an email from Wellable on how to connect your app or device to the Walking Challenge.

Questions? Send us an email at getsocial@invitehealth.com or give us a call at (800) 349-0929. For more information on the 14-Day Walking Challenge, visit www.invitehealth.com.

---
---