The Benefits of Glucosamine Go Beyond Joints – InVite Health Podcast, Episode 464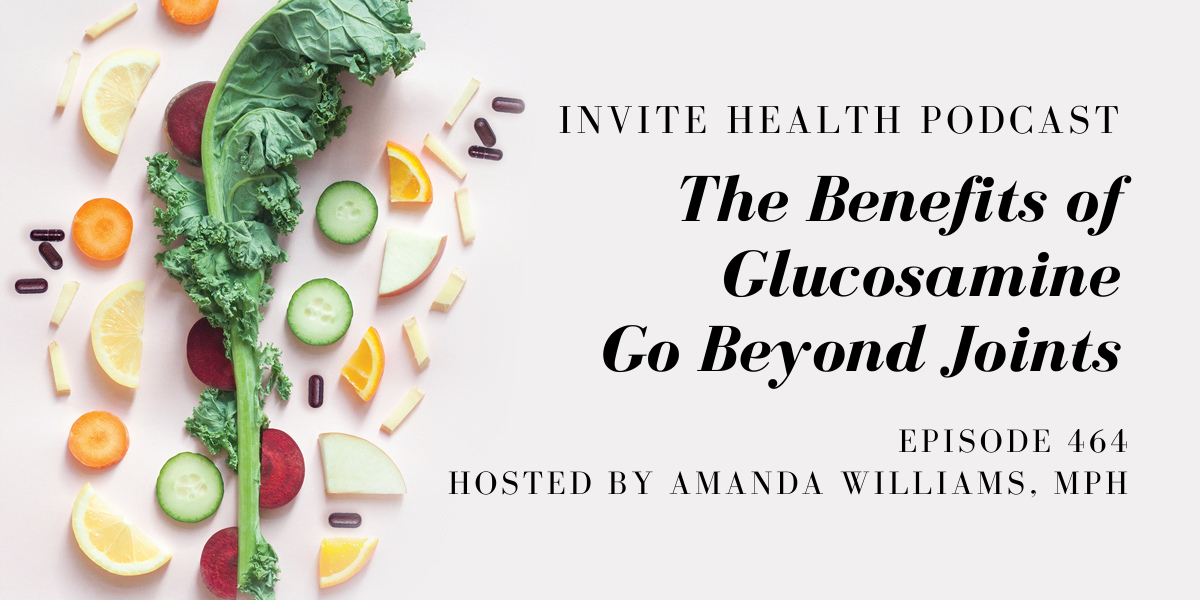 glucosamine
InViteⓇ Health Podcast, Episode hosted by Amanda Williams, MPH
Subscribe Today!
There's a natural compound that's found in our joints and that is glucosamine. Most people have heard that glucosamine can be very, very beneficial when it comes to targeting inflammation within the joints. For those who experience joint discomfort, when they start to utilize this nutrient, they oftentimes find really positive effects from this. Today, I want to talk in some detail about what exactly glucosamine is doing in the human body.†
ACHING JOINTS? YOU NEED THESE NUTRIENTS – INVITE HEALTH PODCAST, EPISODE 455. Listen Now>>
Glucosamine, chondroitin and inflammation
Glucosamine is doing something amazing, aside from offering cushioning support to the joint and promoting good, healthy movement. We now realize that this compound has multiple functions in the human body.†
There was a study that was published in 2010 in the American Journal of Clinical Nutrition and they found that those who supplemented with glucosamine on a regular basis had a significant reduction in all-cause mortality. They started to dive into how this could be happening. What they found is that glucosamine, along with chondroitin, both target NF Kappa Beta.†

NF Kappa Beta is one of the master regulators for inflammation in the body. If we have excess NF Kappa Beta, we're going to have higher levels of inflammation, which is never a good thing. Inflammation is directly causative to all of the different chronic disease states.†
CONSIDER BROMELAIN, A FRUIT ENZYME FOR DIGESTION AND INFLAMMATION – INVITE HEALTH PODCAST, EPISODE 294. Listen Now>>
Additional studies have shown that glucosamine can help to support the heart, healthy blood sugar levels, metabolism, respiratory health, digestive health and more.†
After seeing this research, we now recognize that glucosamine goes far beyond just supporting our joints. When it comes to glucosamine utilization, we see this ability to fend off inflammation not just in the joints, but now we're seeing the ability to fend off inflammation throughout the entire body, which makes this a highly functional nutrient for you to include into your routine.†
In this episode, Amanda Williams, MPH discusses the nutrient glucosamine and explains the benefits it offers outside of just joint health.†
Key Topics:
How this nutrient plays a role in joint health
Additional research on glucosamine
Thank you for tuning in to the InViteⓇ Health Podcast. You can find all of our episodes for free wherever you listen to podcasts or by visiting www.invitehealth.com/podcast. Make sure you subscribe and leave us a review! Follow us on Facebook, Twitter and Instagram at InViteⓇ Health today. We'll see you next time on another episode of the InViteⓇ Health Podcast.


---
---