Black Elderberry Offers Support Against The Common Cold – InVite Health Podcast, Episode 271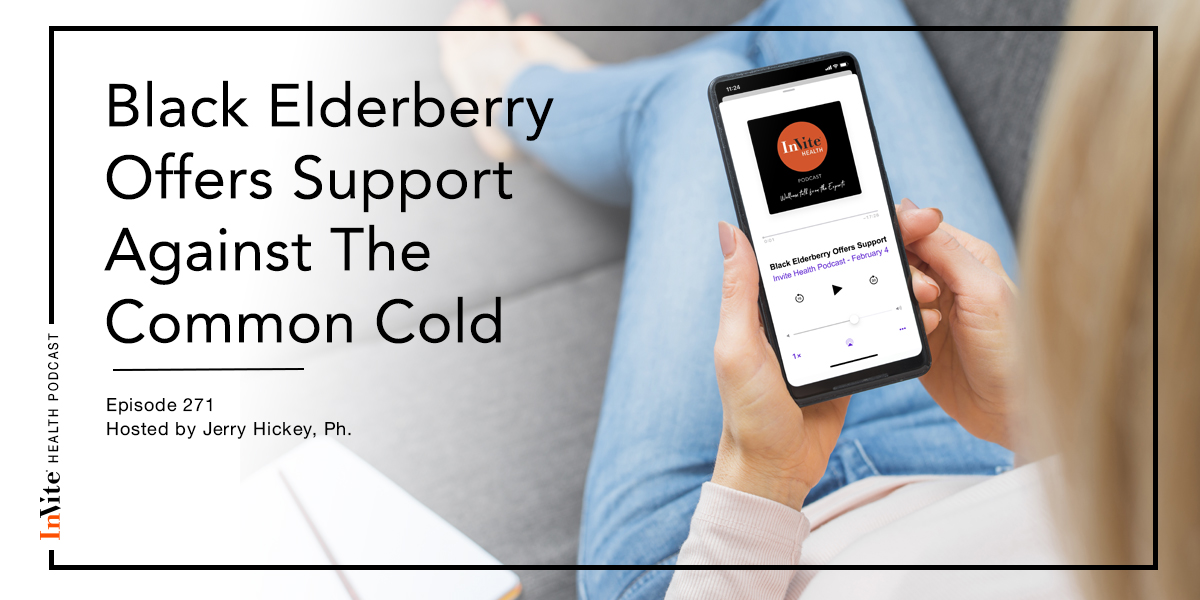 elderberry

Invite Health Podcast, Episode hosted by Jerry Hickey. Ph
Subscribe Today!
Elderberry flowers and fruit are used in remedies to reduce cold and flu symptoms. They're used in home remedies and have been used for centuries. Studies demonstrate that they work and are effective. Elderberry belongs to a family of flowering shrubs known as sambucus or elder. They're native to Europe, but now they've been naturalized in the United States and also in parts of Asia. You've probably heard of elderberry wine. The fruit is also used to make jams, syrups and other foods, but you cannot eat raw elderberries. They're inedible. They have to be cooked before you can eat them. 

Health benefits of black elderberry
The berries are rich in nutrients, but several of the components in elderberries stand out because they may also block infections. Elderberry flowers and fruit are incorporated into remedies to help with cold and flu symptoms, but also for inflammation and respiratory tract diseases like sinusitis and sore throats. The berries are a rich source of anthocyanins and other polyphenols. Many anthocyanins have some antiviral activities, but it seems that the elderberry stands out.† 
New Evidence That Green Tea Benefits The Flu – InVite Health Podcast, Episode 256. Listen Now >>
There are several species of these sambucus plants that produce these elderberries, but the European elder, the sambucus nigra or black elderberry, is the type most studied and that's the one used in supplements. In vitro studies demonstrate that elderberries have antiviral activity, antibacterial activity, antioxidant activity and anti-inflammatory properties. It seems to reduce the symptoms of influenza and colds.†  

Studies on black elderberry
A study from Emory University looked at coronaviruses that infect poultry. The researchers found out that the black elderberry inhibits the types of coronavirus that infect chickens and it's a strong relationship. It was a dose-response manner. That's like a linear relationship. In other words, the more of the black elderberry that they fed the chickens, the more they were able to withstand the poultry kind of coronaviruses. There is some effect on a broad range of viruses. Coronaviruses are one of the families of viruses beside rhinoviruses and several others that cause the common cold. That's why people don't dependably develop antibodies against the common cold. They do against the strains they've been exposed to previously, but there are several hundred strains that cause the common cold. That's why you never have total resistance to the common cold.†   
Here's a study in the journal Complementary and Therapeutic Medicine. It's from the Franklin Institute of Wellness. They're looking at 180 people who had upper respiratory tract infections. The researchers found that giving these patients the elderberry really reduced the intensity of their symptoms, like runny nose, sneezing, coughing, sore throat, stuffy nose, etc. They said that these findings present an alternative to regular prescription drugs and over-the-counter drugs that might have side effects for people with viral upper respiratory tract infections.† 
Hear about more research on black elderberry by listening to the full podcast episode.
Black elderberry at InVite Health
Black elderberry is something we do use in our products, such as our wintertime products that are beneficial during cough and cold season. It has GRAS certification from the Food and Drug Administration (FDA). GRAS specifically means "Generally Recognized as Safe," but what that actually means is that you can use it and it's not going to hurt you. 
Why Beta Glucan Should Be Part of Your Immune System Arsenal – InVite Health Podcast, Episode 268. Listen Now >> 
A good mix of black elderberry would be with beta-1.3-glucan. That's what I normally do during the winter season. You can find these powerful nutrients in our new Beta Immunity Hx formula.† 
Thank you for tuning in to the Invite Health Podcast. You can find all of our episodes for free wherever you listen to podcasts or by visiting www.invitehealth.com/podcast. Make sure you subscribe and leave us a review! Follow us on Facebook, Twitter and Instagram at Invite Health today. We'll see you next time on another episode of the Invite Health Podcast.


---
---