Cocoa Hx® Sampling at the Palisades Center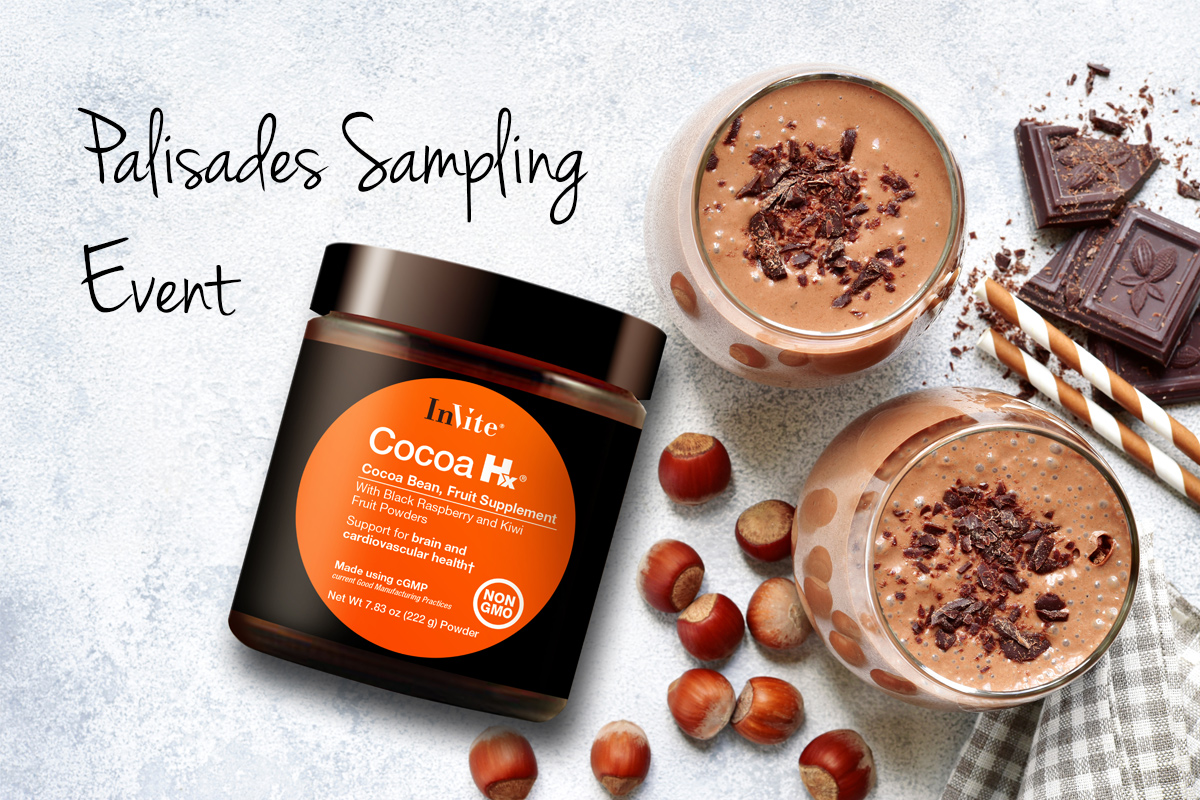 Few things please me more than a delicious and nutritious superfood. Unprocessed cocoa has become the market's hottest superfood. As marvelous and enjoyable as cocoa and the chocolate it becomes can be, few people think of it as a food that benefits health.
Cocoa's Rich History
Cocoa is rich in antioxidants. It is part of the top 20 most powerful antioxidants that have been measured on the ORAC scale. It contains several powerful phytonutrients that give foods like green tea and berries their fantastic nutritional benefits.
Learn more about the power of Cocoa! Click Here >>
Cocoa really shines when it comes to benefiting the heart and cardiovascular system. According to former Director of Nutrition for InVite® Health, Nicole Crane, BS, NTP, "It is thought that flavanols increase production of nitric oxide (NO), a gas produced within the blood vessels that fosters relaxation of the smooth muscle cells within that blood vessel. NO allows blood vessels to remain wide open, which supports healthy blood flow. When the blood vessels remain open and blood flows freely, blood pressure often returns to normal levels. NO also makes blood less sticky and thick by supporting healthy platelet function, which also contributes to healthy blood pressure. A meta-analyses of 20 studies involving 856 mainly healthy participants showed that cocoa reduced blood pressure a statistically significant amount in as little as two weeks. Healthy circulation is what keeps blood vessels healthy, flexible and strong, and brings oxygen and nutrients to every cell in the body. Considering we have 60-100,000 miles of blood vessels in our bodies, circulation is such an important aspect of health to support."
Cocoa Hx Sampling at the Palisades Mall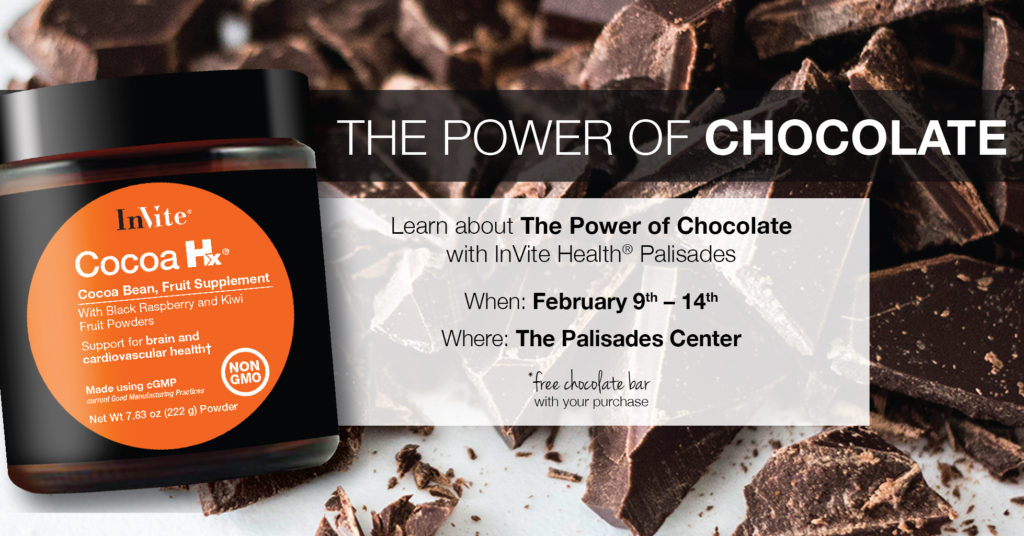 Learn more about the power of chocolate with the InVite® Health Palisades Team! Join them as they provide free samples of Cocoa Hx®, offer exclusive promotions on heart health products and get a free cocoa bar with your purchase! Meet the team from Saturday, February 9th – Thursday, February 14 near the food court at the Palisades Center, in West Nyack, NY!
Questions for the InVite® team about Cocoa? Leave a comment below to speak with a certified healthcare professional.
---
---