Get Proactive About Your Health with Comprehensive Genetic Testing – Invite Health Podcast, Episode 113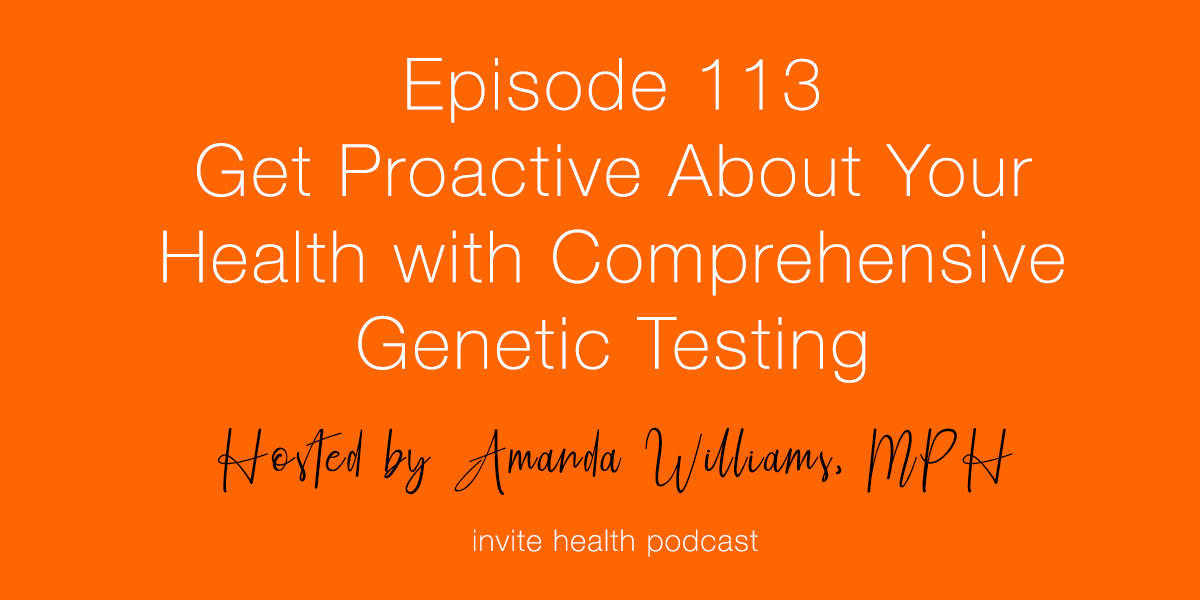 Invite Health Podcast, Episode hosted by Amanda Williams, MPH.
Subscribe Today!
Let's talk about some specific services that we offer here at Invite Health, including genetic testing. We receive a lot of questions about what our genetic tests are looking at and what you can do with the results. Having genetic testing done is extremely important for your health, and even the health of your family members. Our Comprehensive Genetic Test is one of the best to take for overall insight into your health and DNA, as this test includes insight into your weight, mood and energy.
Importance of Genetic Testing
One thing about genes is that we cannot change them, but we can certainly make lifestyle modifications to skirt around any genetic variant that may impact our overall health. It's important to have the tools you need in order to make important decisions about your health. Our genes can have a lot of influence on certain disease states and conditions, including our metabolism and our overall health and wellness. Conditions like heart disease and diabetes, or even a nutrient deficiency when paired with a specific gene mutation can have a real consequential impact on your overall health. 

InVite® Health has partnered with Kashi Clinical Laboratories, who uses the latest in qualitative, real-time polymerase chain reaction testing. This gives you a really high degree of sensitivity for detecting these specific gene snips accurately. Snips are variations in our genes that can impact the way our genes themselves are expressed. After genetic testing is complete, the data allows us to personalize dietary recommendations to help you better support a healthy lifestyle, diet and exercise routine.
What exactly is the Comprehensive Genetic Test? 
This tests give you the most in-depth information and insight into your genes across the board. This includes your mood, brain health, nutritional deficiencies, your risk of cardiovascular disease or metabolic disorders.
Chronic health conditions are surging in number and clinicians are seeking new tools to better understand the cause of disease. At the same time there has been a dramatic expansion of understanding the roles a version of a gene plays in our health. Genes can influence serious conditions but they also influence our metabolism, general health and wellness. This is a very comprehensive panel that provides information associated with:
Cardiac disease including cholesterol and blood pressure regulation and your risk of muscle inflammation if using a statin drug
Obesity and diabetes including your ability to metabolize fats and carbohydrates
Nutritional deficiencies including how you metabolize Beta-Carotene into vitamin A and how you handle iron or vitamin D
Food Cravings and what foods to eat
Memory and brain health including plaque formation in brain tissue
Mood disorders and insomnia
Bone health
About Kashi, Our Partner
Our partners at Kashi Clinical Laboratories use the latest in quantitative real-time polymerase chain reaction instrumentation with a high degree of sensitivity for detecting gene snips accurately. SNP's are only included in our panels when peer reviewed studies show there is a clear connection with decision making, the studies are relevant across a range of population types, clinical intervention is indicated, and that nutritional or other lifestyle choices can affect the regulation of gene expression. Your results will be ready within 5-7 business days of receipt at the lab. Once your results are ready, an InVite® certified healthcare professional will contact you to discuss your results and recommend a supplement protocol based on your specific results.

Thank you for tuning in to the Invite Health Podcast. You can find all of our episodes for free wherever you listen to podcasts or by visiting www.invitehealth.com/podcast. Make sure you subscribe and leave us a review! Follow us on Facebook, Twitter and Instagram at Invite Health today. We'll see you next time on another episode of the Invite Health Podcast.


---
---