Green Tea Tx®: Organic, Kosher, Decaffeinated & Convenient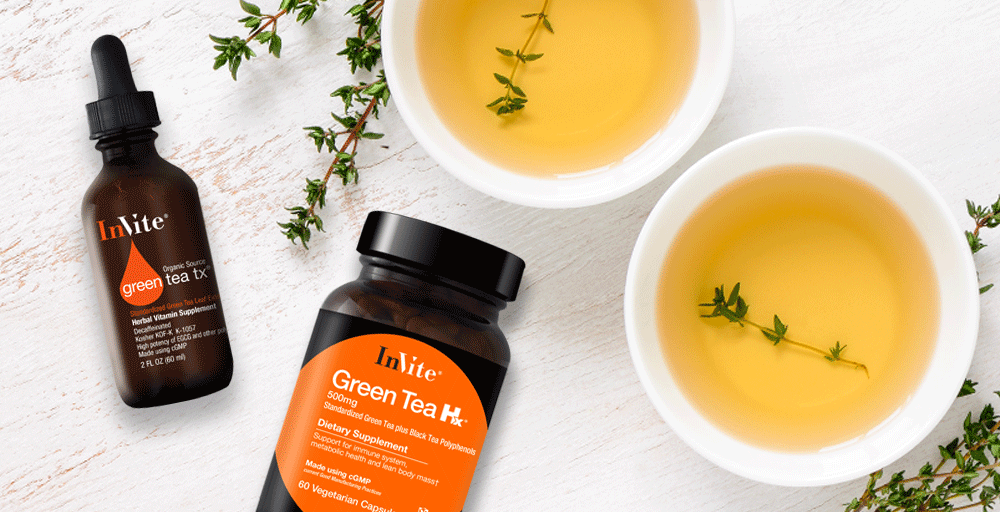 InVite®'s decaffeinated Green Tea Extract provides powerful catechins, particularly Epigallocatechin gallate, or EGCG, which is the most valuable antioxidant component of green tea. This liquid green tea extract is also oxalate-free, fluoride-free and derived from an organic source. Dietary supplementation with 90mg of EGCG increases fat oxidation, contributes to a reduction in body fat and supports cardiovascular health. Our green tea extract is high in Vitamin C, containing 60mg per 30 drops.
The antioxidant power of green tea may benefit many of the body's major organs. Along with its excellent capacity for weight control, green tea extract also has great benefits for the upper respiratory tract, dental health, skin health and appearance, and blood vessel function. Green tea extract provides great protection in the digestive tract, thereby mediating inflammatory processes in the body. Green tea extract attacks the harmful bacteria while avoiding the healthy bacteria that's essential for healthy digestion.
Green tea extract may help to increase energy levels as well by reducing post-prandial fatigue, maintain blood sugar levels already in normal range, increasing satiety signals. Green Tea has naturally occurring L-Theanine, a non-protein building amino acid that reduces occasional worry and anxiety by increasing alpha waves of the brain known to slow down constant thoughts and buffering stress. With a diverse range of benefits supporting overall health and longevity, green tea is one of nature's most beneficial foods.
InVite®'s Green Tea Extract
Provides nutritional support for the heart, brain, liver, prostate, breasts, esophagus, mouth, colon, pancreas, lungs, bladder, skin, gums, and hair follicles†
Organically sourced†
Free of Caffeine, Oxalate, and Fluoride†
Pleasant taste†
Only 2 calories per serving†
Small and conveniently-sized, so it can be easily taken anywhere†
Contains 0g carbohydrates, 0g sugars and 0g alcohol†
Green tea extract provides the same benefits of brewed green tea†
What are the benefits of tinctures over pills?
Our liquid tinctures have been created to deliver the maximum health benefits of natural ingredients in a pleasant-tasting, easy-to-swallow liquid formula. Convenient, portable and easy to use, InVite® tinctures improve your body's absorption of essential nutrients. Our tinctures are an enjoyable alternative to pills and capsules, especially for those who dislike conventional pills or have trouble taking supplements in tablet or capsule form. Just 2 droppers full of our exclusive line of liquid tinctures can be mixed into water or another beverage for an instant, nutrient-packed health booster. Unlike many liquid herbal products that are extracted in a grain alcohol base, our sweet-tasting tinctures are glycerin-based – this makes them a great choice for anyone avoiding glucose.
Why are some nutrients available as tinctures while others are not?
We're committed to developing a wide range of nutrients in liquid tincture form for our customers. However, some dietary ingredients and nutrients may not be suitable as tinctures if they:
Remain more stable in a dry format
Have a poor taste in liquid
Require too large a serving size to fit in a dropper
Require chemicals or emulsifiers to mix them
Questions about Green tea extract? Leave us a comment below to join the conversation!
---
---