Product Feature: Green Tea Face Care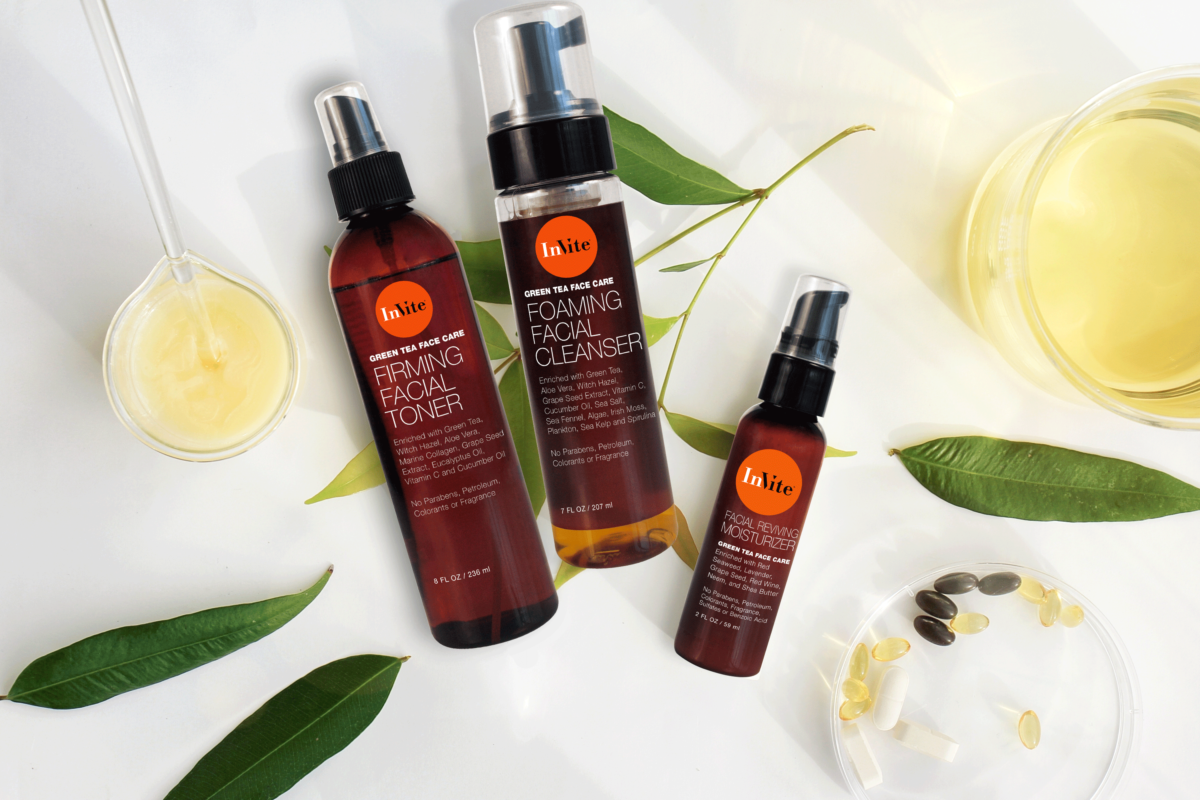 Having great skin is definitely a top priority for most of us. Green tea has been linked to many health benefits by either drinking it or taking a supplement, but it's also fabulous when used in skin care products! Here at InVite Health, we have a great line of facial products that are made primarily of Green Tea – Green Tea Face Care.
Our Green Tea skincare line features the following three products: foaming facial cleanser, facial reviving moisturizer and firming facial toner.  Each product is enriched with Green tea, Grape seed extract, Aloe Vera, Vitamin C,  Cucumber oil, Irish Moss, Sea Kelp Plankton, and Spirulina. All these natural ingredients work wonders for your skin!
Our skin cosmeceuticals offer gentle, natural and effective skin care. The skin is the largest organ in the body, and it is responsible for many functions that contribute to our health and well-being. The skin protects the body against physical and chemical aggressions, serves as a sensorial receptor, regulates body temperature, and supplies our cells with oxygen, water, and minerals. It also synthesizes Vitamin D from the sun, which is essential for healthy, strong bones and bone growth.
InVite Health's line of skin cosmeceuticals are full of essential nutrients and ingredients that help fortify the skin and maintain a smooth, healthy and youthful appearance, while leaving it soft, radiant and hydrated. Instead of purified water, all InVite's cosmeceuticals are formulated in a base of Japanese Green Tea to capture its soothing, protective, and supportive benefits for skin health. For example, our Facial Reviving Moisturizer provides powerful antioxidant protection and hydration for your skin. It is capable of effectively softening and smoothing dry skin, reducing collagen breakdown, and visibly minimizing fine lines and wrinkles. Our Facial Reviving Moisturizer is rich in antioxidants from natural ingredients, including Grape Seed, Bilberry fruit, Vitamins C and E, and Alpha Lipoic Acid (ALA). This natural blend offers enriching protection for healthy, smooth, and even-toned skin. Another popular skin cosmeceutical is our Vitamin C facial serum, which supplies a generous serving of 10% Vitamin C to repair skin damage on your face and neck, leaving you with a brighter, healthier skin tone and younger-looking skin. Reliable scientific research supports the effectiveness of applying Vitamin C to the face and neck to improve wrinkles and fine lines, reverse sun damage, and repair age-related skin problems. Our Vitamin C serum helps regenerate connective tissue, collagen, and new skin cells for an overall smoother appearance.
For great discounts, a superb assortment of top-grade skin cosmeceuticals, nutraceuticals and nutritional supplements, and access to our professional nutritionists, look no further – great health starts right here at InVite Health. To ask a question or to purchase your skin cosmeceuticals today, call us at (800) 632-0541 or click here to find a store location near you!
---
---