Summary on Blood Sugar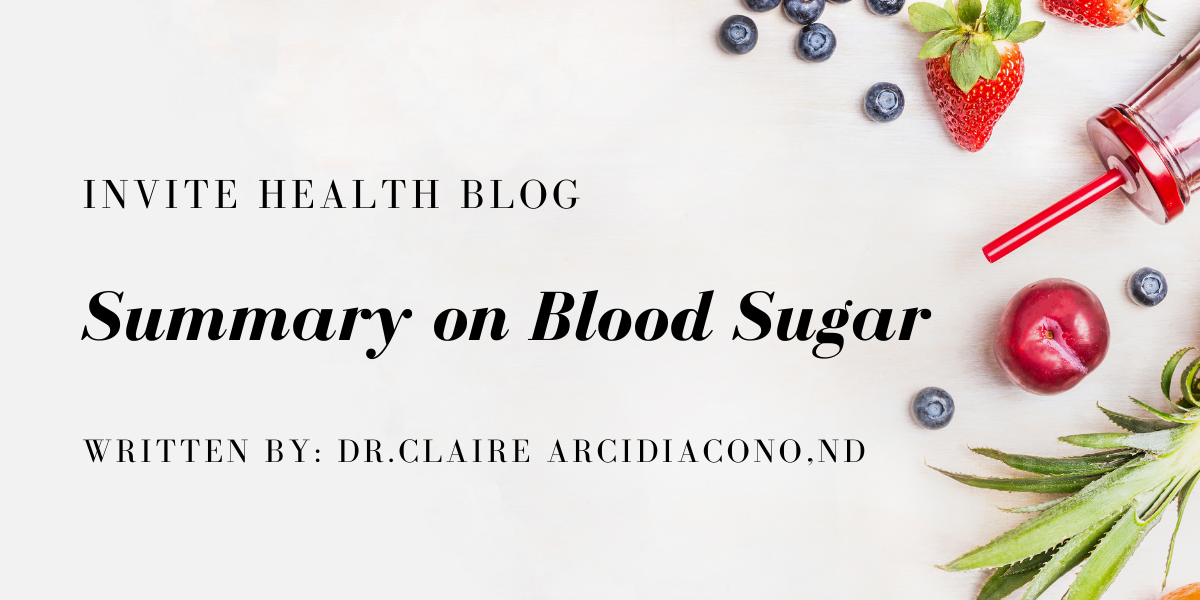 Written by: Dr. Claire Arcidiacono, ND
For further questions or concerns email me at carcidiacono@invitehealth.com

Blood sugar concerns can range from pre-diabetes to full blown diabetes. Even those with healthy blood sugar may want to monitor their blood sugar if they have a family history of blood sugar concerns. Knowing where to start when it comes to working with blood sugar can be tricky. A diet diary is a great first start to helping regulate blood sugar. It is important because when you are making diet changes that stick you need to start with small changes that you build upon. In order to do that we need to know where you are starting off. For example if you are never used to eating green foods, adding in green vegetables is a great first step. For those who already eat greens other diet changes may be appropriate. In addition to a diet diary getting a routine physical complete with blood work is also very helpful.†
So many people ask me about supplements that may help control blood sugar. Throughout this series I have made quite a few supplement suggestions. While it is always important to speak to a nutritionist for a personalized protocol, there are some supplements that can support blood sugar and overall health. When it comes to blood sugar, one of the most important aspects is to start working on it before there is a problem. What do I mean by that? I mean staying healthy and taking supplements that support your overall health.†
ICYMI: LAST 4 TYPES OF HIGH BLOOD SUGAR>>READ NOW
SUPPLEMENTS TO SUPPORT HEALTHY BLOOD SUGAR LEVELS!
Multivitamins! Multivitamins are important to help prevent any deficiencies and for overall health. Additionally studies show that in the long term a good multivitamin can help with energy. (1) Please see Invite's extensive line of multivitamins!†
Omega 3s! Omega 3's have been found to modulate the immune system to lower inflammation and help those who suffer from autoimmune conditions. (2) Additionally Omega 3s are important for both stress relief and brain health (3). See Invite's Fish oil, Krill oil, Flax seed and Inflammune!†
Greens powders can help with overall health because as we know a Mediterranean diet which is very high in greens has been found to help keep us healthy. Studies have found an association between a Mediterranean diet and better control over your blood sugar! (4) The benefits of a Mediterranean diet cannot be overstated. A Mediterranean diet has been found in studies to help with different chronic health concerns including high blood pressure, high triglycerides, obesity and high blood sugar. (5) I would recommend a Mediterranean diet for anyone who wants to stay healthy and adding a scoop of any Invite Greens powders can help set us on this path. Please see Invite's Greens Hx or Organic Greens!†
Magnesium is truly a magic mineral. It is good for stress (6), blood sugar (7), nerve health (8), and digestive health (9) and in general has so benefits it is almost impossible to list them all! Please see Invite's extensive line of Magnesium products!†
Zinc in addition to helping with blood sugar (7) has been found to help boost our immune system (10) as well as help with healing especially in the digestive tract (11) which is so important to our overall health. Please see Invite's Zinc Picolinate and Invite's Zinc Lozenges!†
Chromium has been found in studies to be very helpful for working with blood sugar. (7) Please see Invite's Chromium and Gluco Hx!†
For more detailed information on blood sugar supplements please see my prior blogs.†
ICYMI: BLOOD SUGAR AND KIDNEY SUPPORT – INVITE HEALTH PODCAST, EPISODE 519>>LISTEN NOW!
Recipe ideas!
One great way to cut the carbohydrates is to use Zucchini noodles or spaghetti squash in place of pasta. You can take your noodles and add the following healthy dressing! Olive oil, 1 tomato, herbs such as cilantro, parsley, dill and 1 scoop of Greens Hx and blend. Feel free to serve with any protein you like such as chicken or even fish.
Another fun way to use the greens is to mix it into mashed Cauliflower. To make this simply cook your cauliflower until it is fork tender and add to blender. I like to add a cream cheese when I blend it. Then add 1 scoop of Greens. As you can expect it will turn it green. This is great for St. Patrick's Day!†
Let's make some fancy coffee! To your blender cup add ice, coffee, 1 scoop Invite Vanilla Whey and 1 scoop Cocoa Hx. Blend and serve. The more ice you add the less strong the coffee is. So if you want it strong add less ice. Feel free to substitute cinnamon powder for the Cocoa Hx. If you add pumpkin pie spice it becomes a homemade holiday drink for an added kick you can add 1 dropper of white tea and 1 dropper bluegranate.†
I hope this series on blood sugar has been informative! For more information, Invite Nutritionists are always available to help answer any questions you may have.†
Our Next Mini-series on health is going to be a topic that comes up a lot especially this time of year. Its joint health! Next week we will go back to the beginning with an anatomy lesson. No worries there's no test at the end.†
For further questions or concerns email me at carcidiacono@invitehealth.com†
REFERENCES
https://www.ncbi.nlm.nih.gov/pmc/articles/PMC4750202/
https://www.frontiersin.org/articles/10.3389/fimmu.2021.578386/full
https://www.ncbi.nlm.nih.gov/pmc/articles/PMC7468918/
https://www.ncbi.nlm.nih.gov/pmc/articles/PMC7468821/
https://www.ncbi.nlm.nih.gov/pmc/articles/PMC5352455/
https://www.ncbi.nlm.nih.gov/pmc/articles/PMC7761127/
https://www.ncbi.nlm.nih.gov/pmc/articles/PMC5370781/
https://www.ncbi.nlm.nih.gov/pmc/articles/PMC6024559/
https://www.ncbi.nlm.nih.gov/pmc/articles/PMC2277319/
https://www.ncbi.nlm.nih.gov/pmc/articles/PMC1856764/


---
---