Support Cellular Health With This Energy-Producing Powerhouse – Invite Health Podcast, Episode 150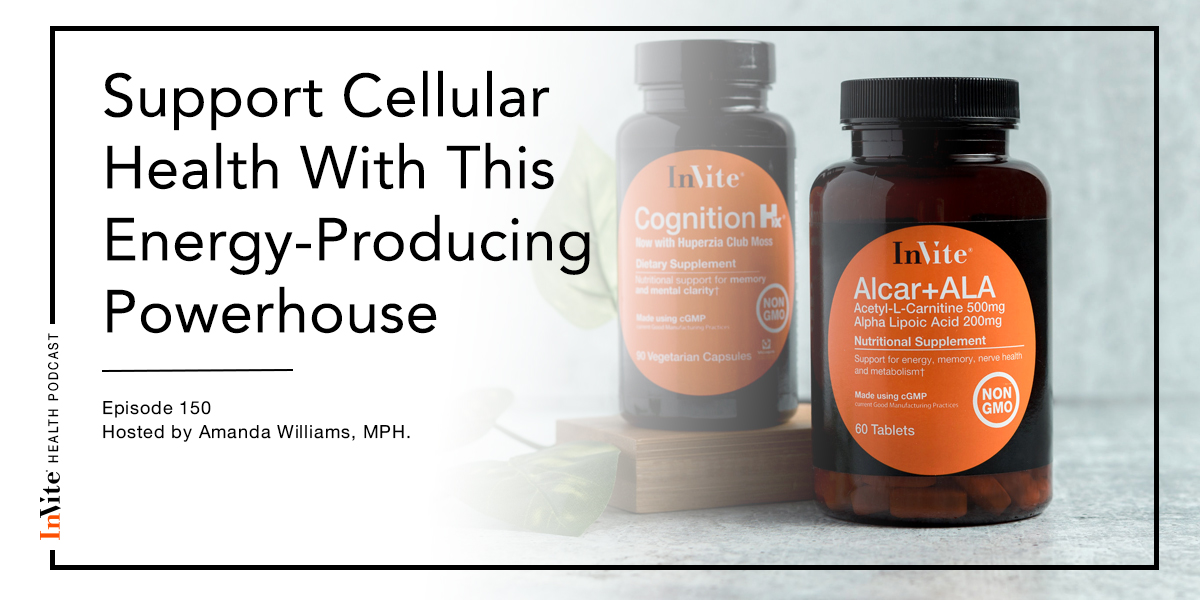 Invite Health Podcast, Episode hosted by Amanda Williams, MPH
Subscribe Today!
One today's episode, we are going to discuss a really common nutrient that oftentimes gets overlooked. It plays an important role in what happens at a cellular level through the aging process. We will be discussing what we can all be doing to make sure we are maintaining the health of our cells.
Most of us know someone who has some type of a chronic disease. Maybe your know someone who is effected by diabetes, heart disease, hypertension, high cholesterol or arthritis to name a few. In a very simplistic approach, if we look at our cells as being either deficient in something or toxic in something, then we can have a better way to target what our cells are actually needing. We have a toxicity coming from free radicals assault on the cell, then we can start ridding the body of all of those bad free radicals and start to replenish the good.
The Benefits of L-Carnitine
Let's look at a few different examples. We can start by looking at the amino acid L-Carnitine. Now, this particular amino acid is incredibly important. It acts as a taxi driver by picking up the fatty acids that are on the outside of your cell and it gives them a ride to the inside of the cell. Inside of the cell is your mitochondria. It is at that point that they can be converted into an energy source. Now, the really interesting part about all of this, is if we add an acetyl group to the amino acid L-Carnitine, we have facilitated the easy crossing of L-Carnitine over the blood-brain barrier. This is why Alcar, or acetyl-l-carntine, has been studied so extensively for its support of the neurons and for its free radical fighting properties.

What exactly is Alcar?
Alcar is acetyl-l-carnitine. This is an indoginous (naturally-occurring), mitochondrial membrane compound that helps to maintain the mitochondrial bioenergetics. It is an energy-producing amino acid. Acetyl-l-carntine has also been shown to lower the increased oxidative stress that is associated with aging. It plays an essential role in thermogensis (or fat burning), memory support, and glycation reactions.
A study from Stanford University School of Medicine looked at the effects of acetyl-l-carnitine on patients who had been diagnosed with Alzheimer's disease. This was a double-blind, placebo controlled trial where they found that Alcar was actually slowing the progression of Alzheimer's disease. This is because Alcar demonstrates protective effects against neurotoxicities, such as beta-amaloid plaque build up. The University of Pittsburgh performed a small study back in 1995 that showed all of the beneficial effects on the clinical presentation of Alzeheimer's disease looking at different neurochemical markers. It was from there that researchers from Stanford University took off with their further research on the protective effects in the human brain.
Learn about the many brain benefits of Alcar with ALA. Listen now >>
If we are lacking carnitine, in terms of dietary intake, and if our naturally-occurring amount of acetyl-l-carntine is not where it should be, then we are leaving ourselves more prone to nerve damage, to cognitive decline, to fat burning.
Other Key Topics:
Mitochondrial decay of aging, or the acceleration of aging
Alpha-Lipoic Acid is a great partner or acetyl-l-carntine
Thank you for tuning in to the Invite Health Podcast. You can find all of our episodes for free wherever you listen to podcasts or by visiting www.invitehealth.com/podcast. Make sure you subscribe and leave us a review! Follow us on Facebook, Twitter and Instagram at Invite Health today. We'll see you next time on another episode of the Invite Health Podcast.


---
---