Why A Vitamin C Serum Is Important For Summer – Invite Health Podcast, Episode 132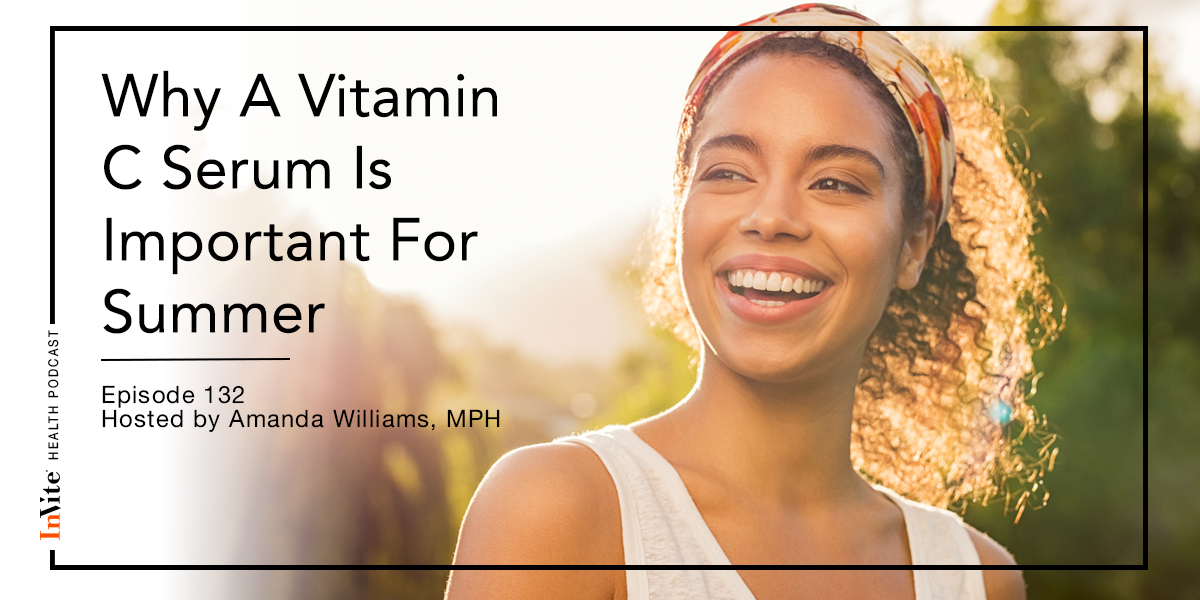 Invite Health Podcast, Episode hosted by Amanda Williams, MPH
Subscribe Today!
Let's get science-savvy when it comes to summertime skin health! Our skin is our largest organ and is constantly exposed to outside factors, like radiation, pollution and toxins. Today, I want to discuss the importance of taking care of your skin during the summer months.
How Skin Damage Develops
There are numerous factors that can be harmful to your skin. Some include:
UV radiation
Stress
Poor nutrition
Low Collagen levels

Protecting Your Skin with Vitamin C 
The antioxidant properties of Vitamin C help make it an essential vitamin for the health of the skin. Specifically its ascorbic acid content. Many studies have shown that Vitamin C can help fight against the damage brought on by ultraviolet-induced photo-damage, or UV radiation. Thought Vitamin C is found naturally both in the skin and in your body, its levels decline as you become more exposed to the environment, including UV light, pollutants like cigarette smoke.
This powerful antioxidant has also been shown to protect against wrinkles, as Vitamin C regulates the synthesis of Collagen and promotes its stability in the skin. Collagen is an important protein in your body. As you age, your body produces less of it, which can lead to dry skin and the formation of wrinkles. Using a Vitamin C serum that contains Collagen, can give your skin the boost it needs to stay hydrated and healthy from the inside out.
Other Healthy Skin Ingredients
Aloe vera is a very popular skin care ingredient that has been used for centuries. The gel-like substance inside of the plant leaves have been used topically on burns and wounds, as it contains skin-soothing ingredients like echinacea and calendula, along with other vitamins, minerals, antioxidants and amino acids. As a skin care ingredient, aloe touts moisturizing effects and quick absorption.
Vitis Vinifera is the Latin name for the wines that product wine grapes. It is commonly known as grape seed oil or grape seed extract. Grape seeds are an excellent source of Vitamin C, Vitamin E, Resveratrol and antioxidants known as flavonoids. Grape seed extract has been shown in numerous studies to hep improve the skin's texture and signs of aging. This is why it is such a common skin care ingredient.
Thank you for tuning in to the Invite Health Podcast. You can find all of our episodes for free wherever you listen to podcasts or by visiting www.invitehealth.com/podcast. Make sure you subscribe and leave us a review! Follow us on Facebook, Twitter and Instagram at Invite Health today. We'll see you next time on another episode of the Invite Health Podcast.


---
---