BREAST CANCER AWARENESS "PREVENTION" AND EARLY DETECTION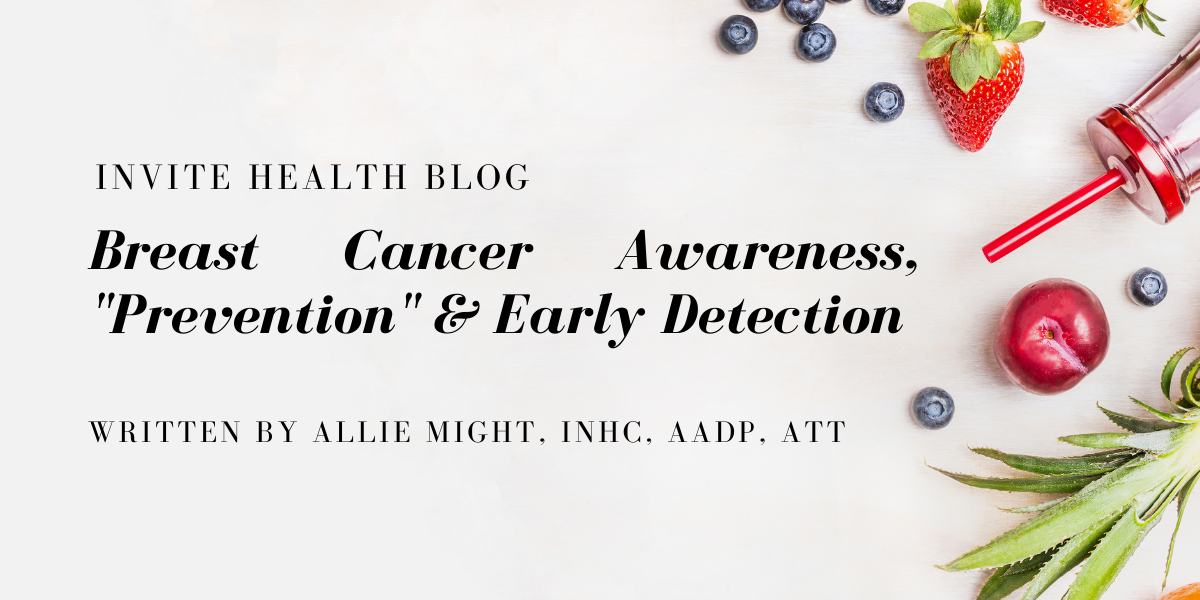 BREAST CANCER AWARENESS "PREVENTION" AND EARLY DETECTION
Written by: Allie Might, FMC, INHC, ATT
For further questions or concerns email me at amight@invitehealth.com

Since October is Breast Cancer Awareness Month, I wanted to take time over the next few weeks to discuss this important topic. We'll discuss areas such as Genes/Genetics, Metastatic Breast Cancer and what supplements work with the traditional treatments recommended by a doctor/oncologist. But first, I want to go over something that I'm asked about, "Is Breast Cancer Preventable?"
There's a lot of research done on breast cancer. The Center for Disease Control and Prevention (CDC) offers a plethora of information and guidelines. Some of these show us that while breast cancer isn't preventable, there's things we can do that may help to reduce the risk factors associated with this type of cancer. A few of these suggestions include maintaining a healthy weight, avoiding or consuming alcohol in moderation and breastfeeding your child. I like to recommend incorporating a   healthy diet of whole foods and avoiding processed foods and sugar.
TARGETED NUTRIENTS TO SUPPORT BREAST HEALTH>>READ NOW!
The CDC also recommends regular screenings of the breasts for monitoring overall breast health as well as making it easier for earlier detection. These screenings typically start with monthly self-breast exams. If you aren't currently doing monthly self-exam, I strongly encourage every woman to start. This step by step guide will help you feel comfortable with this process.
https://www.breastcancer.org/screening-testing/breast-self-exam-bse
If you find anything during your monthly self-exam that seems suspicious, call your doctor right away for an appointment. Some of the signs to look for include, but not limited to the following:
→discharge from the nipple
→lumps
→pain or discomfort
→misshapen or discoloration
At this point, your doctor will have the chance to evaluate your concern and may need to order in depth testing. This could include routine/additional mammograms or possibly an MRI.
The CDC has also charted guidelines as recommended for screenings and how often they should be done. These are charted according to age group as well as whether or not one has dense breasts. This occurs when the breast is made up of more fibrous or granular tissues instead of fatty tissues.
https://www.cdc.gov/cancer/breast/pdf/breast-cancer-screening-guidelines-508.pdf
As you can see, the CDC has shown the recommendations for screenings according to such groups as The American Cancer Society, The American College of Obstetricians and Gynecologists and The American College of Radiology.
LADIES, HORMONES GETTING YOU DOWN? HELP IS HERE!>>Listen Now!
The guidelines set up and recommended by the CDC are set up to help with the early detection of breast cancer. As we've learned, eating a healthy diet, doing monthly self-breast exams and partnering with your doctor for routine mammograms can help support healthy breast tissues.
SOURCES
https://www.cdc.gov/cancer/breast/basic_info/screening.htm
https://www.cdc.gov/cancer/breast/pdf/breast-cancer-screening-guidelines-508.pdf
https://www.breastcancer.org/screening-testing/breast-self-exam-bse


---
---