Coronavirus and Common Disease States – Invite Health Podcast, Episode 60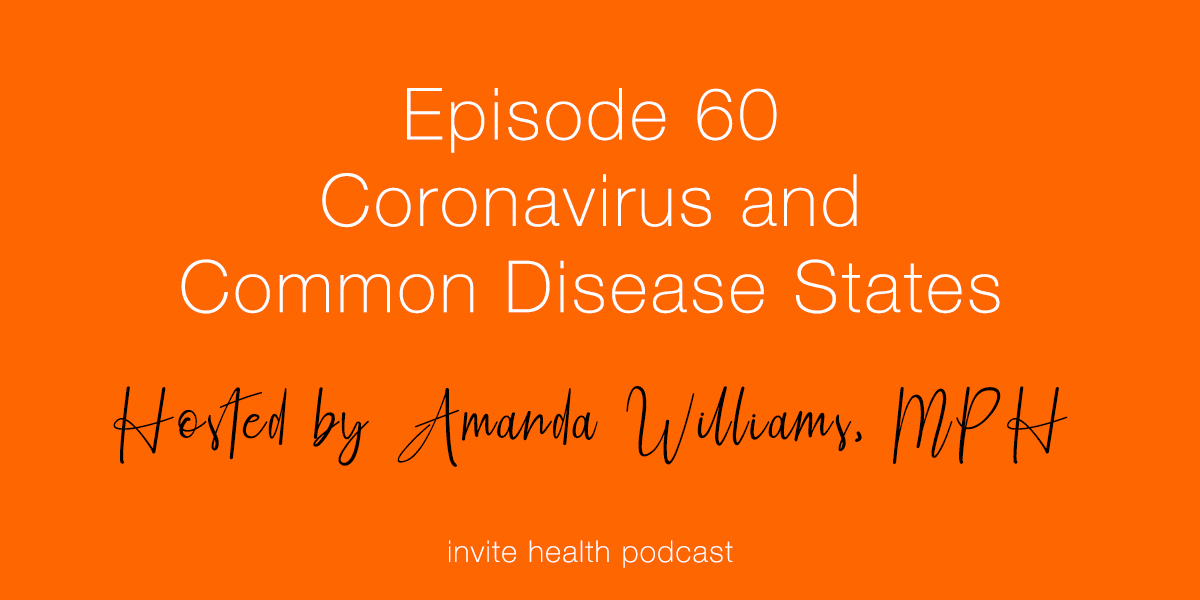 Invite Health Podcast, Episode hosted by Amanda Williams, MPH.
Subscribe Today!
On today's episode, I am going to be discussing chronic disease states and the risk for Coronavirus. This is something that we've all been hearing about. Those who have chronic diseases or underlying medical conditions that may be impacting your immune system can put you at a greater risk for COVID-19. The symptoms can also be much more severe and can significantly impact your health in a negative way. This is important to discuss because, when it comes to many disease states, many Americans fall into these categories. I've been getting a lot of questions via email and calls from our customers that are considered about this, and I certainly see the reason why.
Chronic Disease States
One of the areas that I have researched within my Public Health degree is disease states and outbreaks, or epidemiology. This includes looking at the biostatistics and how different health events are effecting different people's immune health. When you hear about community spread of a virus, of this infection spreading at a rapid rate, and especially impacting those who are more vulnerable, you have to include people who have underlying health conditions. But individuals who are carrying this virus can also have strong immune system, and still experience mild to moderate symptoms. But when we think about the wide range of people in the United States that have conditions such as high blood pressure, diabetes, prediabetes, and heart disease, these can all lower the efficiency of your immune system. Those who have autoimmune conditions or those who are on medications are also part of this group, as certain medications may be deleting key nutrients from your body.
Maintaining Your Health In Spite of a Disease
Many times, a doctor will just label your condition without telling you that if you are managing your health (even in spite of a disease) your immune system may still be able to fend these things off. If you can manage your disease, you can lower your risk for complications including viral infections or bacterial infections. Unfortunately, right now, everyone is so overwhelmed with incorrect information. If you are continuously stressing out, you could be lowering your immune system. Cortisol can really be your enemy.
This is why incorporating healthy foods into your diet is so important in helping bolster up your immune defenses. Be sure to eat a many fruits and vegetables as possible. Adhering to a Mediterranean diet can help keep your body in a low state of inflammation. So, if you can manage your disease state during COVID-19, but also on a daily basis, then you will find that your immune system will act in kind.
So when you look at different marks for inflammation to access the state of hyper-inflammation going on in the body, you can see that when you adhere to a healthy diet those markers for inflammation begin to come down. So, the key right now is managing your disease states.
Stick to these foods:
Green fruits and vegetables
Seeds and nuts
Because access to all foods may not be possible, you may want to turn to supplementation. Reds Hx and Greens Hx contain powerful antioxidants and ingredients that can help support your overall wellness and a healthy immune system. These products also contain Probiotics to help you boost your immune system further. These formulations can help give your body what it needs to fight off free radicals.
Other immune-boosting nutrients include:
Vitamin C
Vitamin D
Magnesium
Zinc
Following these healthy tips can help keep you strong and your immune system working at its best.
Thank you for tuning in to the Invite Health Podcast. You can find all of our episodes for free wherever you listen to podcasts or by visiting www.invitehealth.com/podcast. Make sure you subscribe and leave us a review! Follow us on Facebook, Twitter and Instagram at Invite Health today. We'll see you next time on another episode of the Invite Health Podcast.

---
---