Dry Skin? Here Are Your Cold Weather Skin Tips – InVite Health Podcast, Episode 459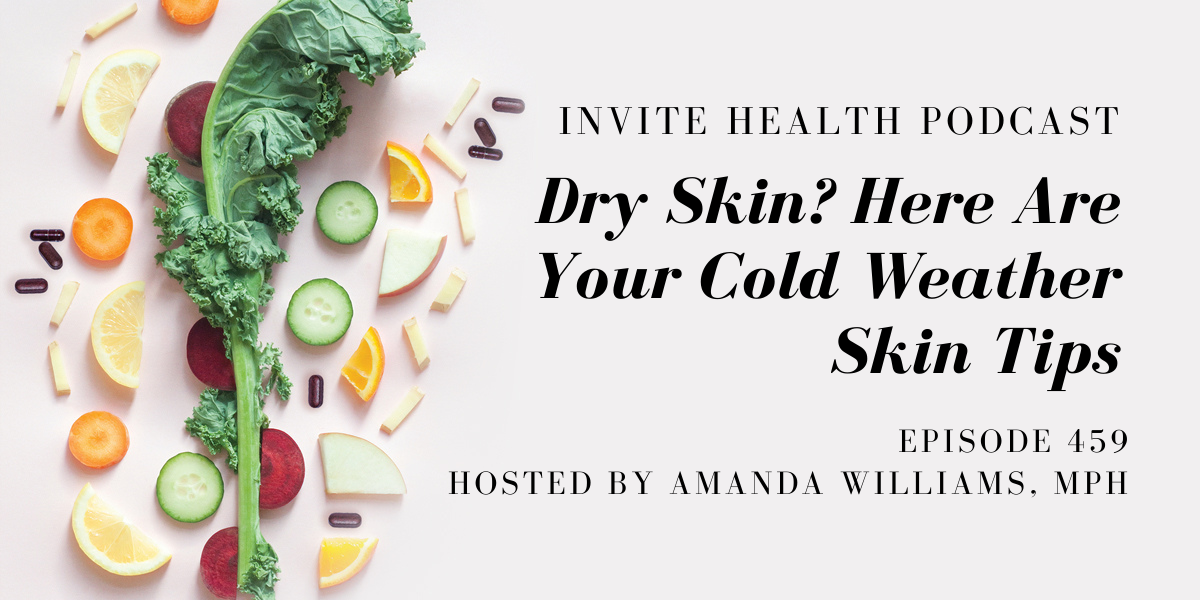 dry skin
InViteⓇ Health Podcast, Episode hosted by Amanda Williams, MPH
Subscribe Today!
Nobody likes to deal with scaly, itchy, dry skin. Today, I want to talk about some different nutrients that you can be taking internally, as well as what you can be applying to your skin topically, because it's this two-pronged approach that generally yields you the most effective way to go about handling the harshness of the weather-related dry skin that so many people are affected by each and every winter.†
What happens to your skin in the winter?
Let's talk about wintertime skin. We know that this time of year really poses a major problem because the humidity levels both outside and inside are generally very low. When we are not able to retain enough moisture within the skin itself, this can create a really problematic series of events.†
THE COLD WEATHER NUTRIENT SUPPORT YOU NEED – INVITE HEALTH PODCAST, EPISODE 267. Listen Now>>
Keeping moisture in the skin is essential when it comes to avoiding dry skin, flakiness and itchiness. Some people experience more significant cracking of the skin.†

How nutrients can help hydrate dry skin
We want to be able to hydrate our dry skin from the inside, out, but we also want to make sure that we do the appropriate thing when it comes to the topical approach to dry skin.†
First, we think about how we can hydrate from the inside, out. This is where the use of omega-3 fatty acids becomes very handy. Nutrients such as fish oil, krill oil and flax can be very beneficial and it would be advantageous to consider taking higher amounts of your supplemental omega-3s during those harsher winter weather months.†
We can also look at a very important vitamin, which, when taken via oral supplementation, is very powerful. This vitamin is Vitamin E. This nutrient is well-known for its ability to help the skin when used topically, but I want to talk about the oral implications of this. In the Journal of Research Medicine Sciences, they were looking at the impact of oral supplementation of Vitamin E on the treatment of atopic dermatitis and how this powerful antioxidant had this ability to actually decrease the levels of immunoglobulin E (IGE). IGE is a driver for the itchiness of the skin.†
In this study, they took a group of patients who had atopic dermatitis and were categorized in the mild-to-moderate range. The researchers gave the patients 400IU of Vitamin E daily for four months and monitored their symptoms, including itchiness and dry skin. What they found was Vitamin E can improve the symptoms and quality of life in people who have atopic dermatitis.†
HOW TOCOTRIENOLS SUPPORTS BRAIN HEALTH – INVITE HEALTH PODCAST, EPISODE 207. Listen Now>>
Now let's think about what we can be doing topically. One of the last things you ever want to do is put chemicals on your skin when your skin is already irritated. So many of the different formulations that you find in your local big box stores are just chemicals that are fragrant. At InViteⓇ Health, we offer an array of topical products that are fortified with vitamins, minerals and antioxidants to help promote and protect the health of your skin. One of our powerful formulations is our Protective Hand Cream, which can also be used on your legs and arms.†
In this episode, Amanda Williams, MPH discusses the issue of itchy and dry skin that so many people deal with in the wintertime. She explains why this problem occurs and offers suggestions for nutrients that can help restore and preserve moisture in the skin.†
Key Topics:
The anatomy of the skin
Research on omega-3s for skin health
What is dermatitis?
Additional benefits of omega-3s and Vitamin E
How chemicals can worse the state of your skin
Thank you for tuning in to the InViteⓇ Health Podcast. You can find all of our episodes for free wherever you listen to podcasts or by visiting www.invitehealth.com/podcast. Make sure you subscribe and leave us a review! Follow us on Facebook, Twitter and Instagram at InViteⓇ Health today. We'll see you next time on another episode of the InViteⓇ Health Podcast.


---
---