Glutathione Helped These Coronavirus Patients Breathe Again, Part 2 – Invite Health Podcast, Episode 93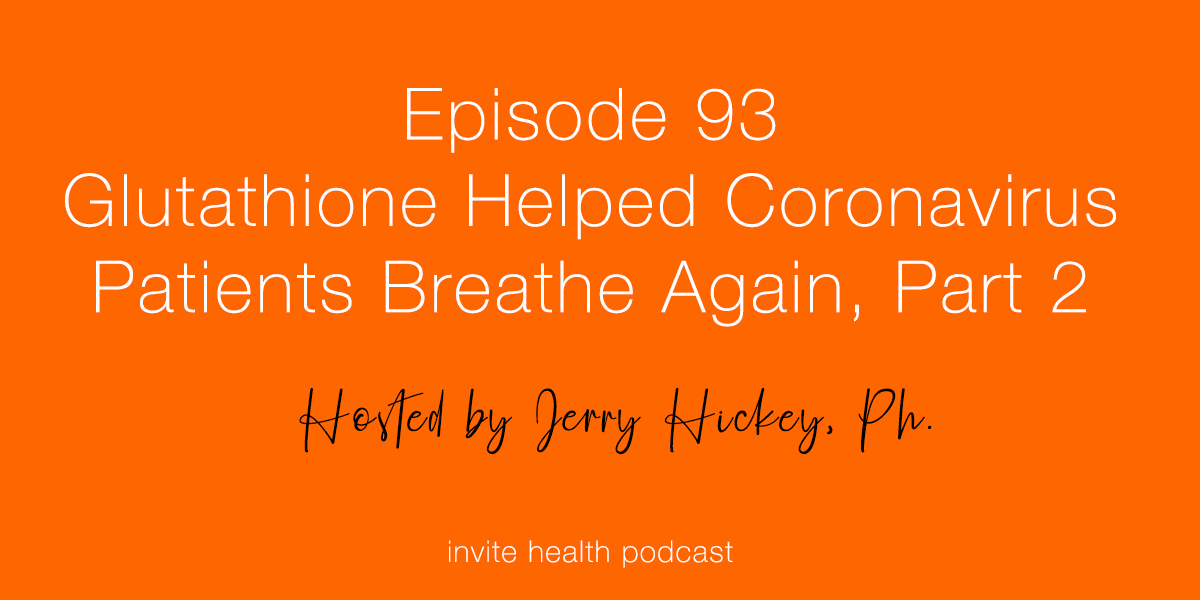 Invite Health Podcast, Episode hosted by Jerry Hickey. Ph
Subscribe Today!
In part 1, we discussed a report that came out of Brooklyn about a mother who had tested positive for the Coronavirus, with all the symptoms including issues with her breathing. A doctor who was an associate of her son, suggested a Glutathione supplement which, according to the patient, greatly helped her breathing. Listen to Episode 1 by clicking here! In today's episode, we are going to dive further into the studies and science behind the very important and powerful antioxidant, Glutathione.
We have a very thin layer of liquid lining our lungs. This fluid has to be rich in certain antioxidants – natural vitamin E, vitamin c and especially Glutathione. The Glutathione buffers the lungs from inflammation, which can be caused by things that you inhale like mold, cigarette smoke, toxins, air pollution and dust. Research shows how important this antioxidant is for the lungs, ranging from cystic fibrosis to asthma.
Research from the University of Rochester Medical Center in upstate New York shows that free radicals inflame our lungs and are the major cause of lung damage in chronic lung diseases. They write that a drop in Glutathione in the alveoli that line our lungs is a central feature of chronic lung diseases with inflammation and that Glutathione is an important antioxidant that is therapeutic in preventing lung inflammation and lung damage.
A study by the University Colorado in Denver and a bunch of other academic research institutions studied the impact of lung health on older smokers, compared to younger smokers. The protective fluid lining their lungs that contains Glutathione and the other antioxidants dropped by 67%. Their response to smoking, which would normally trigger the response of Glutathione is almost gone. These smokers were also releasing more of the inflammatory precursors than you would see in younger smokers lungs. This drop in protection is connected with the onset of emphysema and other lung conditions related to smoking, including lung cancer.

There is an interesting study going on right now in Wuhan, China – which has been reported to be the source of the Coronavirus pandemic – where scientists are studying Glutathione attached to nano-sized silver particles to help treat Coronavirus infections. They claim that it is preventing the virus from attaching to tissues. I am not sure where this research is going, but they claim it may slow the viral replication. In other words, the "nastiness" of the virus. NAC and Alpha-lipoic acid are precursors to making Glutathione. They all have the ability to protect your lungs from inflammation caused by pollution, viruses, your immune system and many other factors.
A study published in the American Journal of Respiratory and Critical Care Medicine from the University of Southern California in Los Angeles and The Keck School of Medicine at USC, reports that lungs are uniquely exposed to pollution, toxins, viruses and bacteria so they need to be adaptive. The lungs use Glutathione to protect themselves from all of these things that we are inhaling and to adapt quickly to a changing environment. The study goes on to say that Glutathione plays an important role as an antioxidant in the lungs to stop the inflammatory processes.
Questions about Glutathione or any of these studies? Leave a comment below to join the discussion. 
Thank you for tuning in to the Invite Health Podcast. You can find all of our episodes for free wherever you listen to podcasts or by visiting www.invitehealth.com/podcast. Make sure you subscribe and leave us a review! Follow us on Facebook, Twitter and Instagram at Invite Health today. We'll see you next time on another episode of the Invite Health Podcast.


---
---