Meet Jerry Hickey, R.Ph & Dr. Alan Pressman for Free Consultations!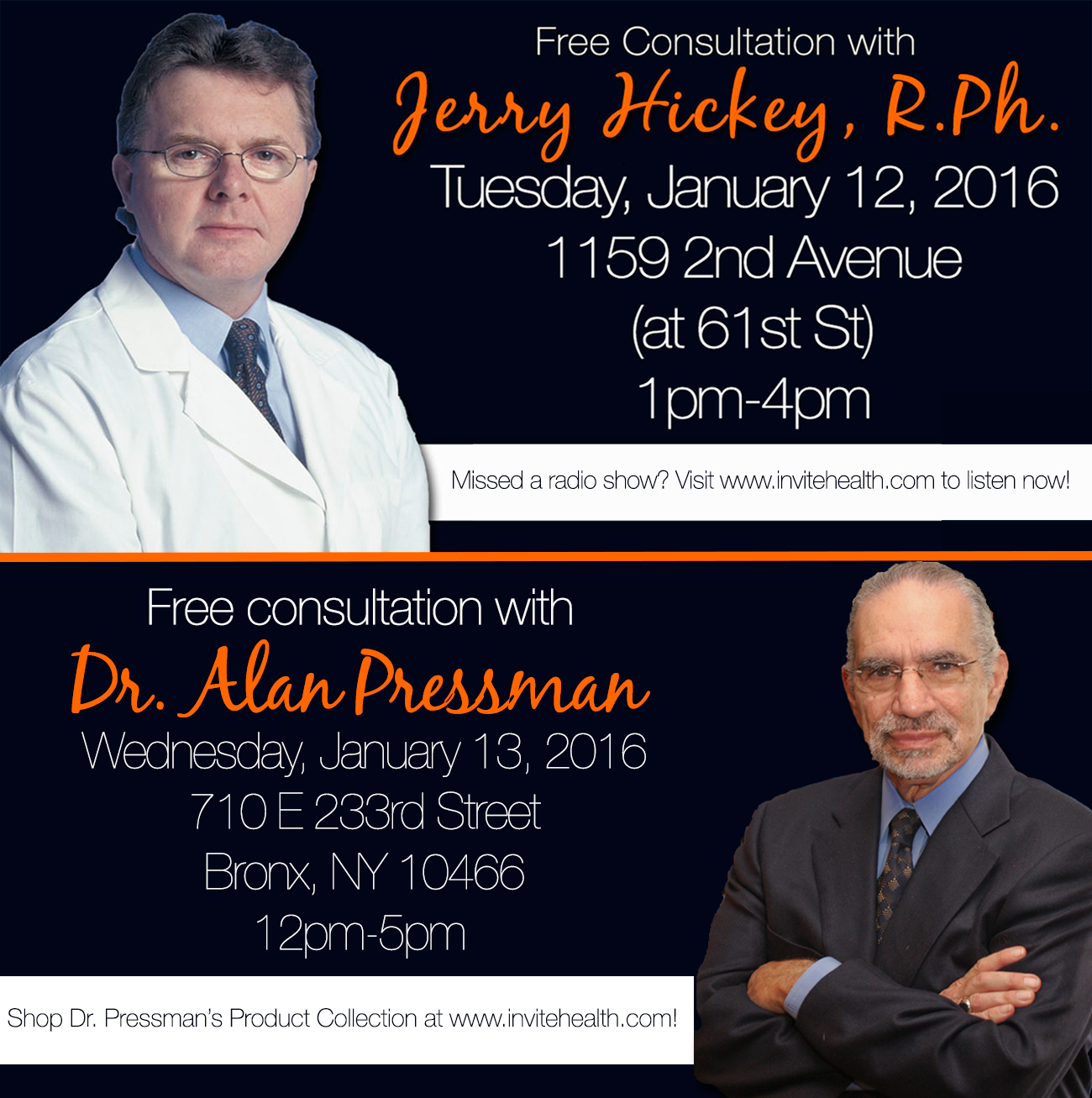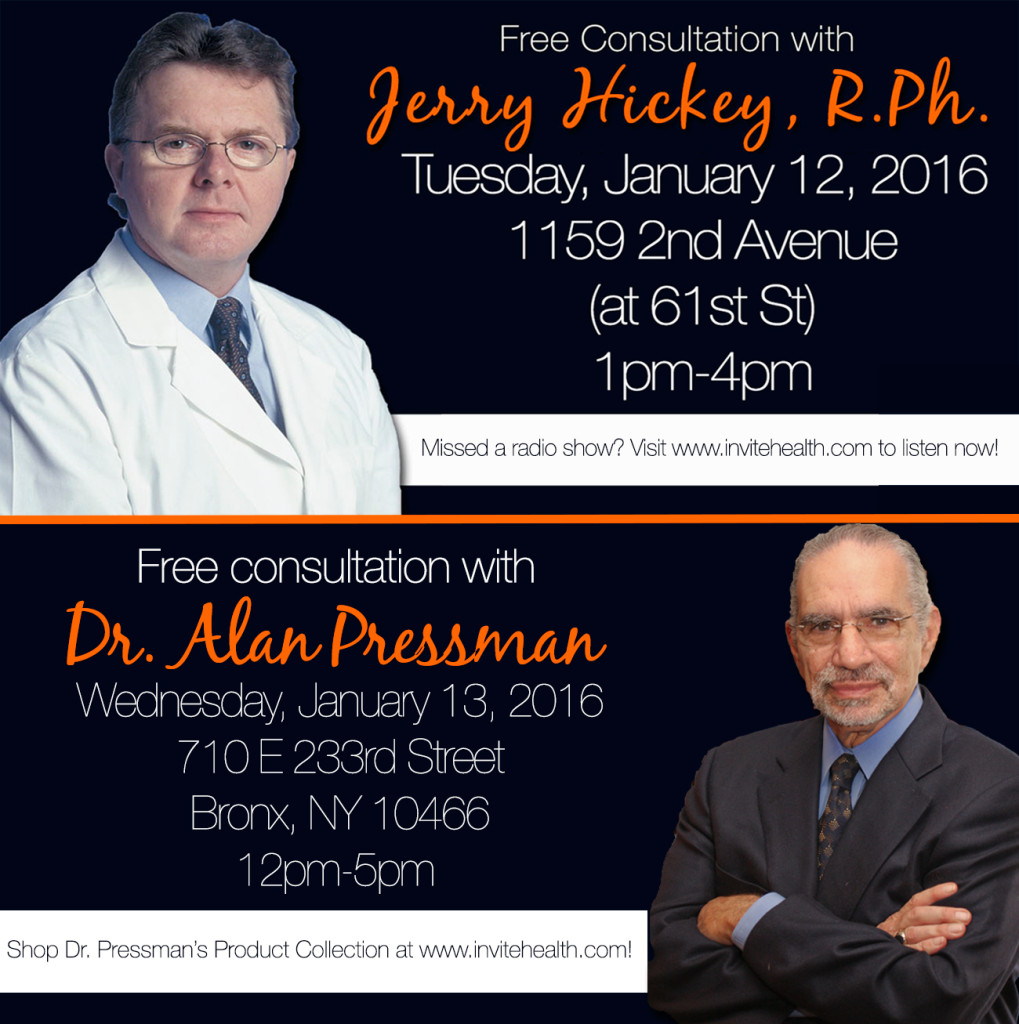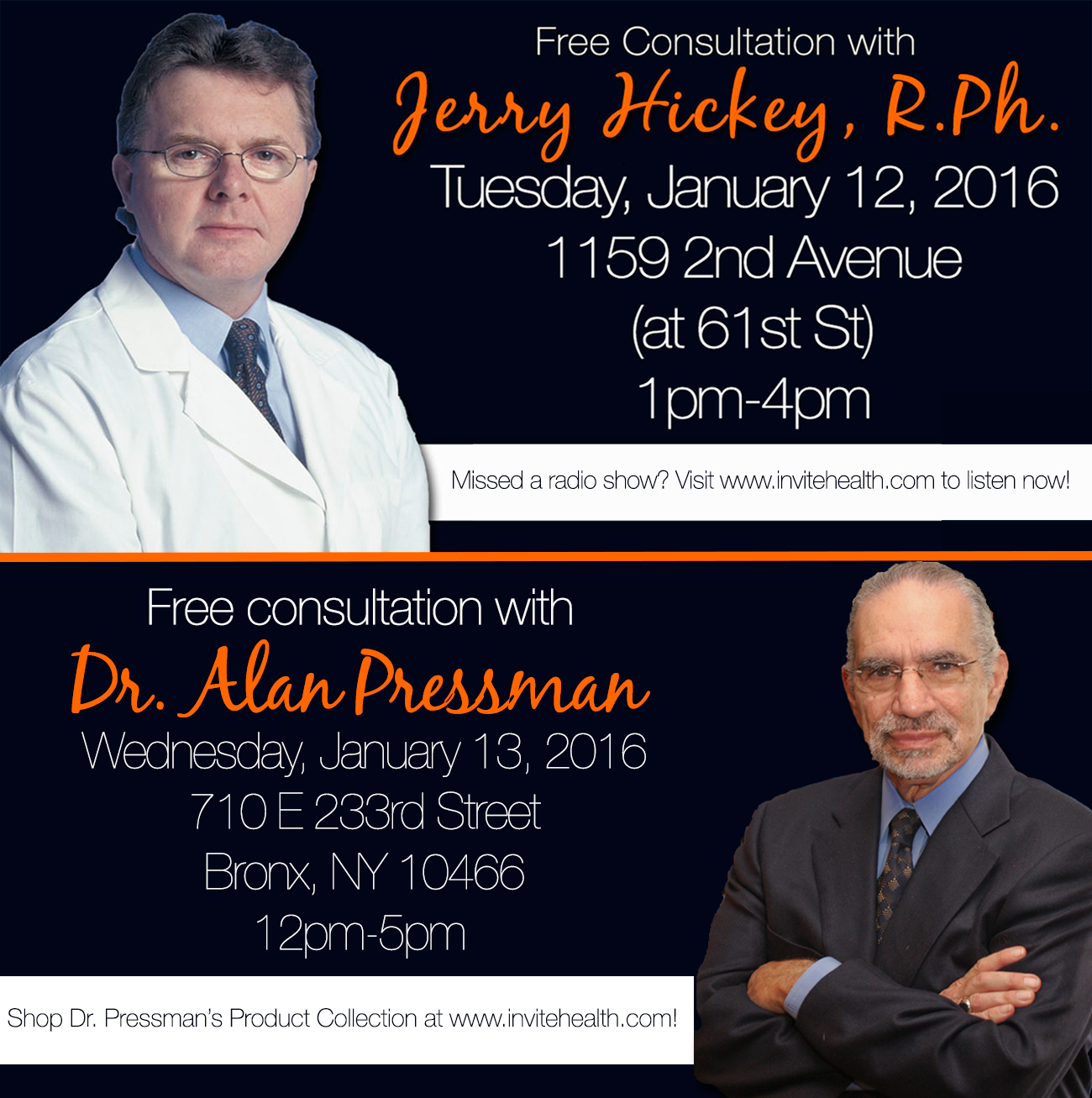 InVite® Health is a unique health and wellness brand that combines innovative products, nutritional education, and a luxury retail store experience. Our brand has been developed by industry professionals – pharmacists, nutritionists, and other healthcare experts who understand both the science behind vitamins and supplements and the need for quality in our industry. Led by our Scientific Director, Jerry Hickey, R. Ph., along with Dr. Alan Pressman, InVite® Health actively develops new products to help our customers enhance their health and wellness. Our product line includes a wide selection of vitamins, supplements, beauty and skincare products, and other natural health solutions. Visit Jerry Hickey, R. Ph and Dr. Alan Pressman at an InVite Health store near you for free consultations!
A Word from Our Scientific Director & President: Jerry Hickey, R.Ph.
Back in the 1970s when I attended Saint John's University School of Pharmacy, I was learning all about chemotherapy. I was also learning how damaging the drugs used to treat these diseases could be and how devastating cancers and other diseases were. It began to occur to me that perhaps there was a way of avoiding the disease process or at least stacking the odds against developing many of today's more common diseases. One sure fire way of helping was good nutrition and the emerging studies on gene vs. environment support the career path I have chosen. The reason so many different plant ingredients are so healthy is not simply because they lack cholesterol or because they are rich in antioxidants; these being good enough qualities on there own to justify consumption, but because they contain phytochemicals that positively impact good health by managing the activity of your genes. Broccoli and other cabbage vegetables, green tea and the ingredients in red grapes are just some examples of foods that protect you by properly conducting the orchestra which is your genes.
I have dedicated my entire life to collating and disseminating this information and to designing products to support the effort. Helping me in this journey is my team of nutritional professionals; a group of hand chosen, caring and dedicated practitioners. A gifted member of the team is active at every location and I want you, our client, to take advantage of this knowledge. At every InVite® Health retail location is a genuine healthcare professional with strong academic credentials who is there to help you. Spend some time and sit down across the desk from an InVite®  Health professional, they will take the time to assist you in the selection of the correct nutrients to address your health concerns with free consultations.
A Word from Dr. Alan Pressman:
Dr. Alan H. Pressman's extensive knowledge of health, nutrition and breakthrough medicine stems from years of professional experience as a New York State Certified Nutritionist and Dietitian, Doctor of Chiropractic, and Diplomate of the American Clinical Board of Nutrition. In private practice since 1963, Dr. Alan H. Pressman has also served as the Chairman of the Department of Clinical Nutrition and a Professor of Nutrition Research at New York Chiropractic College, as well as Associate Professor of Bio-Nutrition at the University of Bridgeport. He has eight board certifications and has written eighteen books, including two textbooks.
Healthline, Dr. Pressman's radio show broadcast nationwide on WMCA every week day at 6pm, is dedicated to sharing cutting-edge, breakthrough alternative and medical technologies so listeners have the chance to heal themselves with choices beyond prescription drugs and surgeries. InVite® Health is proud to exclusively distribute the Dr. Pressman line nationwide, alongside our own top-quality health products! Dr. Pressman's products include a variety of innovative formulas with unique, all-natural ingredients that will have you on the road to great health in no time! This collaboration of Dr. Alan Pressman with InVite® Health will expand the health and nutrition services offered by both the InVite® Health luxury brand and Dr. Pressman line to their loyal customer bases nationwide.
For more information on Jerry Hickey, R.Ph and Dr. Alan Pressman's Radio Shows, Free Consultations, Radio Studies, Articles, Products and more, visit www.invitehealth.com today!
---
---