The New & Improved InVite® Core Multivitamin Formula Has Arrived!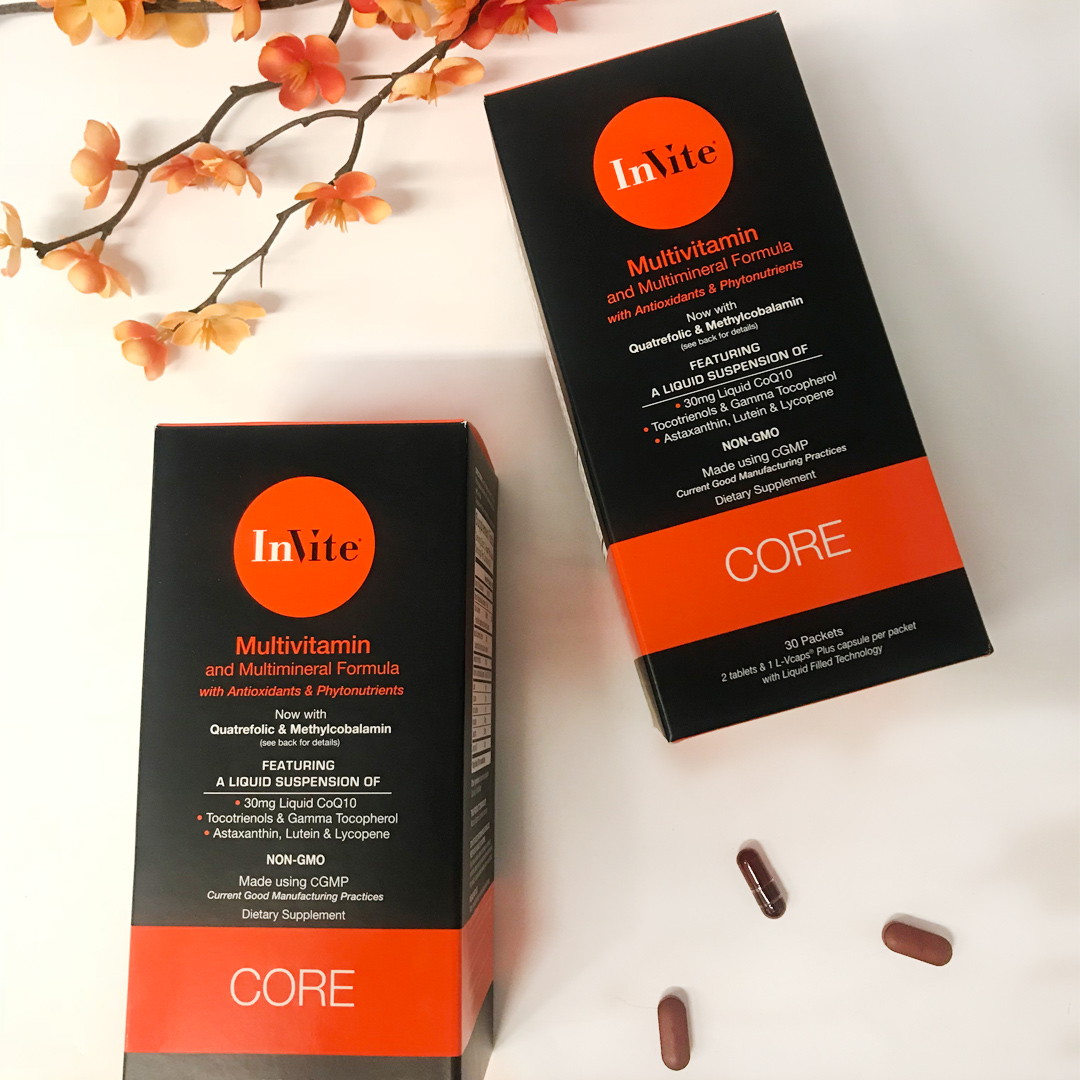 We live in an increasingly polluted environment, loaded with toxins; the soil we grow our food in is often nutrient-depleted and many consume processed, factory-made foods supplying scant nutrients. Ironically, our bodies wind up requiring even more vitamins and minerals to effectively metabolize nutrient-depleted foods. Add that depletion with less time spent outdoors, minimal exercise, prescription drugs and medications, and chronic stress, and the result is that many individuals are truly nutritionally deficient. For these reasons, healthcare professionals are advising their patients to start taking a safe, reliably-made, high-quality multivitamin mineral formula on a daily basis to fill the nutritional deficits in their diet.
According to a recent USDA survey 37% of Americans do not get enough Vitamin C, 70% do not get enough Vitamin E, nearly 75% do not get enough Zinc, and 40% do not get enough Iron. But not just any commercially available nutritional supplement product will meet these needs!
InVite® Superior Multivitamins
InVite®'s superior Multivitamins are designed around a core of energy-producing nutrients along with powerfully protective food-derived antioxidants. Each Multivitamin is designed to address the replenishment of core nutrients depleted by commonly prescribed drugs, to support physical activity, and to support the increased need for particular nutrients during the aging process. Additionally, they are designed to help protect vision and memory health.
Capsugel® Liquid-filled Vegetarian capsule technology (Vcaps® and Licaps®) ensures maximum absorption, while protecting the delicate liquid constituents from oxidation. Our tablets are coated with natural annatoo, making them easier to swallow. All InVite® Multivitamins contain ingredients used in human clinical trials, are gluten-free, non-GMO and are made using cGMP (current Good Manufacturing Practices).†
Interested in more information about our Multivitamin Collection? Read More Here >>
Important Components of InVite®'s Core Multivitamin
The InVite® Core Multivitamin was formulated by leaders in the nutritional world to combat Drug-Induced Nutrient Depletions and inadequate levels of essential nutrients in the body for any other reasons. Our advanced formulation and encapsulation technology go beyond common multivitamins. They are particularly effective because they separate the water-soluble nutrients from fat-soluble nutrients, which greatly improves absorption.
Each box of InVite® Multivitamins includes a month's worth of daily multivitamin packets. Simply take one packet per day – easy to carry! Each packet contains three pills –
Two water-soluble, all-natural green tablets with all the vitamins and minerals to supply your minimum daily requirements, plus a high-potency B-50 complex – Iron-free and safe.
The third capsule is a liquid-filled capsule that contains the fat-soluble nutrients. CoQ10 (30mg), Non-GMO Mixed Carotenoid Complex with Lycopene, Lutein, Astaxanthin and Zeathanthin (25mg), and Natural Tocotrienols (60mg) may offer additional protective benefits.
InVite®'s Core Multivitamin supplies all of the vitamins and minerals found in a high-quality multiple vitamin and supports energy and metabolism with the addition of Coenzyme Q10, a plentiful supply of B-Complex Vitamins, including Choline. This multivitamin supports the health of the brain, eyes, and circulatory system, as it supplies Carotenoid pigments along with Tocotrienols.
Probiotics and Greens in your Multivitamin? Yes, Please! Read more here >>
New Core Multivitamin Formula, using Metabolically Active Folate and Methylcobalamin B-12
We have replaced folic acid with the fourth generation, metabolically active folate (MTHF – Quatrefolic®). Increasing evidence of the advantages of reduced folate versus folic acid have been found. The rational use of reduced and methylated folate is derived from the inability of a part of the world population to assimilate and metabolize folic acid from food or supplements. Folic acid and food folate are not biologically active and need to be converted to the metabolically active 5-methyltetrahydrofolate (5-MTHF) through a multi-steps process. Some individuals, due to their unique genetics, do not produce adequate or effective MTHFR. Using Quatrefolic® amounts provide greater protection in the support of brain health, heart health, and for healthy methylation leading to better cellular protection. Additionally, B12 has been replaced with the activated form, the bio-identical, physiologically active Methylcobalamin to better support brain and nerve health.†
Click here to shop our New Multivitamin! >>
Why Take InVite®'s Core Multivitamin?
Non-GMO Multivitamin
Made following cGMP (current Good Manufacturing Practices)
Made with Vcaps® and Licaps® technology (liquid-filled Vegetarian Capsules) employing advanced delivery methods for efficient absorption, which also shields these delicate ingredients from oxygen. Heat nor saturated fat are used in the encapsulation process.
Made with Quatrefolic®, a metabolically active folate, allowing for greater assimilation and absorption of folic acid
Developed as an affiliate of the Cornell University's Center for Advanced Technology in Biotechnology
Full spectrum Vitamin E, including tocopherols and tocotrienols
All natural Beta-Carotene along with many other carotenoids including Lutein, Astaxanthin, and Lycopene
Contains ingredients used in human clinical trials
No artificial colors or flavors
Biokey® prevents negative interactions between compounds in the digestive tract and increases the absorption and bioavailability of trace minerals
One convenient packet daily
Questions about this new Core Multivitamin formula? Leave us a comment below to discuss!
---
---