How Panax Ginseng Supports Safe Energy – InVite Health Podcast, Episode 183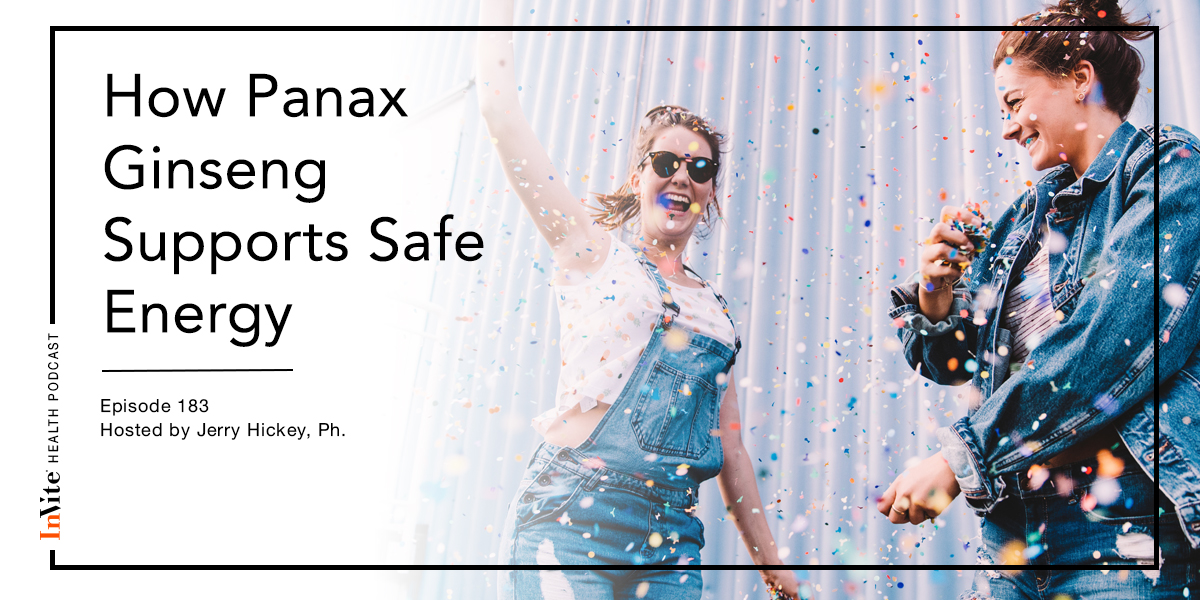 Invite Health Podcast, Episode hosted by Jerry Hickey. Ph
Subscribe Today!
Who isn't stressed right now? Panax ginseng is used for stress and energy and it's considered to be an adaptogen. An adaptogen is usually a natural substance like an herb, or it can be something made by our bodies. Research supports its use for improving your energy, reducing feelings of stress, and supporting your immune system. Today, we're going to discuss how the herb Panax ginseng, also known as Korean or Asian ginseng, can safely improve your mental and physical energy.
What is Panax ginseng?
Panax ginseng is an extremely popular herb that has been used for many centuries. The word "Panax" means all-healing in Greek.
A number of recent studies published in medical journals show that this herb reduces fatigue and improves your energy. This usually starts within 15 to 30 minutes of consuming the herb. Interestingly, it helps the very first time you use it. There is no build up. Some things that improve energy have to be taken for a week or two before you start to feel any improvement, but Panax ginseng works out of the starting gate.† 
Panax ginseng does not cause jitteriness and does not feel like a stimulant. In fact, you likely will feel calmer and more clear-headed because it has a nice impact on brain function. A recent study of 174 people in China shows that Ginseng improved fatigue dramatically compared to placebo. Additionally, the Mayo Clinic performed a double-blind study on 290 cancer patients. The most common symptoms from cancer are brain fatigue and physical fatigue. Researchers found that the Panax ginseng safely restored the patients' energy.†
Nutrients To Help Mitigate The Impact of Stress – InVite Health Podcast, Episode 182. Listen Now >>
Panax ginseng has to grow for five years to obtain enough ingredients to offer its benefits. These ingredients include ginsenosides, acidic polysaccharides, and polyacetylenes. They are only found in the Panax ginseng plant. This truly age-old treatment for flagging energy is believed to work by supporting the Hypothalamic-Pituitary-Adrenal (HPA) Axis, which helps your body adapt to and cope with stress and fatigue. This axis is made up of three glands: the hypothalamus, which controls your body clock, the pituitary, which controls the release of hormones, and the adrenals, which help you handle stress. These three glands work in harmony through the regulated release of hormones to control your body's response to stress. They also help regulate your energy, your mood, your immune system, and your digestive tract. Two hundred miligrams to 400mg of Panax ginseng has been shown to produce natural energy, reduce mental and physical fatigue, and improve alertness.†

The Research Behind Panax Ginseng
The University of Texas MD Anderson Cancer Center in Houston is the number 1 cancer research and treatment center. Their Department of Palliative Care and Rehabilitation did a study with high dose Panax ginseng and cancer patients dealing with fatigue. In this study, 30 patients with cancer-related fatigue received 800mg of Panax ginseng every day for a month. This is considered a high dosage. The patients did not have any adverse events related to the Panax ginseng, even at this high dosage, which is telling you a lot. It also improved their scores for fatigue, as well as their wellbeing, appetite and sleep. This is extremely important because people who are being treated for cancer are very vulnerable, so seeing that a high dose of Panax ginseng improved their state without causing negative impacts actually means a lot.†   
Panax ginseng can also help healthy patients with fatigue. The Korean Medical Hospital's Department of Internal Medicine performed a randomized, double-blind, placebo-controlled human clinical trial that was published in the Journal of Complementary and Alternative Medicine. They worked with 52 healthy subjects who were fatigued and gave them either Panax ginseng or placebo daily. The researchers used 2000mg of Panax ginseng a day, which is a high dosage and not necessary for most people. The study showed that there was a significant difference in fatigue after 4 weeks for patients taking the ginseng.†   
Natural Remedies for Sleep – Invite Health Podcast, Episode 104. Listen Now >>
For additional studies that prove the efficacy of Panax ginseng for energy and fatigue, make sure to listen to our full podcast episode by clicking PLAY above.
Here's my personal experience with Panax ginseng. Not very long ago, I had 2 nights in a row with no sleep. Between the 2 nights, I probably had 1 hour. The next day, I had 3 live radio programs and I still had to go to work after that. I felt exhausted. I told people on my radio programs that after I was done with the programs, I was going to take a product called True Energy, where I combine Rhodiola rosea, which is often called viking ginseng, and Panax ginseng with something from the tea plant called L-theanine. After the last show ended at 12:00, I forgot to take it. I went to work and finally took it at about 1:00. I took an envelope of the powder and put it in water. It dissolved pretty easily and tasted rather good. Within 15 minutes, I felt like I had just had 1 bad night of sleep instead of 2. After half an hour, I felt like I had slept really great. In fact, I worked straight through until 6:00 and didn't even stop for lunch. I never thought I'd be able to last past 2:00 that day. I couldn't believe it. From time to time, when I've worked too hard and I've burnt the candle at both ends, I'll take an envelope of True Energy, which has 200mg of Panax ginseng, and feel energy, wellness and calmness. It's really a good feeling. If you do feel like you've overdone it and you just need a little bit of help, Panax ginseng will help get you on your feet again. 


---
---