Prostate Supplements To Discuss With Your Doctor – Invite Health Podcast, Episode 116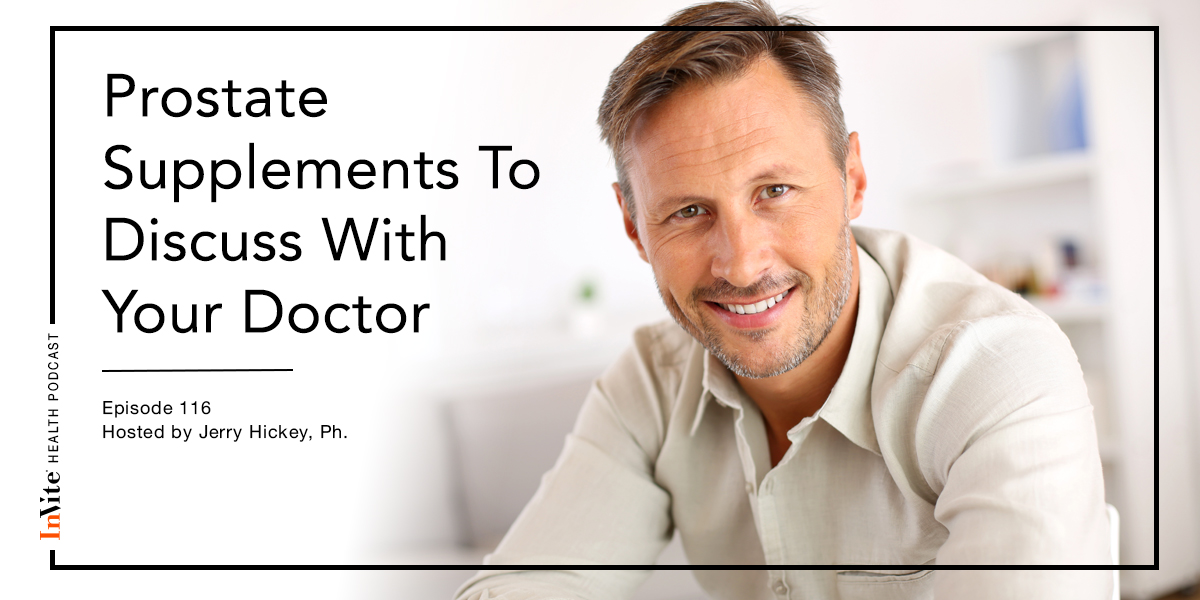 *Heading 5* Invite Health Podcast, Episode hosted by Jerry Hickey. Ph
Subscribe Today!
On today's episode, we will be discussing supplements that you should discuss with your doctor if you have low-grade prostate cancer. About 1 man in 6 will be diagnosed with prostate cancer during his lifetime, according to the University of Texas MD Anderson Cancer Center. About 60% of prostate cancer cases are diagnosed in older men; aged 65 or older. Nearly 3 million men in the US are believed to currently be living with prostate cancer1
Listen to Episode 1 of Prostate Health by Clicking here >>
It is important to note that:
Not all prostate cancers are alike
Not all of them are equally aggressive or as likely to spread.
Sometimes, the approach is keeping an eye on the disease, a strategy known as active surveillance
Doctors use active surveillance when:
It is a small tumor that's limited to being inside the prostate
If it's also a slow-growing cancer
And if it has a low risk that it will grow locally or spread (metastasize) or that you'll die from the disease
So, active surveillance is being selected more frequently as the treatment option of choice by men with low-risk prostate cancers.
So, what happens during Active Surveillance?
Your doctors team up to monitor your tumor for any signs that it may be changing and reevaluate your treatment if the cancer becomes more active. For example, if your Gleason score, or PSA level, starts to rise, the doctor may recommend stopping active surveillance and start some type of treatment. The advantage of active surveillance for men with localized, early-stage prostate cancer is that they can be spared the side effects of surgery and radiation therapy. However, during active surveillance, with watchful waiting; it often leaves it's mark on men; they feel anxious about not doing enough.
What you need to know about your prostate cancer risk. Listen now >>
Lifestyle Interventions 
Here is more you can do, science verified steps you can take to help keep your tumor under better control;
Healthy Practices
Low Vitamin D; discuss with oncologist†
Obesity; fat feeds inflammation which feeds cancer
Exercise
Vegetables (broccoli), tomato, fresh fruit (berries)
Melatonin; discuss with oncologist†
Probiotic; discuss with oncologist†
Unhealthy Practices
Processed foods
Processed meats
Smoked meats
Sugar
Frying, BBQ, Grilling
Smoking
Thank you for tuning in to the Invite Health Podcast. You can find all of our episodes for free wherever you listen to podcasts or by visiting www.invitehealth.com/podcast. Make sure you subscribe and leave us a review! Follow us on Facebook, Twitter and Instagram at Invite Health today. We'll see you next time on another episode of the Invite Health Podcast.


---
---