How A Seasonal Detox Can Help Optimize Your Health – InVite Health Podcast, Episode 185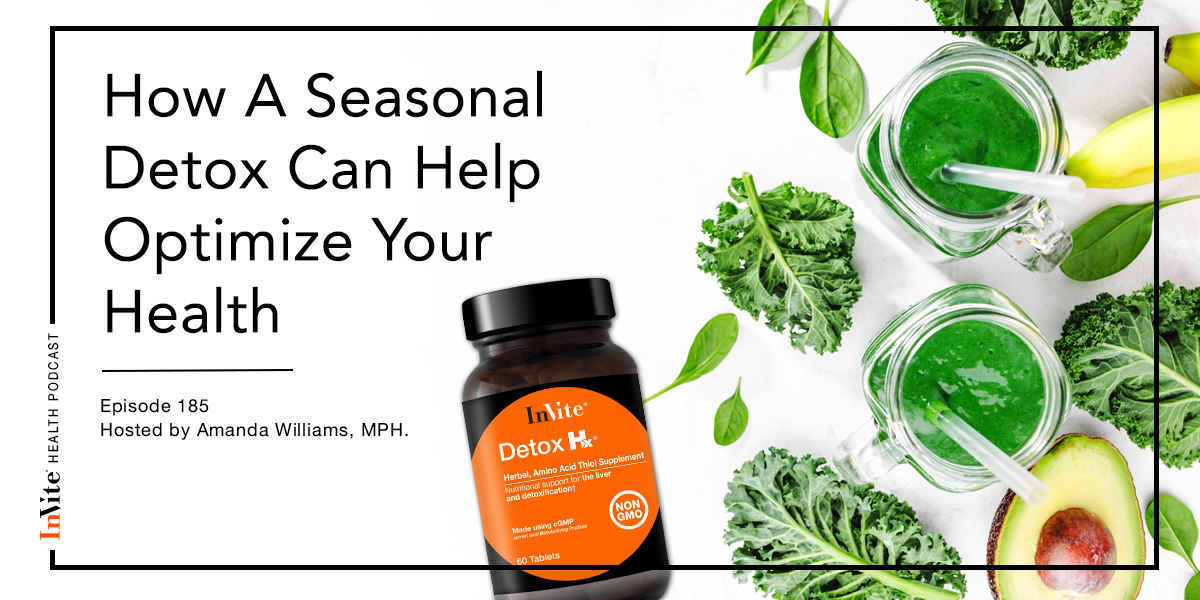 Invite Health Podcast, Episode hosted by Amanda Williams, MPH
Subscribe Today!
When it comes to detoxification, there is something that we all must understand, and that is that the body goes through metabolic detoxification each and every single day to try to rid the body of all of the different chemicals and pollutants that we are exposed to on a regular basis based of our environment and intake of different foods and medications. It is important to understand that when it comes to giving your body an overall cleansing, there are ways to do this in a healthy and effective way. Doing a crash detox is generally not something that would be advisable, such as some crazy fast where you're only taking in water and cayenne pepper. Those detoxes are much different because they can create significant imbalances in terms of electrolytes, which can throw off a lot of different things in our bodies.     
I do like to focus in on seasonal changes and detoxing the body. When you think about giving your body a helping hand along the way, there's no better time to do that than as the seasons change. As you transition from one season to the next, it's always advantageous to consider doing a complete detox and doing it in the correct way, where we are not going to be creating issues such as disrupted electrolytes. 
HOW CRUCIFEROUS VEGETABLES ARE NATURES DETOXIFIERS – INVITE HEALTH PODCAST, EPISODE 162. Listen Now >>
Today, we're going to focus in on how we can achieve healthy detoxification. As I mentioned, we have metabolic detox that occurs every single day. There are three different phases to this and it's done predominately through the liver, but the kidney is also involved. This is heavily reliant on vitamins, minerals and antioxidants that are consumed from our foods, as well as antioxidants that are produced within the human body. This is our body's way of trying to keep ourselves clean and non-toxic.

NUTRIENTS THAT SUPPORT METABOLIC DETOX
As we transition from season to season, it's a really good idea to consider taking in nutrients that we know can be very beneficial and targeted towards enhancing that metabolic detoxification process and those 3 different phases. We can look at different things such as dandelion extract and milk thistle extract, for example. We know that these have been used for hundreds of years in terms of human health and proper cleansing. Many people do not realize how many wonderful nutrients are in dandelion extract. It's packed full of vitamins and minerals, including Vitamin C, Vitamin B, Vitamin D, potassium and zinc. If we use something like dandelion extract that is packed with nutrients, it makes sense that we will be enhancing our body's normal metabolic detox phases.         
When we talk about detoxifying, we want to think about what nature has to offer us that we can incorporate into a daily routine. When we talk about seasonal detox, we look at it as maybe a 2 week period where you're going to take supplements like Detox Hx® or Hepatox Hx®, or even a combination of both. This is going to incorporate things such as dandelion extract and milk thistle. Milk thistle is really targeted towards the liver and is really helpful for giving your liver cells a helping hand during the different phases of detoxification. It can also be beneficial for the immune system and nervous system. For more information about the benefits of dandelion extract, milk thistle and other nutrients, tune in to the full podcast episode. 
DAILY DETOXIFICATION: THE KEY TO OPTIMAL HEALTH – INVITE HEALTH PODCAST, EPISODE 82. Listen now >>
There are also many things in nature that can impede the body's functions, such as synthetic agents that work against what the body is trying to do. These agents include things like chemicals in the air and pesticides on foods. With every season, we have to be cognizant of this. We have to consider if we spend months breathing in different toxins, not eating organic foods, or taking a lot of pharmaceutical medications. If this is the case, then it would be advantageous to help your body along by taking this 2 week approach to incorporating dandelion extract, milk thistle and other nutrients into your routine to allow the 3 different phases of metabolic detoxification to go by much smoother. 
Thank you for tuning in to the Invite Health Podcast. You can find all of our episodes for free wherever you listen to podcasts or by visiting www.invitehealth.com/podcast. Make sure you subscribe and leave us a review! Follow us on Facebook, Twitter and Instagram at Invite Health today. We'll see you next time on another episode of the Invite Health Podcast.


---
---