Tips for Sinusitis Season – InVite Health Podcast, Episode 450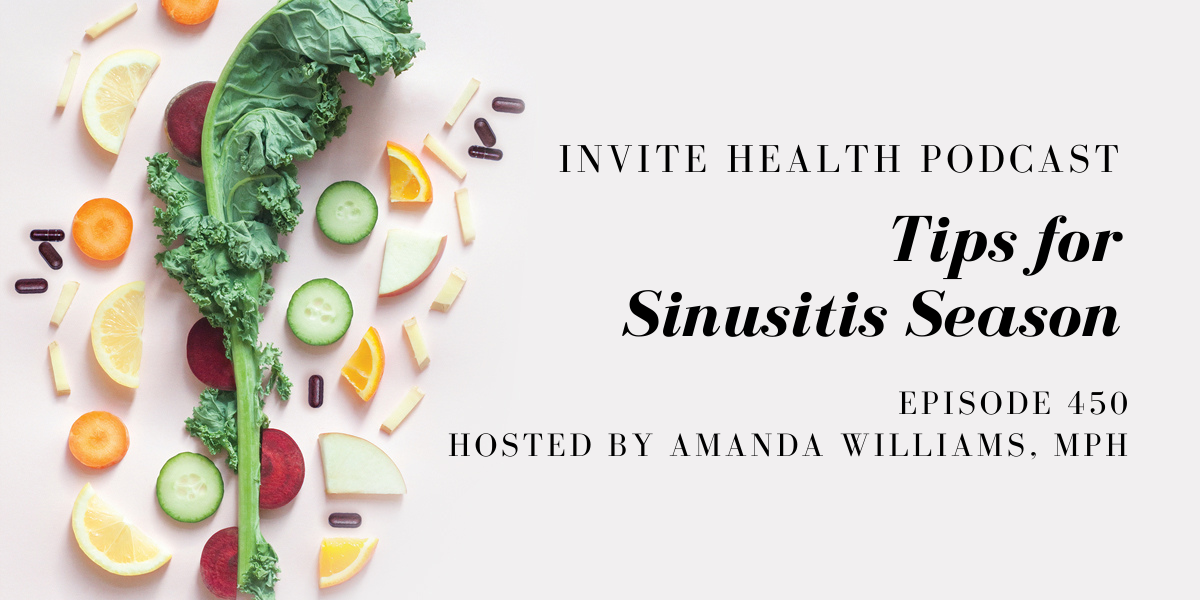 sinusitis
InViteⓇ Health Podcast, Episode hosted by Amanda Williams, MPH
Subscribe Today!
It is sinusitis season again, with an estimated 30 million adults in the United States getting diagnosed with sinusitis. We recognize that this creates a lot of havoc when it comes to inactivity, loss of work and just feeling horrible. I want to talk a little bit about sinusitis today and look at the different nutrients that have been shown in clinical research studies to make a powerful impact when it comes to sinusitis.†
What causes sinusitis? 
Sinusitis is inflammation in the sinuses. There are many different symptoms that can come along with this issue. You can get throbbing facial pain. You can feel like you have pressure within the sinuses. You can develop headaches or a runny nose. This can even traverse into the ears and your ears can become plugged or painful.† 
Sinusitis itself generally resolves on its own. The majority of sinusitis is generally brought on because of a virus or a particular allergen. It can also be bacterial. Many times people will go to the doctor and get antibiotics, but we have to be able to differentiate between a bacterial sinusitis, which is not as common, and the overuse of antibiotics.† 
WHY YOU SHOULD TAKE A PROBIOTIC WHEN ON ANTIBIOTICS – INVITE HEALTH PODCAST, EPISODE 275. Listen Now>>

Nutrients to promote open sinuses
There are a lot of different remedies for someone who is suffering from this issue. Certainly saline nasals such as neti pots are a good option. Just using the straight saline is the most advantageous way to target this.†
We also know that there are many different things that have been shown to be incredibly powerful when it comes to targeting the inflammation that occurs in those sinus cavities. We can look at things such as N-acetylcysteine (NAC). It can help to minimize the thickness of the mucus that plugs up your nasal passageways.† 
NAC: THE INFLAMMATION BATTLING, ANTIOXIDANT-BOOSTING AMINO ACID – INVITE HEALTH PODCAST, EPISODE 128. Listen Now>>
We can also look at bromelain, which is a proteolytic enzyme that does a terrific job at easing inflammation and helping to dislodge mucus.†
In this episode, Amanda Williams, MPH discusses the issue of sinusitis, which many people are facing during this time of year. She explains what causes this problem and offers suggestions for nutrients that can help.†
Key Topics:
What causes inflammation in the sinuses?

Risk factors for sinusitis
Thank you for tuning in to the InViteⓇ Health Podcast. You can find all of our episodes for free wherever you listen to podcasts or by visiting www.invitehealth.com/podcast. Make sure you subscribe and leave us a review! Follow us on Facebook, Twitter and Instagram at InViteⓇ Health today. We'll see you next time on another episode of the InViteⓇ Health Podcast.


---
---