What to Know About the COVID-19 Pill – InVite Health Podcast, Episode 451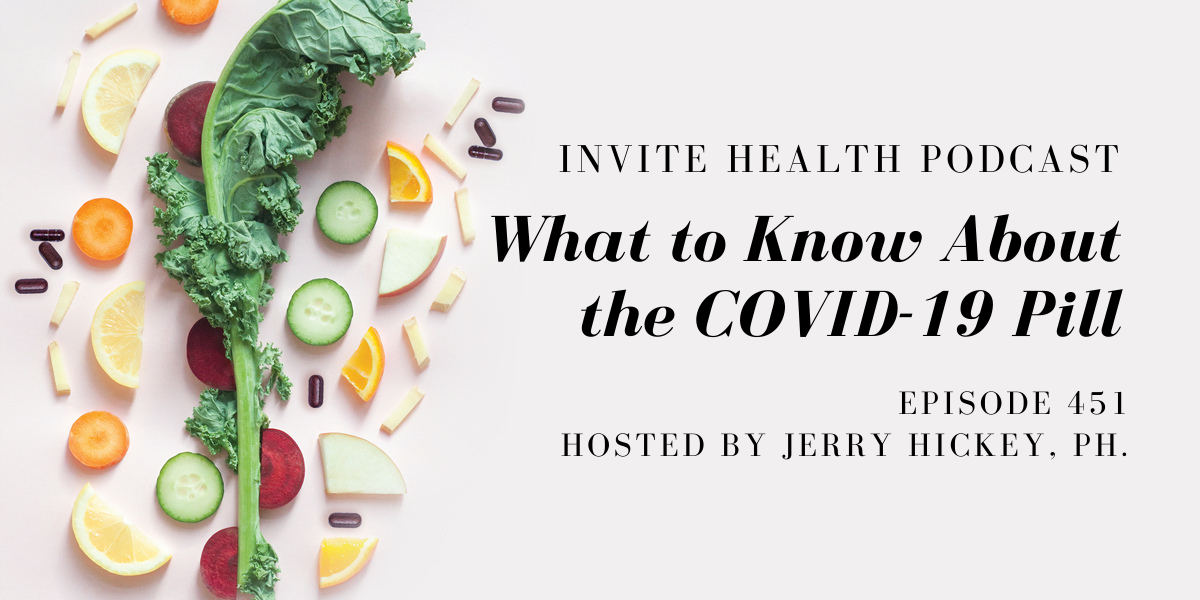 COVID-19
InViteⓇ Health Podcast, Episode hosted by Jerry Hickey, Ph.
Subscribe Today!
Very soon, there may be a pill on the market for treating COVID-19. In other words, if you pick up the infection, you get a prescription for this pill, you take it and, according to the manufacturer Merck, it keeps you out of the hospital and it keeps you around. It could be a real game changer.†  
How does this pill work in the body?
This pill is named after Thor's hammer, mjolnir, because it hammers the virus. It's called molnupiravir. Merck has submitted this pill for emergency approval based on interim analysis from data from about 800 patients. These patients had mild to moderate COVID-19. What the drug was doing was preventing the virus from replicating. If the virus can't multiply, then it dies out. It's as simple and straightforward as that. According to this early analysis, the drug reduced the risk of being hospitalized by about 50% and reduced the risk of dying by about 50%, which is all great news.†
THE DIFFERENCE BETWEEN EACH COVID-19 VACCINE & HOW TO HELP THEM WORK BETTER – INVITE HEALTH PODCAST, EPISODE 312. Listen Now>>
The thing is that this could be a real game changer because it worked on all of the variants. It worked on the delta variant equally as well as other variants. It even worked in people with all of the risk factors for developing really serious COVID-19 infections and winding up in intensive care units. This includes people with severe diabetes and severe obesity.†  

The added value is that it also seems to prevent the virus from shedding. Shedding means spreading the virus from one person to another. In other words, this particular drug may help prevent the virus from hurting someone, as well as them spreading the virus to other people they know.†

Nutrients to help protect from COVID-19
Even though we're talking about this COVID-19 pill, I also want to talk about some natural supplements that have helped people who are hospitalized with COVID-19. It's really worth mentioning this.†
One is curcumin from the turmeric plant. A study looked at Sabinsa's curcumin, which also includes the black pepper fruit, also known as piperine, to it, which improves absorption. People who took this when they were in the hospital did a lot better. This was a randomized, double-blind, placebo-controlled human clinical trial in 140 COVID-19 patients. They found that the patients who got the curcumin twice a day for two weeks had their symptoms subside much quicker. They recovered from trouble breathing, a cough, a fever, a sore throat and aches and pains quicker. They also maintained their oxygen saturation more easily. This type of easily absorbed curcumin is found in Dr. Pressman's Curcumin Blend.†  
BEYOND JOINT HEALTH: THE POWER OF CURCUMIN AND BOSWELLIA – INVITE HEALTH PODCAST, EPISODE 205. Listen Now>>
Other nutrients that have been shown to help COVID-19 patients include black cumin seed, honey and glutathione. Black seed is very helpful for lung health, which is important because COVID-19 tends to get vicious in the lungs. Glutathione is a master antioxidant in the body that has been shown to help respiratory health. I also recommend that everyone gets some zinc, Vitamin D and Vitamin C in the winter. All three of these are needed in the immune system and levels begin to drop in the body around October.†
In this episode, Jerry Hickey, Ph. discusses recent research on a pill that may be able to treat COVID-19. He explains why this could be a groundbreaking discovery and also provides recommendations for nutrients that can help the body fight the COVID-19 infection.†
Key Topics:
Some safety data on this pill

What is oxygen saturation?

Research on black cumin seed and honey
Thank you for tuning in to the InViteⓇ Health Podcast. You can find all of our episodes for free wherever you listen to podcasts or by visiting www.invitehealth.com/podcast. Make sure you subscribe and leave us a review! Follow us on Facebook, Twitter and Instagram at InViteⓇ Health today. We'll see you next time on another episode of the InViteⓇ Health Podcast.


---
---