Are The Daily Fruits And Vegetables We Eat Enough? – InVite Health Podcast Episode 547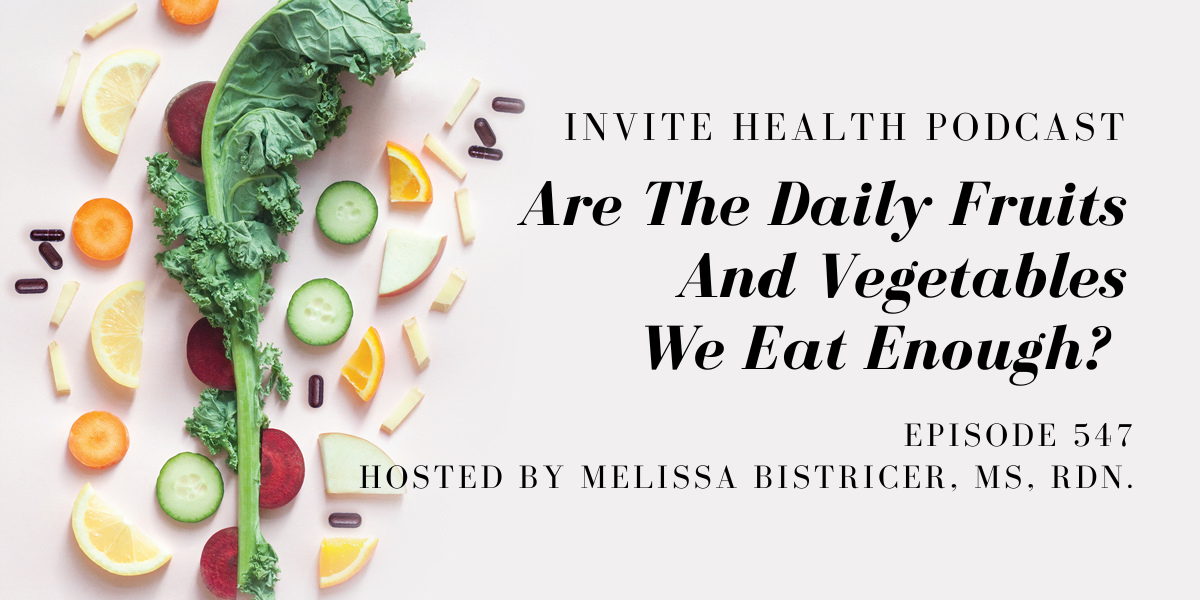 Fruits and vegetables 
Subscribe Today!
Please see below for a complete transcript of this episode.
Are The Daily Fruits And Vegetables We Eat Enough? – InViteⓇ Health Podcast, Episode 547
Hosted by Melissa Bistricer, MS, RDN
*Intro music*
InViteⓇ Health Podcast Intro: Welcome to the InViteⓇ Health Podcast, where our degreed healthcare professionals are excited to offer you the most important health and wellness information you need to make informed choices about your health. You can learn more about the products discussed in each of these episodes and all that InViteⓇ Health has to offer at www.invitehealth.com/podcast. First time customers can use promo code PODCAST at checkout for an additional 15% off your first purchase. Let's get started!†
*Intro music*
Melissa Bistricer, MS, RDN: [00:00:40] Welcome back to another podcast here at InViteⓇ Health. Have you ever looked for new ways to fill in gaps of dietary intake of fruits and vegetables? Well, you're in luck today. I will be giving you a new outlook on getting the rainbow of the fruits and vegetables in your daily life with our unique formulation of Reds HxⓇ.†  [00:00:55]
[00:00:56] My name is Melissa Bistricer and I am a registered dietitian. I am so excited to bring to you the nutritional aspect of nutrients here at InViteⓇ Health. Nutrition Food for Thought: Your diet is a bank account. Good food choices are good investments. InViteⓇ Health, promotes an integrative approach and providing vitamins into your daily life to increase your quality of life in conjunction with nutrients. It is also important to learn and include other lifestyle modifications like nutrition, exercise and sleep. These practices with the use of vitamins will promote optimal benefit in your daily life.†  [00:01:28]
[00:01:29] Adequate consumption of fruits and vegetables have been correlated with many different aspects of overall health, which means that they are essential to have in your body and to eat on a daily basis. The benefits of having a diet rich in fruits and vegetables is that they are a great source of vitamins and minerals. They have a variety of flavors and textures. There is always something for everyone. Fruits and vegetables have an increase in fiber, they're lower in calories, they're low in fat, and overall help maintain a good health. You never heard of a fruit or vegetable harming a person? Well, I guess if someone has an allergy, they may harm a person. But in general, fruits and vegetables haven't harmed a person in the sense of being bad for your body. They provide tons of vitamins and minerals. Fruit and vegetable intake has the ability to lower blood pressure, reduce the risk of heart disease and stroke, prevent different types of cancer, lower the risk of eye and digestive problems, and has a positive effect on controlling blood sugar and keeping appetite in check.†  [00:02:25]
[00:02:26] The general recommendation is to have two cups of fruits and three cups of vegetables each day. Though the average American is certainly falling short of consuming the adequate amount of fruits and vegetables. When we look closer into the CDC, they recently revealed that only 12.3% of Americans meet the recommended intake of fruit and 10% meet the recommended intake of vegetables each day. You can definitely see why we stressed the importance of getting your fruits and vegetables through a nutritional supplement, as most people are not reaching the recommended amount of two cups of fruit and three cups of vegetables each day. This is why sometimes it is important to turn to supplemental nutrients such as our unique formulation of Reds HxⓇ. †  [00:03:06]
THE POWERFUL CONSTITUENTS IN CRUCIFEROUS VEGETABLES – INVITE HEALTH PODCAST, EPISODE 404 >> Listen Now! 
[00:03:08] The Reds HxⓇ formula, you may be thinking, Why is this formula so unique? Maybe I should be starting to use it. Let me explain why it is packed with many different beneficial components, such as antioxidants in the blueberry fruit powder, the BlackBerry fruit powder, and the raspberry fruit powder. Not only are you getting the powerful antioxidants, but you're also getting key nutrients that are beneficial for eye health. These deep, dark berry extracts help to enhance our bodies abilities for rhodopsin, which is the light absorber in the eyes. When taking in these high potent amounts of these berry blends they do so much more and optimize so much more than we even realize. There's also certain things in the Reds HxⓇ like mango extract, pomegranate extract, which is a wonderful blend of fruit extracts combined with our vegetable extracts such as carrot extract. So we think about our carotenoids and we have our broccoli extract, which we know broccoli has sulfides which is beneficial in the cellular level. When we think about detoxification, having the spinach extract, the beetroot extract helps to promote nitric oxide in the body, which is beneficial for circulation. Along with all those, we also have a fiber blend, which is the flaxseed powder, the barley grass powder, oat bran powder and rice brown powder, which we know that fiber is important to optimize in our microbiome. Fiber is key to having these nutrients help with the proper absorption of foods taken in from diets to obtain the vitamins and minerals. †  [00:04:32]

[00:04:33] We also have a probiotic blend within the Reds HxⓇ, which is important to think about our microbiome. We know that we want our body to have a homeostasis with a good, healthy bacteria, with all those little bugs that we know help to do so much, to help optimize our immune system and help our bodies function the way we need them to. Research from the food science and nutrition states that supplements the blend of fruits, vegetables and herbs called ORAC blend in the Reds HxⓇ the ORAC blend helps to fight off oxidative damage to cells. Promoting overall health. ORAC blend is defined as the oxygen radical absorbance capacity scale with the scientific measures of substances that are rich in antioxidants.†  [00:05:13]
[00:05:14] The scientific validated formula of fruits, vegetables, and herbs so they inhibit free radical production, optimize cellular metabolic activity, and increase nitric oxide levels within our bodies. The main antioxidant activity of ORAC blend helps against five major free radicals, namely found in peroxide hydroxyl peroxide nitrate, superoxide anion and single oxygen radicals. There's also parsley extract, ginger extract and even milk thistle, which is beneficial for kidney and liver health. A great way of what you might be missing from your daily intake of fruits and vegetables.†  [00:05:49]
ORGANIC GREENS PLUS HXⓇ: A UNIQUE BLEND OF POWER NUTRIENTS – INVITE HEALTH PODCAST, EPISODE 330 >> Listen Now! 
[00:05:50] We know that the nutrients such as antioxidants that we are getting from fruits and vegetables are not the same as years back due to the soil content not being as nutrient dense in today's days, meaning we aren't benefiting as much as years ago. Our own dietary choices may lack, but even if we are taking in enough fruits or vegetables the ones taken it may not have high enough amount of key antioxidants, vitamins and minerals. The formulation is filled with antioxidants that help to protect against free radicals. They are very tasty if you are a picky eater who is not consuming enough fruits and vegetables. When adding in the Reds HxⓇ supplement it helps enhance it at a cellular level, not only to support the immune system or to fight off oxidative stress. The powerful antioxidants support our heart, brain muscles and the entire body. It is essentially supporting through the use of this unique formulation of Reds HxⓇ. †  [00:06:42]
[00:06:43] So with all these benefits of Reds HxⓇ, the pressing question is that many of you may be thinking, how come Americans are just not consuming enough fruits and vegetables? The simple answer is that individuals experience barriers to eating fruits and vegetables, primarily due to the high demand of supply food chains, the cost of the food, and the misconception that frozen and some canned products are not as good as eating fresh. The truth is, if you can't purchase fresh, then a better alternative is getting frozen or canned products, then going to a fast food restaurant that is using no vegetables whatsoever. Convenience might just be the thing that caused you to have serious health issues. So let us add more fruits and vegetables to our diet to optimize our health now rather than when it's too late. †  [00:07:27]
[00:07:27] Again, according to the CDC, to prove a point, there is only about 12.3% of Americans meeting their recommended intake of fruit and 10% meeting their recommended intake of vegetables each day. Let's change that and get you to eat more fruits and vegetables. I would prefer to see you eat the fruits and vegetables from Whole Foods sources, but sometimes that's just not an option or it's just not possible to get all the proper nutrients daily from fresh fruits and vegetables. If you feel like you're not getting the recommended amounts of two cups of fruit and three cups of vegetables daily. An alternative again is our Reds HxⓇ here at InViteⓇ Health. The Reds HxⓇ is our unique powder that provides you with high quality products of extracts of fruits and vegetables that help with numerous nutrient depletions from lacking intake of fruits and vegetables. The Reds HxⓇ primarily supporting energy, digestive health, skin, cardiovascular health and so much more.†  [00:08:21]
[00:08:22] The best test to assess as something has health benefits is by assessing the pigmentation. The general rule of thumb is the more vibrant the color, the more nutrients the item contains. The Reds HxⓇ is made from fruits varied in colors from orange, blue, purple and reds. This formula has been shown to help support immune system, skin, eye health, intestines, arteries, heart circulation, protective cells and organs. And this list can go on and on. We incorporate other components to benefit multiple pathways and systems in the body as well seen in the probiotic blend and the fiber component. †  [00:08:56]
[00:08:57] So getting exposure can come in different ways. My advice is to start using the Reds HxⓇ or increasing your intake of fruits and vegetables each day. This can benefit your overall health and targets to benefit the multitude of pathways in the body. You can go check out the products sold here at invitehealth.com and if you have any further questions, you can chat with myself as a nutritionist or any of our other health care providers to assist you here at inviteHealth.com or you can email mbistricer@invitehealth.com. That's M.B.I.S.T.R.I.C.E.R@invitehealth.com.†  [00:09:26]
[00:09:30] I am Melissa Bistricer, RDN ready to share the knowledge to help you modify your lifestyle to live a happier and more successful life. I'm looking forward to continuing to provide you with educational podcasts and blog posts. Again nutrition food for Thought: Your diet is a bank account. Good food choices are good investments. Have a great day and tune in for the next podcast coming your way soon.†  [00:09:30]
*Exit music*


---
---