BREAST CANCER AWARENESS: Genes, Genetics & Hormones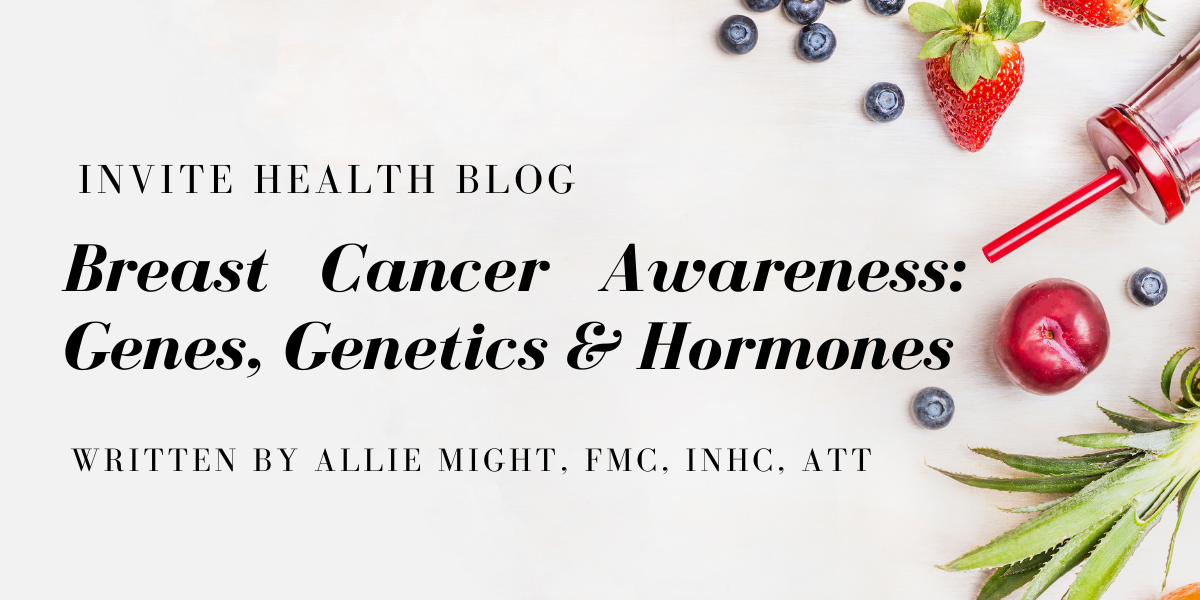 BREAST CANCER AWARENESS~ GENES, GENETICS and HORMONES
By: Allie Might, FMC, INHC, ATT
For further questions or concerns email me at amight@invitehealth.com

When the subject of breast cancer comes up, there's so many terms that are often mentioned. Any of these can seem confusing, as they are abbreviated and have to do with genes and genetics. Let's go over some of the most mentioned terms and break them down.†
GENES & GENETICS
Let's begin with the BRCA1 and BRCA2 genes. BRCA is a BReast CAncer gene that everyone has, but can have mutations. According to the Centers for Disease Control and Prevention (CDC), "All women have BRCA1 and BRCA2 genes, but only some women have mutations in those genes. About 1 in every 500 women in the United States has a mutation in either her BRCA1 or BRCA2 gene. If either your mother or your father has a BRCA1 or BRCA2 gene mutation, you have a 50% chance of having the same gene mutation. "If any change or mutation occurs on these genes, it can effect cell division and increase the risk for cancer."†
Another common term that is talked a lot about when it comes to breast cancer is the HER2 protein. This protein can be positive (HER2-positive) or negative (HER2-negative). According to the information found on American Cancer Society website, HER2-positive is more likely to spread quickly but is more responsive to treatment than HER2-negative. The HER2-negative protein typically doesn't respond to HER2 treatment and would need other types of medication that would be determined by an oncologist.†
HORMONES 
Hormone receptors (HR) are also factors when looking at breast cancer. The Mayo Clinic offers insight into these receptors. The first to understand is ER-positive, which is an estrogen receptor cancer cell. Estrogen hormones cause these cells to grow. The next is PR-positive, which is the progesterone receptor cancer cell. Progesterone hormones cause these cells to grow. Endocrine therapy would often be recommended by an oncologist for ER/PR-positive cells.†
So, when it comes to discussing BRCA, HER2 and HR, is there testing that can see if one would be at risk? In an article from the National Cancer Institute entitled 'Genetic Testing for Inherited Cancer Susceptibility Syndromes', such topics are highlighted like who should consider genetic testing, how testing is done and what results may mean.†
ICYMI: BREAST CANCER AWARENESS & DETECTION, INVITE HEALTH PODCAST, EPISODE 593>>LISTEN NOW!
TESTING
Let's first look at the section of this article that refers to the benefits of this type of genetic testing. This tells us that whether there is  positive or negative results, either can be beneficial. Testing can give peace of mind, help manage risk and help doctors with a treatment plan.†
Next, what research is being done to improve testing? We know that a lot of research goes into all aspects of breast cancer, including prevention, detection and treatment. This article shows how much of the genetic testing research is done on the BRCA gene, looking at the different mutations and markers that can increase cancer risk. There are also programs looking at how mutation markers effect risk, counseling and the different types of tests.†
CONCLUSION
In conclusion, having an understanding of these common terms can be useful when having those important conversations with your doctor, as well as to what questions you may want to ask.†
WHAT YOU EAT, INCLUDING FISH, IMPACTS YOUR BREAST CANCER RISK – INVITE HEALTH PODCAST, EPISODE 195>>LISTEN NOW!
Speak to one of our Invite Health degreed professionals, if you have any questions, or if you would like to speak with Allie directly, you can email her, at amight@invitehealth.com.†  
SOURCES
https://www.cancer.gov/about-cancer/causes-prevention/genetics/genetic-testing-fact-sheet#who-should-consider-genetic-testing-for-cancer-risk
https://www.cdc.gov/cancer/breast/young_women/bringyourbrave/hereditary_breast_cancer/brca_gene_mutations.htm#:~:text=Certain%20mutations%20in%20the%20BRCA,her%20BRCA1%20or%20BRCA2%20gene.
https://www.cancer.gov/about-cancer/causes-prevention/genetics/brca-fact-sheet
https://www.cancer.org/cancer/breast-cancer/understanding-a-breast-cancer-diagnosis/breast-cancer-her2-status.html
https://www.mayoclinic.org/diseases-conditions/breast-cancer/in-depth/breast-cancer/art-20045654
https://www.cancer.gov/about-cancer/causes-prevention/genetics/genetic-testing-fact-sheet#who-should-consider-genetic-testing-for-cancer-risk


---
---