How Cinnamon and Corosolic Acid Support Healthy Blood Sugar Levels – Invite Health Podcast, Episode 144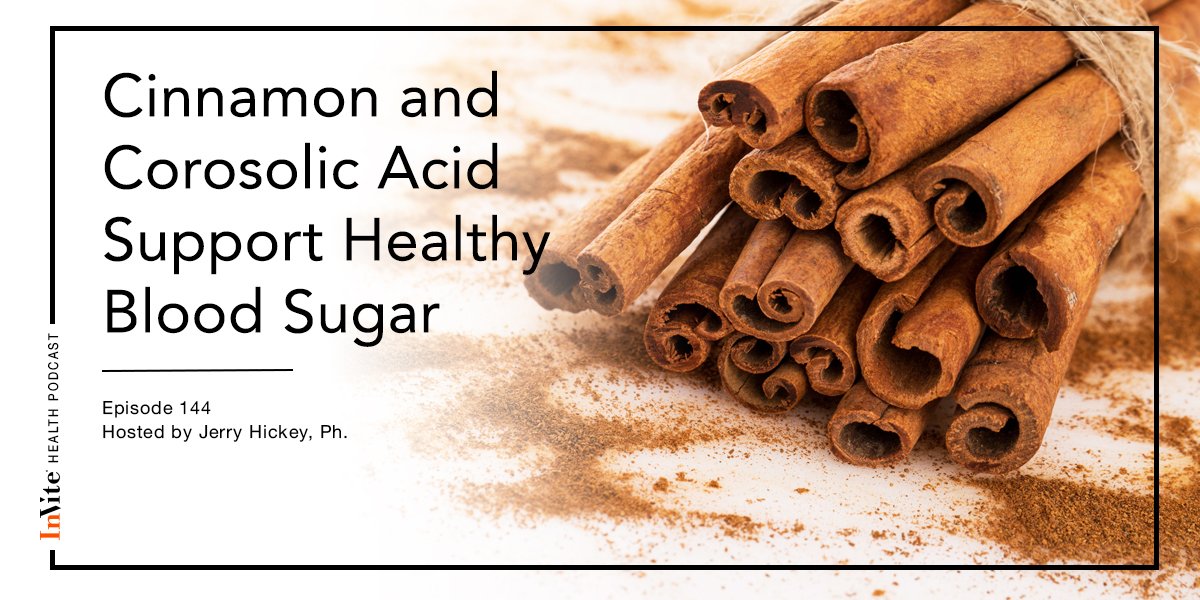 Invite Health Podcast, Episode hosted by Jerry Hickey. Ph
Subscribe Today!
There are a couple of plant ingredients that I would like to talk to you about today that have been shown to be beneficial in people with elevated blood sugar – the bark of the cinnamon tree and a plant that grows in the Philippines called banaba that contains corosolic acid.
According to the National Institute of Health, over 30 million Americans have diabetes. An additional 84 million have prediabetes; their blood sugar is elevated but not enough to be diagnosed with diabetes. However, prediabetes often progresses into full blown diabetes, which is a vicious disease. After ten years of having diabetes, about 80% of people end up with diabetic retinopathy. This is when fat is getting inside the back of the eye, causing little blood vessels on the back of the eye to burst. Diabetes also tends to damage the kidneys, your nerves, ages your skin, and impacts your hearing, brain, and heart.
There is good news! Studies are showing that, for people who have been diagnosed with diabetes over the past two or three years (if they start to exercise, eat better and follow certain recommendations), they can actually get away from a diagnosis of diabetes. Here are a couple of tips:
Have a glass of water a half an hour before each meal to help cut back on overeating
Eat your carbohydrates at the end of your meal to slow down the absorption of sugar
Walk for 10-20 minutes after each meal and aim for an hour of walking each day
The Science Behind Cinnamon and Blood Sugar Control
Cinnamon comes from the inner bark of a beautiful tree that grows in countries of Southeast Asia and islands off the coast. You know cinnamon as a spice and it is delicious. The United States Department of Agriculture has performed several studies on the water soluble extracts of cinnamon and have found that it lowers blood sugar. This water soluble extract is referred to as 'Type A water soluble polymers" and it lacks the spiciness found in cinnamon. The word polymer sounds a bit scary but it simply means it is a group of similar looking molecules bonded together in a chain.
Cinnamon improves glucose and lipids of people with type 2 diabetes. In this study 60 people with type 2 diabetes (30 men/30 women) between the age of 46 to 58 were given various dosages of Cinnamon or placebo for 40 days. Cinnamon reduced fasting blood glucose by 18-29%, triglycerides by 23-30%, LDL-cholesterol dropped by 7-27%, and total cholesterol by 12-26%. There were no significant changes in the placebo group. Using Cinnamon in patients with type 2 diabetes will reduce risk factors associated with diabetes and cardiovascular disease. The study is published in the December 2003 issue of the journal Diabetes Care.

Aqueous Extract of Cinnamon reduces fasting blood sugar in diabetics on oral drugs. In this study, 79 patients with Type 2 diabetes who were taking medication other than insulin or on a strict diet were given an Aqueous Extract of Cinnamon corresponding to 3 grams of Cinnamon a day for 4 months or an inactive placebo. The Cinnamon Extract caused the fasting blood glucose to drop by 10.3% on average, far more than placebo (3.4%). The study is published in the May 2006 issue of the European Journal of Clinical Investigation.
The Science Behind Banaba (Coroscolic Acid) and Blood Sugar Control
Banaba is a plant native to the Philippines and Southeast Asia. It is a species of crepe myrtle, so it becomes a beautiful tree with typically purplish flowers. Banaba leaf preparations have been used in Philippine folk medicine for treatment of diabetes. Certain constituents especially corosolic acid have hypoglycemic activity; in other words, has been shown to help lower the amount of sugar in your blood.
Research shows that taking a particular banaba extract standardized for Corosolic Acid within 2 weeks, lowers blood sugar by 10% in people with type 2 diabetes.†
Research also shows that taking a combination product containing banaba and cinnamon inner bark for 12 weeks lowers hemoglobin A1c (HbA1c) by about 0.65% in people with uncontrolled type 2 diabetes.†
Research shows that taking a product containing banaba and cinnamon inner bark for 12 weeks improves how well insulin is produced by the body in someone with prediabetes. It also improves how sensitive the body is to the effects of insulin.†
Corosolic Acid lowers blood sugar significantly. Researchers from the Department of Diabetes and Clinical Nutrition at Kyoto University gave 31 people either 10mg Corosolic Acid or inactive placebo a number of times, 5 minutes before an oral glucose tolerance test consisting of drinking 75-g of sugar in water in a cross-over design. The test subjects had diabetes, or impaired glucose tolerance, impaired fasting glucose, and 4 had normal sugar activity. The Corosolic Acid lowered blood glucose within 60 minutes and reached statistical significance by 90 minutes. The study is published in the August 2006 issue of the Irish medical journal Diabetes Research and Clinical Practice.
Corosolic Acid significantly improves blood sugar in type II diabetics. In this study type II diabetics who were not using insulin were supplemented with Corosolic Acid for two weeks. The supplement significantly improved blood sugar levels by 20% to 30%. The study is published in the July 2003 issue of the Irish publication Journal of Ethnopharmacology.
Thank you for tuning in to the Invite Health Podcast. You can find all of our episodes for free wherever you listen to podcasts or by visiting www.invitehealth.com/podcast. Make sure you subscribe and leave us a review! Follow us on Facebook, Twitter and Instagram at Invite Health today. We'll see you next time on another episode of the Invite Health Podcast.


---
---