The Amazing Power of Beets – Invite Health Podcast, Episode 143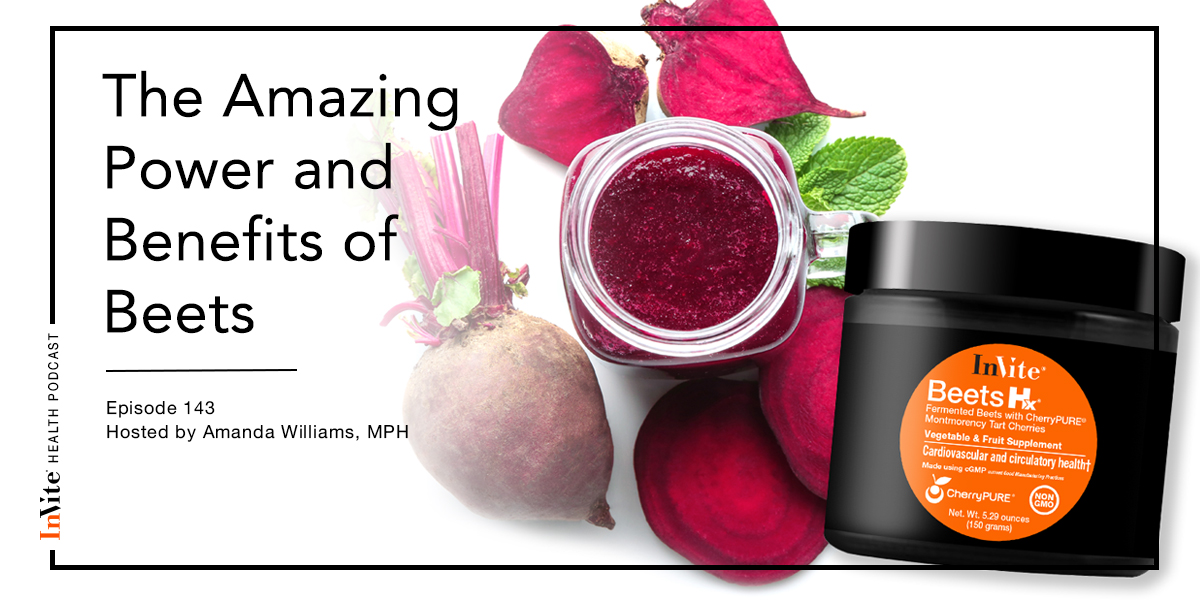 Invite Health Podcast, Episode hosted by Amanda Williams, MPH.
Subscribe Today!
Did you know that beets has recently become one of the world's most healthiest and most important superfoods? Let's talk about the scientific research that shows just how powerful the nutrients that are contained within beets can be.
Where do beets get their powerful benefits from?
When we think about beets as a whole food, we understand that beets mainly consist of water and fiber. This is what makes beets fall within the superfood category. It is providing us essential nutrients that the body requires like protein, carbohydrates, fiber, just a hint of fat and all of these other nutrients. Beets are loaded with so many vitamins and minerals, including folate, manganese, potassium, Iron and Vitamin C just to name a few. It also contains really powerful antioxidants, like betain. Betain produces trimethyl-glycine, which is required for methylation reactions in the body. This is extremely important for detoxification and also for cardiovascular health, specifically elevated homocysteine levels.

The Importance of Releasing Nitric Oxide 
One area of interest, in terms of its biological activity, comes down to its ability to naturally allow the body to  release nitic oxide. Low levels of nitric oxide in the body can be linked to conditions like high blood pressure as a primary example. Without adequate levels of nitric oxide, we can have excessive vaso-constriction, or tight blood vessels that can lead to issues with blood circulation. This is one of the key biological activities of beetroot extract.
The Science Behind Beetroot Extract
When we think about factors like oxidative stress that is brought on by free radicals in the body or free radicals that we are exposed to from other environmental factors, we know that reactive oxygen species will cause damage at a cellular level. This can disrupt normal cell pathways and cell functions and may even cause long-term irreversible damage to our cellular DNA.
Why Tart Cherry Extract Is An Underrated Antioxidant. Learn more here >>
When looking at beertoot extract in terms of supplementation, a beetroot supplement utilizes its powerful antioxidant properties to help to fend off this assault that is brought on by oxidative stress. There have been numerous studies performed that show just how powerful beetroot extract can be fending all of this off.
Thank you for tuning in to the Invite Health Podcast. You can find all of our episodes for free wherever you listen to podcasts or by visiting www.invitehealth.com/podcast. Make sure you subscribe and leave us a review! Follow us on Facebook, Twitter and Instagram at Invite Health today. We'll see you next time on another episode of the Invite Health Podcast.


---
---