Digestive Health, Part 4 On Stool Tests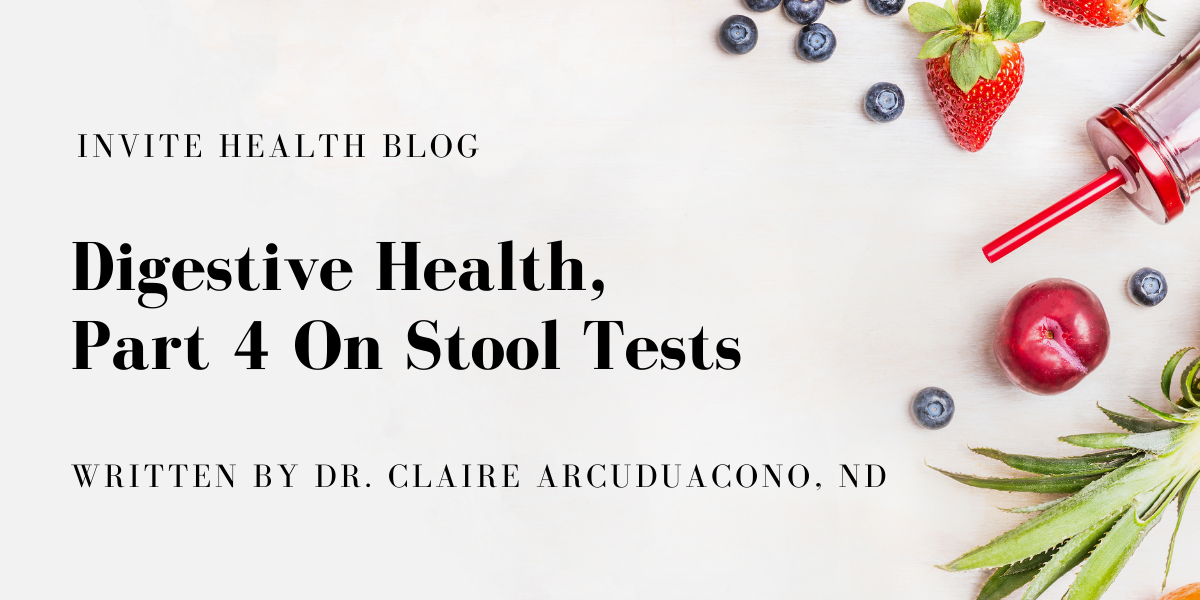 Stool 
Written by Dr. Claire Arcidiacono, ND
For further questions or concerns email me at [email protected]†
We started talking about the important blood and breath lab tests for digestive health. Today we will continue with talking about lab work, diving into stool tests and any more physical type of tests that are commonly done.†
Stool Tests
Stool tests are a fantastic way of seeing what is going on in the digestive tract. They look for blood in the stool, which can come from different parts of the digestive tract. Blood in the stool can be a possible symptom of colon cancer, diverticulitis and/or diverticulosis, ulcers, fissures, Crohn's, ulcerative colitis, hemorrhoids, or polyps. †(1)
KEY NUTRIENTS FOR COMMON DIGESTIVE HEALTH CONCERNS – INVITE HEALTH PODCAST, EPISODE 114 >> Listen Now! 
A stool culture can also show any bacteria present in the stool. Many labs will offer comprehensive stool analysis where you find out more information. Stool cultures can be used to test for fungus (Ex: yeast such as Candida Albicans is a type of fungus), bacteria, and parasites. Unfortunately, parasite tests are rather inaccurate since there is a tendency toward false negatives, giving them a poor reputation despite being beneficial tests to take.† (2)
Stool analysis can also test the immune health of the digestive tract. This tests the total intestinal Secretory IgA (SIgA), the main antibody or type of immune cell in the digestive tract. Research has indicated that high SIgA can indicate parasites or food sensitivities, causing the immune system to work harder than it should. Unfortunately, the test doesn't indicate the cause of the higher than normal immune response, but it can help point a medical practitioner in the right direction. Lifestyle changes such as stress or poor nutrition can cause a decrease in SIgA. (3) The immune system in the digestive tract also includes calprotectin and myeloperoxidase. These can also be found by doing a stool analysis.†
Alpha 1 antichymotrypsin and lysozymes are also markers found in stool that are indicators of inflammation in the digestive tract. (4) Chymotrypsin is a marker in the stool for pancreatic enzymes. (5) Fecal elastase is one of the important tests to rule out pancreatitis. (6) Cologuard is a new test that is being marked for those at low risk of colon cancer. It is basically a stool test that looks for DNA markers associated with colon cancer as well as blood. Just an aside here it is very important to read all the instructions that come with the kit. Certain foods can cause a false positive. Ironically I had a private client do this test and she ate all the foods on the list and had a false positive. (7) Surprisingly there is a great deal of information in the stool. These tests mentioned are very comprehensive and basically tell us if there is blood in the stool, an overgrowth of pathogens, how our digestive enzymes are working and if there is inflammation in the digestive tract.†
CONSIDER BROMELAIN, A FRUIT ENZYME FOR DIGESTION AND INFLAMMATION – INVITE HEALTH PODCAST, EPISODE 294 >> Listen Now! 
Structural tests are more physical in nature. These include endoscopes, colonoscopies and physical exams. Endoscopes and colonoscopies are similar, utilizing an endoscope, a tube with a camera, to look inside of the body. The main difference between an upper endoscopy and colonoscopy is an endoscopy goes through the mouth while a colonoscopy goes through the rectum. Endoscopes and colonoscopies look at the structural integrity of the digestive tract. (8) Colonoscopies rule out issues such as colon cancer, polyps, ulcerative colitis, Crohns, diverticulosis or diverticulitis, and hemorrhoids. It can also rule out severe celiac disease, which can show damage to the digestive tract. (9) Endoscopes are important to rule out GERD, Barrett's esophagus, a result of long term GERD, hiatal hernias, ulcers, gastritis and even certain cancers. † (10)
Your annual physical exam from your primary care provider (PCP) is also important. Conditions such as external hemorrhoids and hernias, gallbladder issues, pancreatic issues, liver dysfunction, high blood pressure, certain cancers and other conditions can be found by a routine physical exam. (11) If you are having any issues with your digestive tract it is very important to talk with your doctor or get an annual physical exam if you have not yet gotten one. The doctor can then recommend next steps which can include any of the tests covered.†
Additionally, it is always a good idea to look at your stool if you feel something may be going on. Your doctor will most likely ask you to describe your stool so they can make an informed decision on next steps. Next week we'll be covering the topic of constipation!†
Source
https://my.clevelandclinic.org/health/symptoms/14612-rectal-bleeding
https://en.wikipedia.org/wiki/Stool_test
https://en.wikipedia.org/wiki/Immunoglobulin_A
https://www.nature.com/articles/s41598-021-89384-0
https://medlineplus.gov/lab-tests/chymotrypsin-in-stool/
https://medlineplus.gov/lab-tests/stool-elastase/
https://www.cologuard.com/
https://www.newchoicehealth.com/colonoscopy/colonoscopy-vs-endoscopy
https://www.healthpartners.com/blog/what-can-a-colonoscopy-detect/
https://www.healthline.com/health/endoscopy#uses
https://www.ncbi.nlm.nih.gov/books/NBK405/


---
---