A Healthy Take on Muddy Buddies or Puppy Chow – Healthy & Helpful Tips with Melissa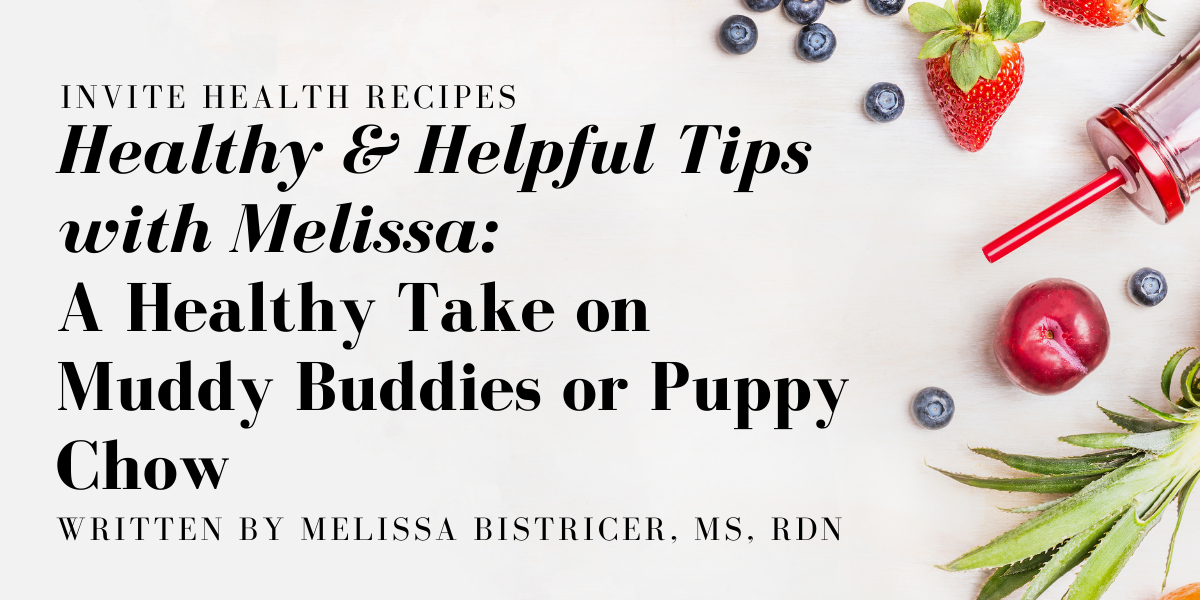 A Healthy Take on Muddy Buddies or Puppy Chow 
Muddy Buddies
Created By Melissa Bistricer, MS, RDN
As summer starts to come to an end and your getting ready to bring in the new school year. You decide you want to surprise your children, teens, or family members by making a special treat for when they get home from camp or even work. What better way then to spoil them making this amazing sweet treat that has nutritional value too! So how does muddy buddies or some may call it puppy chow have nutritional value? †
Well let us just start by saying Cocoa Hx® is an superfood filled with powerful antioxidants that many of us can benefit from using. It can help to promote brain and heart health, great for all ages! Cocoa in its natural form, it is bitter and has a variety of minerals, vitamins, and antioxidants to support overall great health. The dark chocolate in this supplement is what is beneficial with eliminating the saturated fat, sugar, and calories often times found in a regular chocolate bar. Again, the powerful antioxidants in this product will help to support better circulation in the body, brain health, and heart health. †
Then we add in Whey Protein Isolate Powder (vanilla), this will provide the body with easily absorbable essential proteins for individuals who are sensitive to dairy products. Whey protein also has the benefit in helping to support lean body mass and muscle protection. †
Yields: 12 servings, 1/2 cup per serving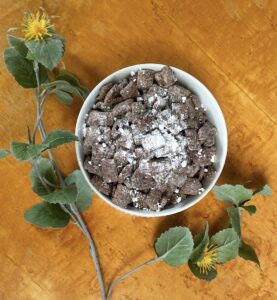 Ingredients
6 cups Rice Chex 
4 scoops Cocoa HxⓇ
1 1/4 cup peanut butter 
1 Tbsp Ghee, clarified butter (can use coconut oil instead)  
 3 scoops of whey protein powder isolates – Vanilla
1/4 cup powdered sugar
Steps To Making The Perfect Muddy Buddies
Measure Chex cereal and place in a large bowl, set aside.

Pour powdered sugar and whey protein powder into a 2-gallon resealable zip-lock bag.

In a saucepan over low-medium heat add peanut butter, Cocoa Hx®, and Ghee. Stir continuously until the mixture is smooth. If using a microwave heat in 20 minute increments until softened. Make sure to stir in between microwaving. 

Pour chocolate mixture over cereal and toss until evenly coated.

Carefully pour coated cereal mixture into the bag with the powdered sugar and protein powder. Seal bag; shake until well coated. Spread on parchment paper to cool completely. Make sure you let it cool in the fridge for about an hour or so before putting it in a container, otherwise your mix will get soggy.

Store in an airtight container in the refrigerator. Keeping it in the fridge will keep it fresh and crunchy!
To add more of the bittersweet chocolaty flavor feel free to add in 2-3 scoops of InVite® Health's Whey Protein Isolate Powder – Chocolate. I guarantee you won't regret it! †
Nutrition Facts  Serving 1/2 recipes
Calories 240kcal                 Carbohydrates 30g                 Protein 7g                              Fat 10g
Saturated Fat 2.8g              Cholesterol  5mg                     Sodium 230mg                    Fiber 2.1g
Sugar 5.3g                             Vitamin A 5%                          Vitamin C 10%                     Calcium 9% 
Iron 49%
HEALTHY RECIPE: INVITE®'S CHOCOLATE RASPBERRY SHAKE >> Make Now! 
For more information or questions about the recipe feel free to contact [email protected]
View this post on Instagram


---
---