Green Tea's Impact on Longevity and Heart Health – Invite Health Podcast, Episode 31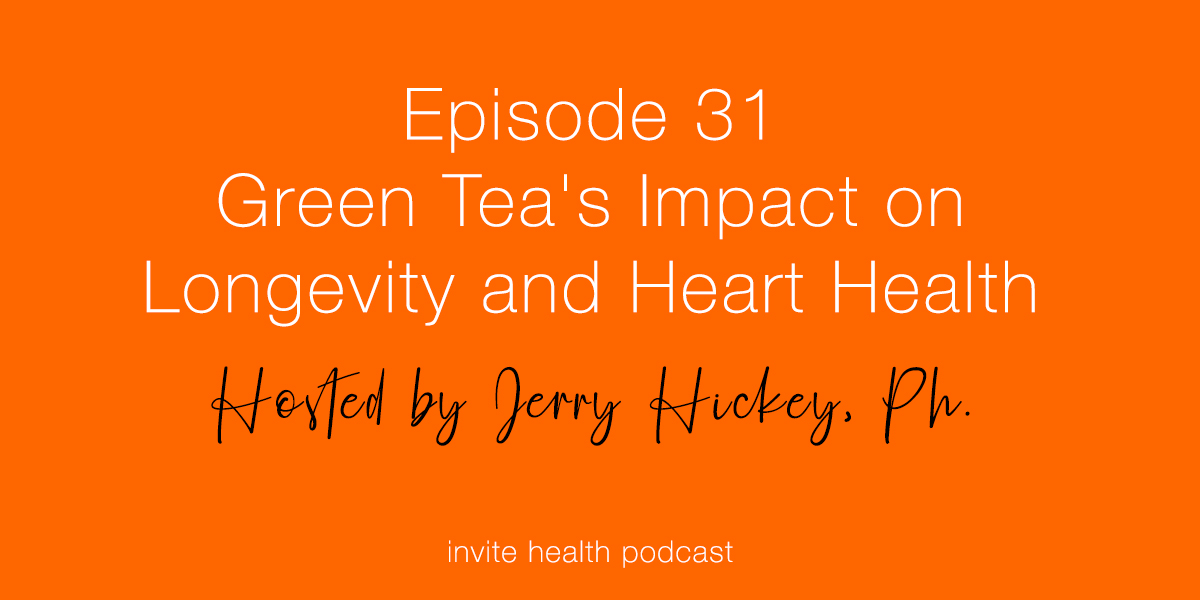 Invite Health Podcast, Episode hosted by Jerry Hickey. Ph
Subscribe Today!
Another recent report shows that green tea affects our health in a major way – it lowers our risk of a stroke and a heart attack and according to this report, you only need to drink it at least three times a week for good protection. Green Tea has also been shown to prevent fragility syndrome in aging adults and for all of us, it improves on the benefits of exercise on strength, muscle and bone health.
Green Tea and Heart Health Studies
There is a linear relationship between green tea and heart health. A study of more than 100,000 Chinese adults found that if they drank green tea at least three times a week, participants were less likely to suffer from a heart attack and a stroke over the next seven years. They also had a slightly longer life expectancy – a year or two, over their non-consuming counterparts.
A recent trial of Iranian women found that those who drank three cups of green tea a day saw improvements in their weight, blood pressure, blood sugar and in their cholesterol within even eight weeks. (Lizenmeyer, St. Louis University)
Published in the European Journal of Preventive Cardiology, the latest study based on 100,902 Chinese adults found that those who drank green tea regularly (3x per week) saw a 20% lower risk of having a heart attack or stroke, 22% risk of dying from a heart attack or stroke, and a 15% risk of all-cause mortality. Eight years later, 14,081 participants were reviewed. Those who continued to drink green tea three or more times per week had a 30% lower risk of heart and stroke, and a 56% lower risk of fatal heart disease or stroke. This is an extremely important finding.
"The more green tea, the more you're protected."v
– Jerry Hickey, Ph.
Green Tea and Longevity Studies
Researchers from the School of Public Health, University of Tokyo examined 2,121 women in Japan (ages 65+). Different habits were recorded – frailty included slowness, weakness, and exhaustion. The number of women out of 2,121 was 486 (23%). They found that having vegetables, drinking green tea and eating fruit were associated with a lower risk of frailty by 23%. This study appears in the Journal Nutrition, Health and Aging.
When you are young, there is a balance of removing old bone and replacing it with new bone. As you get older, that balance fails you – you are still removing bone, but you are no longer replacing it. That is where essential bone building nutrients come in.
There are a number of studies that connect Green tea to stronger bone. A study published in the American Journal of Clinical Nutrition looked at 1,188 older women over 75 years old, that were followed for 10 years. Women who's tea intake was three cups or higher per day,  showed a 30% decrease in the risk of any osteoporotic fracture.
Thank you for tuning in to the Invite Health Podcast. You can find all of our episodes for free wherever you listen to podcasts or by visiting www.invitehealth.com/podcast. Make sure you subscribe and leave us a review! Follow us on Facebook, Twitter and Instagram at Invite Health today. We'll see you next time on another episode of the Invite Health Podcast.

---
---