How L-Theanine Relieves Stress Without Feeling Drowsy – Invite Health Podcast, Episode 122 –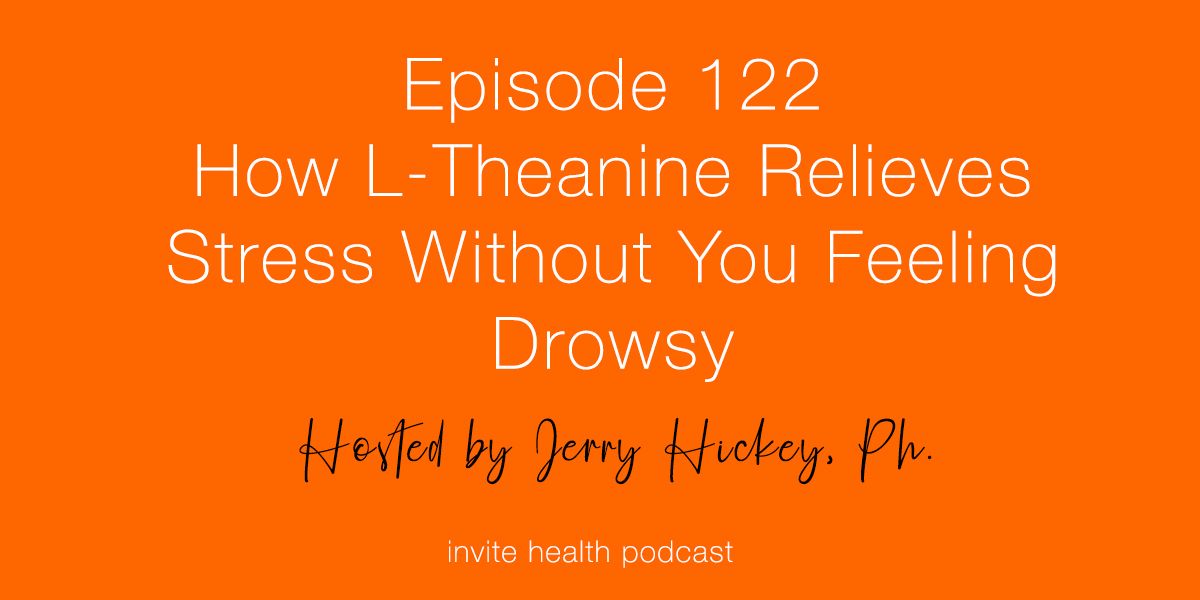 Invite Health Podcast, Episode hosted by Jerry Hickey. Ph
Subscribe Today!
Today we are going to discuss how to reduce stress and feel calm without making you feel drowsy. There is a reason why Buddhist monks sip green tea before meditating. There a caffeine-components found in green tea, but there is also an amino acid that is related to tea called L-Theanine. It has been shown to induce a calming feeling and helps you focused, without making you feel drowsy.
What is L-Theanine?
According to Japanese authorities, there is about 20mg per cup of L-Theanine in tea. That is about enough to offset the caffeine components of the tea. But it is not enough to help you with stress. That can only come with an isolated, purified L-Theanine in supplement form.
L-Theanine is an amino acid derived from the tea plant that safely promotes relaxation and natural stress relief, without common side effects, such as drowsiness. Soon after taking L-Theanine, a restful state takes effect without reducing alertness or cognitive ability. It can also offset the effects of the stress hormone (cortisol) on the brain and nerves. L-Theanine is an amino acid that easily crosses into your brain. There is a protective mechanism in your brain called the Blood Brain Barrier that is extra protection for your brain that keeps bad things out. It is GRAS certified by the US Drug Administration. The maximum daily dosage has been established as 1200mg, but for most people one capsule at 100mg once or twice a day is plenty for stress.†
The Benefits of Rhodiola, including Stress Relief. Listen Now >>

L-Theanine and Stress 
A study was published in the journal Nutrients by the Department of Mental Disorder Research from the National Institute of Neuroscience in Tokyo, Japan – a randomized, placebo-controlled, cross over study – on healthy, very stressed adults. Their stress was impacting their mental ability, their ability to focus, and their cognitive functions when compared to placebo. Giving the participants L-Theanine capsules in the daytime reduced their feelings of stress, clicked their mood up a couple of levels and at night it improved their sleep. Participants were following asleep faster, had less sleep disturbances and had a deeper sleep. Their cognitive scores also improved. †
Other Key Topics
Theanine works with GABA receptor sites
BDNF, miracle growth for your brain
Thank you for tuning in to the Invite Health Podcast. You can find all of our episodes for free wherever you listen to podcasts or by visiting www.invitehealth.com/podcast. Make sure you subscribe and leave us a review! Follow us on Facebook, Twitter and Instagram at Invite Health today. We'll see you next time on another episode of the Invite Health Podcast.


---
---