How Vitamin C Supports Healthy Immunity – InVite Health Podcast, Episode 123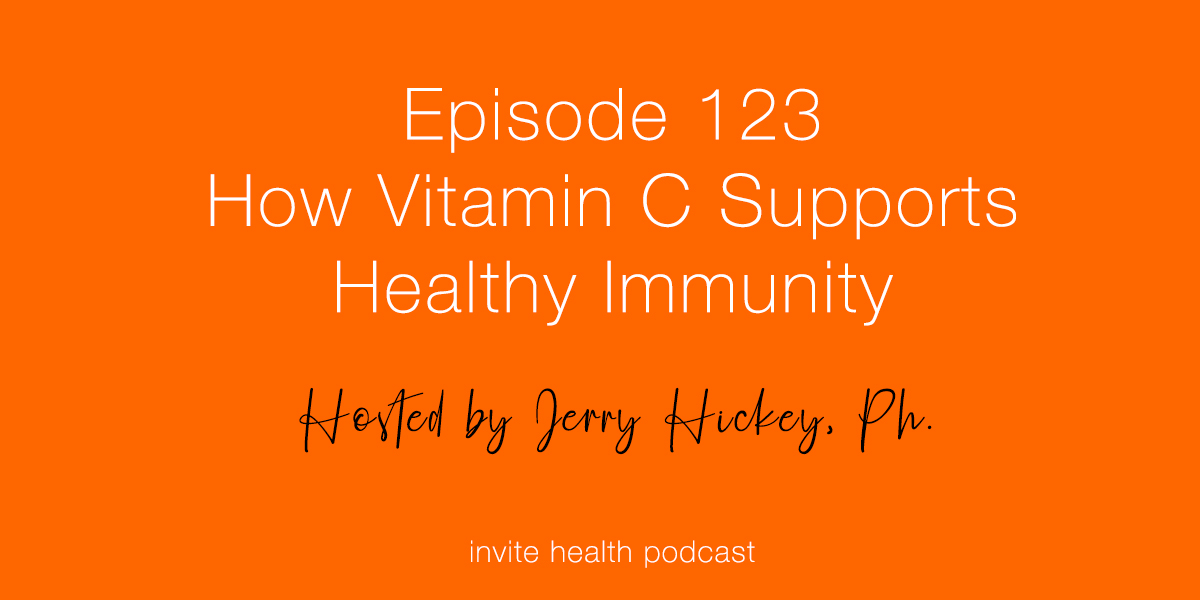 Invite Health Podcast, Episode hosted by Jerry Hickey, Ph.
Subscribe Today!
Vitamin C has been in the news a lot recently. There was a report in the NY Post that explained how medical teams at Northwell Health facilities out in Long Island, New York were giving Vitamin C by injection to patients who had severe COVID-19 infections. Dr. Andrew Weber is a critical care specialist affiliated with Northwell Health reported to the NY Post, "The patients who received Vitamin C did significantly better than those who did not get Vitamin C."
The Immune Benefits of Vitamin C, Vitamin D and Zinc. Listen Now >>
Highlighted in the journal Nutrients, a recently study found Vitamin C could shorten the length of stay in the intensive care unit (University of Helsinky and the University of Sydney in Australia). Researchers found that giving people Vitamin C supplements at an average dose of 2,000mg per day significantly cut the length of time of stay in intensive care units. In 12 previous clinical trials, Vitamin C has been found to lower blood pressure, decrease the incidence of atrial fibrillation, decrease bronco-constrictions, decrease pain and their incidence of getting sick.
Additional information:
Natural Killer Cells
Neutrophils influenced by Vitamin C

Thank you for tuning in to the Invite Health Podcast. You can find all of our episodes for free wherever you listen to podcasts or by visiting www.invitehealth.com/podcast. Make sure you subscribe and leave us a review! Follow us on Facebook, Twitter and Instagram at Invite Health today. We'll see you next time on another episode of the Invite Health Podcast.


---
---