The Many Health Benefits of Flaxseed Powder – Invite Health Podcast, Episode 141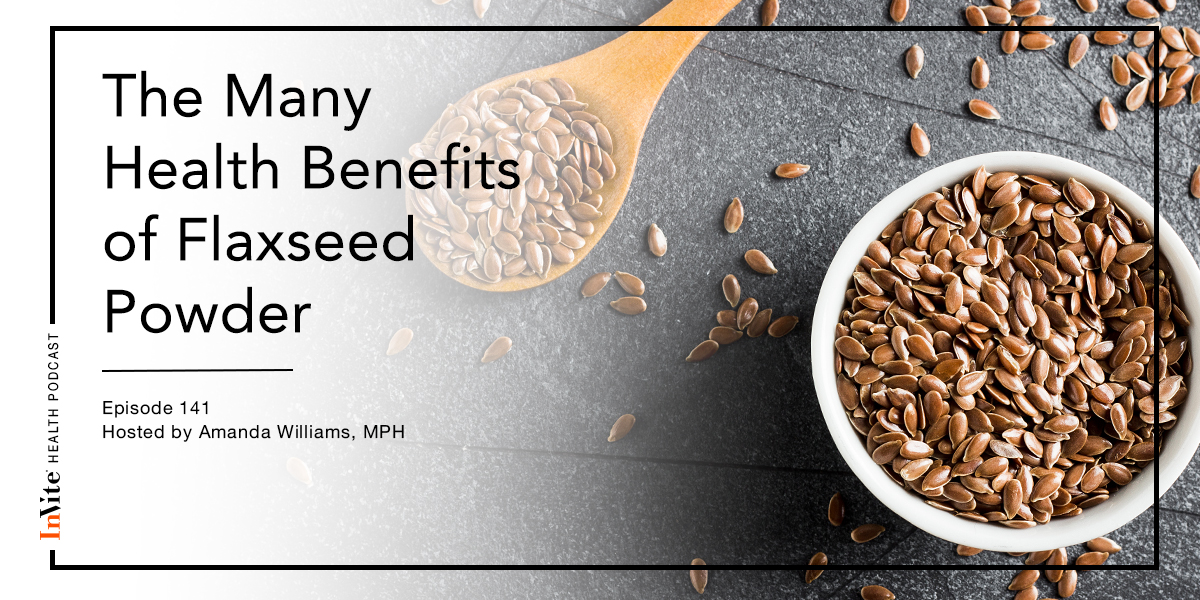 Invite Health Podcast, Episode hosted by Amanda Williams, MPH
Subscribe Today!
When we think about superfoods, one food in particular should come to mind and that is flax. Let's talk about all of the medicinal benefits of this important superfood.
What is Flaxseed?
Flaxseed is one of the richest sources of omega-3 fatty acids that comes from the plant kingdom. It has been used throughout history not only for its culinary uses but also its numerous health benefits. Not only does Flaxseed contain essential fatty acids, but a multi-spectrum of nutrients it contains, including ALA, protein, dietary fiber, lignans, phenonic compounds, vitamins and minerals. This includes vitamin A, vitamin E and vitamin C, Magnesium, and Potassium for example. This is why flaxseed is considered a superfood.
Antioxidants can help target oxidation†
Omega-3s can help target inflammation†
Phenolic compounds support cellular health†
The lignans found within flax are quite interesting. Flax has up to 800 times more lignans than any other plant food. Lignans are powerful antioxidants that also act as phytoestrogens (plant-based estrogens), which is why it has been studied extensively for its benefit in balancing and supporting hormones in both men and women. For women who are experiencing menopause and hot flashes for example, research has found that when women increase their dietary intake of flaxseed, their symptoms begin to diminish.†
The chemicals in your everyday products may be impacts your hormones and overall health. Click here to learn more! >>
Back in 2019, the journal Nutrients published a study that looked at the impact of dietary flaxseed on human health. This was a very detailed research study where researchers were discussing how little was known about all of the health related benefits of flaxseed.

Supplementing with Flax
An organic flaxseed powder supplement makes obtaining flax everyday extremely easy. One scoop sprinkled onto your food, like yogurt, is a delicious way for you to get that punch of antioxidants that this superfood can offer. Ground flaxseed can be extremely beneficial in terms of helping to regulate blood glucose, due to its high fiber content.†
Thank you for tuning in to the Invite Health Podcast. You can find all of our episodes for free wherever you listen to podcasts or by visiting www.invitehealth.com/podcast. Make sure you subscribe and leave us a review! Follow us on Facebook, Twitter and Instagram at Invite Health today. We'll see you next time on another episode of the Invite Health Podcast.
Questions about this powerful superfood? Leave us a comment below to join the discussion!


---
---