Spice Up Your Health with Turmeric, Ginger, Cumin & Rosemary – Invite Health Podcast, Episode 110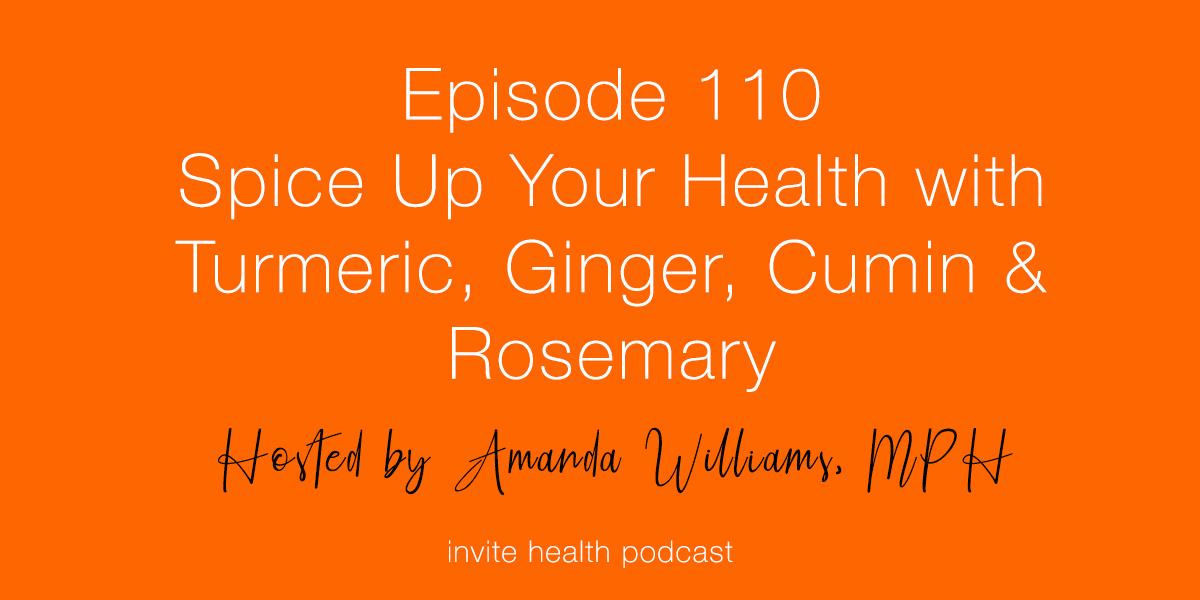 Invite Health Podcast, Episode hosted by Amanda Williams, MPH.
Subscribe Today!
Today we are going to be spicing things up and talking about the importance of adding spices to your foods as well as supplementing with different spices. There is so much research available when it comes to the benefits of spices like turmeric, ginger, rosemary and cumin extract, especially inflammation, the benefits of their powerful antioxidants, and their ability to fend off oxidative stress.
Inflammation and Antioxidants
Just this week, a new study was published in the journal Nutrition from Penn State University that talked about the importance of spices, specifically men who were overweight or obese between the ages of 40 and 65 years old. Results showed that adding a blend of spices – ginger, turmeric, cumin and rosemary extract – to their diet may help lower inflammation. This is extremely important as every single chronic disease today has chronic low-grade inflammation as its underlying theme. Oftentimes it is referred to as inflammaging, as the more inflammation we have in the body makes it harder to control certain disease states. When individuals turn to foods that are high in saturated fats and carbohydrates (from bread and pasta), blood test results show a rapid release of pro-inflammatory cytokines.
The Importance of Following A Mediterranean Diet! Listen Now >> 

Turmeric and Ginger
Both ginger and turmeric originate from Asia and has been used in Asian cuisine for centuries. Turmeric is known for its golden yellow color and as one of the main ingredients in curry.
Published in the International Journal of Preventative Medicine, researchers discussed the antioxidant and anti-inflammatory effects of Ginger. Ginger proved helpful in targeting inflammation and in the fending off of oxidative stress. This spice has also been shown to support G.I health, including indigestion, constipation and heartburn. When it comes to supplementation, a high-quality Turmeric with Ginger dietary supplement can supply both turmeric extract and ginger root extract. Curcumin, which is an extract derived from the spice Turmeric, has been shown to promote both joint and organ health, including the brain, immune system and liver. When combined with Ginger, studies have shown a benefits for a healthy inflammatory response along with further immune system benefits.
Cumin
Cumin is a spice that is native to Asia, African and Europe that is available as whole dried seeds or as a ground powder. It is a typical ingredient used in many spice blends, including curry powder. In a 2014 study out of Iran – a randomized, clinical trial of 88 women – researchers set out to determine the effect of cumin powder on body composition and lipid profile in overweight and obese women. Results showed that the experimental group who used cumin powder with yogurt at two meals for three months, had reduced serum levels of fasting cholesterol, triglycerides, and LDL cholesterol. It also increased HDL cholesterol. Weight, BMI, waist circumference and fat mass percentages were also significantly reduced.
How Turmeric Further Supports Joint Health. Listen Now >>
Rosemary
Rosemary is a spice that is used in a variety of Mediterranean dishes. It has been shown in numerous studies to support the brain and digestive health. Its antioxidant and anti-inflammatory activity is due to its polyphenolic compounds – rosmarinic acid and carnosic acid.
Thank you for tuning in to the Invite Health Podcast. You can find all of our episodes for free wherever you listen to podcasts or by visiting www.invitehealth.com/podcast. Make sure you subscribe and leave us a review! Follow us on Facebook, Twitter and Instagram at Invite Health today. We'll see you next time on another episode of the Invite Health Podcast.


---
---