Why Apple Cider Vinegar Is Nature's Gift – Invite Health Podcast, Episode 163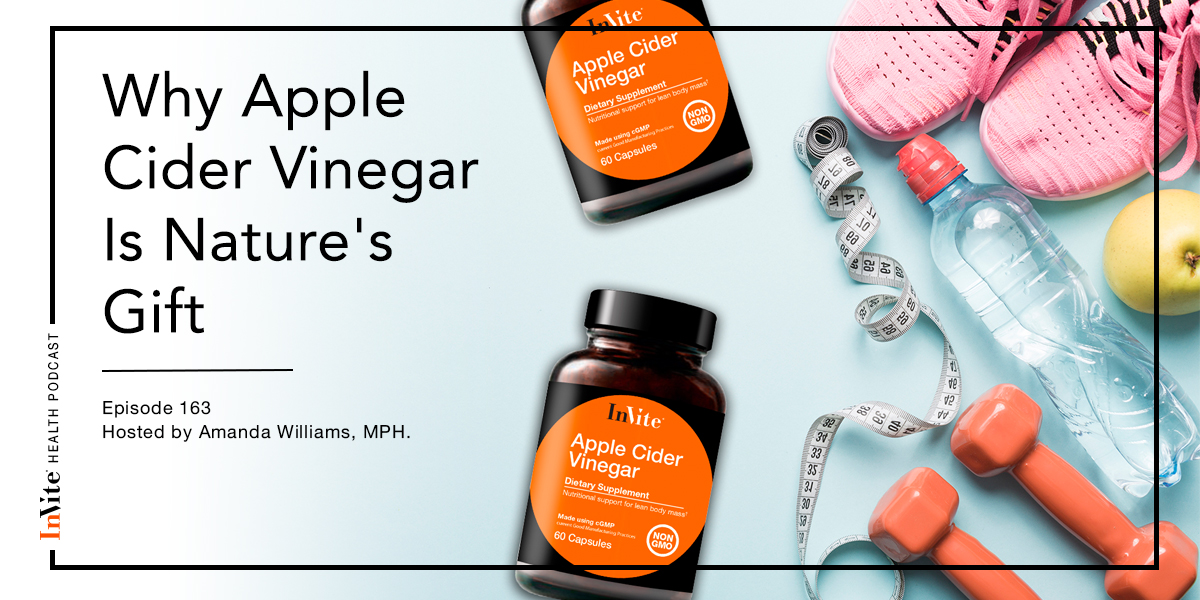 Invite Health Podcast, Episode hosted by Amanda Williams, MPH.
Subscribe Today!
By now you have probably heard about all of the wonders of Apple Cider Vinegar. Today, I want to discuss some detailed science behind it, so you can really understand its benefits and why Apple Cider Vinegar could be extremely beneficial to incorporate into your daily routine.
The History of Apple Cider Vinegar
We can go all the way back to Hypocrites when it comes to Apple Cider Vinegar and its history. Vinegar was considered a medicinal discovery that have numerous purposes. Now, the word 'vinegar' is French and means 'sour wine'. It can be made from almost any fermentable carbohydrate source.
When offered in a liquid form, you will want to utilize a form with "The Mother". This yields a high amount of yeast and acedic acid bacteria. It can be extremely beneficial for our immune system. Keep in mind that a good 70% of the immune system is located within the intestines. The vinegar itself helps those healthy bacteria, offering them a feeding source that can help to optimize our overall immune system. Apples, before the fermentation process, already possess all of these wonderful antioxidants, vitamins and minerals. By the vinegar being sourced from an apple, it is going to offer all of these benefits and properties, as well.†

Apple Cider Vinegar Benefits
Supplementation with Apple cider vinegar has been shown in studies to promote thermogenesis, or natural fat burning. It has also been studied in the support of cardiovascular health. It has a unique ability to hone in on oxidative stress and inflammation.†
In one study, researchers were looking at the impact Apple Cider Vinegar could have on high glucose and high insulin levels. These are people who had metabolic syndrome. The researchers had the participants eat certain foods and then they incorporated in Apple cider vinegar. What they found was a normalization in a satiety; for those who were more prone to having those food cravings in the middle of the afternoon, after using the Apple Cider Vinegar, they had the benefit of balancing their blood glucose and had a lessened effect of having these hunger episodes.†
How 5-HTP Also Supports Weight Management. Click here to Learn More Now >> 
A study that was published in the Journal of Medicinal Foods discussed metabolic syndrome and how this has serious consequences, especially on the cardiovascular system, high blood pressure and the impact of elevated cholesterol. Dietary supplementation with specifically studied antioxidants can be extremely beneficial. In this study, researchers wanted to see if a daily dosage of Apple Cider Vinegar would indeed impact the cardiovascular risk factors that are associated with metabolic syndrome – total cholesterol, triglyceride levels, LDL cholesterol, VLDL cholesterol. After six weeks, the Apple Cider Vinegar helped to normalize these biochemical markers. They also found that the metabolic changes were really quite astonishing.
Questions about Apple Cider Vinegar and its benefits? Leave a comment below for Amanda Williams, MPH now! 
Thank you for tuning in to the Invite Health Podcast. You can find all of our episodes for free wherever you listen to podcasts or by visiting www.invitehealth.com/podcast. Make sure you subscribe and leave us a review! Follow us on Facebook, Twitter and Instagram at Invite Health today. We'll see you next time on another episode of the Invite Health Podcast.


---
---